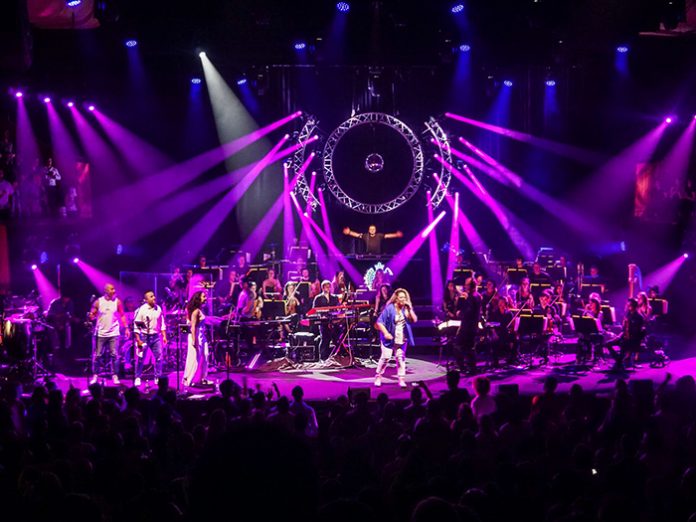 Versatility, value for money and a dash of pizzazz are some of the factors influencing the choices made by Sydney based LD, Peter Rubie, when he is creating his work.
Rubie has spent the last 11 years devising a wide variety of lighting design work for different types of performances but specialises in productions that are a hybrid of classical and modern/pop/rock music.
His lighting 'choreography' requires an intimate and up-to-date knowledge of what's available and how it can be used to achieve different effects. He often uses Robe products, distributed by specialist lighting and staging equipment suppliers, Jands. 
Robe has released some exciting new LED products in the last year and having been a fan of Robe's previous LED range, Rubie was keen to get his hands on them. 'I programmed a big private lightshow launch for Jands when they released the Spiider and Spikie into Australia earlier this year and knew instantly I wanted to use them on a show. Soon after, he received a very special project from Ministry of Sound Australia to create a lighting spectacular for a performance of 'Orchestrated' at the Sydney Opera House.   
'Orchestrated' was designed to re-imagine some of the world's most loved dance-floor anthems with a live symphony orchestra and a group of Australia's most talented singers. 
"Tim and his team had strong ideas of what they wanted, but having worked with them before designing MOS Club, they also trusted me to create something to emphasise and accent the music," Rubie explained.
"I also knew what the orchestra needed. You can't be too extreme with the creative side of the lighting to the point where the musicians can't see the music to do their jobs."
Rubie started with a centrepiece truss based on the Ministry of Sound logo to sit above the rear of the stage and filled it with Spikies. The show, with 772 timecoded lighting cues needed to flow with the orchestrations but also needed lots of tricks to accent the dance beats builds and drops.  
"The Spikie for me is like every other micro LED beam fixture over the last year but on steroids," Rubie continued. "The colours are mixed nicely before a single PC style lens so you don't ever see individual LED smarties, it has a nice zoom range right from a parallel pencil-thin beam to a smooth even wash with a nice soft edge. Then there's the unexpected. 
Robe has managed to squeeze in a 3 facet prism, which looks great when breaking up the beam at narrow zoom as well as the unique flower effect which people simply don't expect to come out of a fixture of this size. It's a little bit retro but very cool and the photos speak for themselves. It looks incredible through a haze and turns the fixture into something you would expect from a moving profile. These tricks along with its endless rotation made it perfect for a centre focal piece when used in numbers.
"Its size and price are comparable to many of the other small LED beam-wash fixtures on the market so you can get a lot of bang for buck when you want a lot of units," Rubie remarked.  Weighing in at no more than 7kg each was also a plus for Peter. "On that show, there was a 500kg weight limit on the fly line which had to include all rigging of the centrepiece from an overhead LX truss, but thankfully with the low weight of the Spiikie that was not a problem."
Orchestrated had 18 Spiiders, supplied by Chameleon Touring Systems along with the Spikies.
"The Spiider has a beautiful quality of light, at the right brightness. At the same time though, it's very versatile and clever in that it incorporates the same 'flower effect' in its centre chip, so both types of lights work really well together."  "I was even able to use the Spiider as a side fill which it delivered with some nice pastels and then at times I could add the dynamic element of the flower effect seeping through the orchestra." 
Rubie also commented on the physical appearance of the Spiider. "Another thing I really like is the finish to the lens. It has a certain glossiness to the eye but leaves behind the massive glare that you get from wash lights of the same brightness.  That means the disc of LED's isn't constantly catching my eye upon the truss or on the sides so your focus can stay on the talent.  Additionally, there isn't a large amount of side spill coming off the lens so I can rig them close to curtains, cycs, projection and walls and only light up the surface I'm actually pointing the fixture towards."
"I enjoyed user the Spiider so much at the start of the year that I've continued to spec it as my LED wash light of choice. I've used it on Eskimo Joe, Swing on This, Meow Meows Pandemonium and a big tribute show to George Michael with a full symphony backing.  
Rubie concluded: "Robe are making some really interesting products at the moment without sacrificing on quality. Having visited their factory earlier this year you can see that they take the R&D, manufacturing and quality control very seriously which is pleasing to see so I look forward to seeing what comes next."