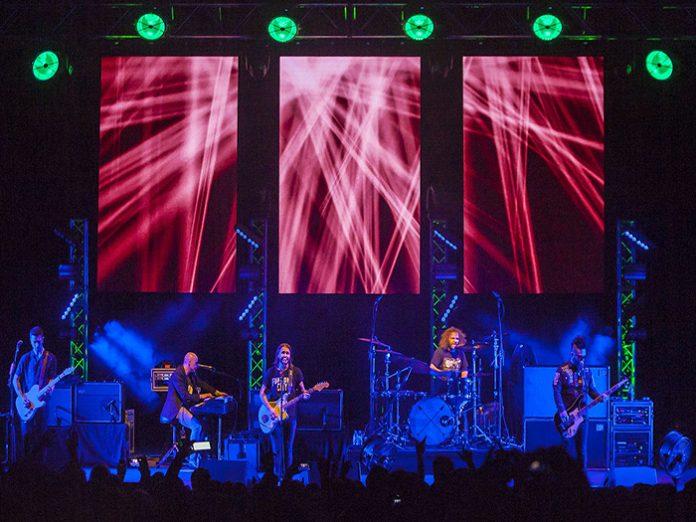 Lighting and visuals rental specialist Colour Sound Experiment supplied lighting and video for the recent UK tour by Welsh rockers Feeder, who are back on the road with the band's Arrow album campaign.
Bryan Leitch is the band's LD and visual designer and the person who took the tour to Colour Sound after previous excellent experiences with the west London based company. "It was a video-based tour so ideal for Colour Sound" he commented. Colour Sound Experiment also invested in some new lighting fixtures to ensure that Leitch had exactly the rig he wanted.
Leitch has worked for Feeder since 2004. On this tour he was joined on the road by technician / crew chief – and Colour Sound regular – James Hind.
His creative inspiration for the design started with 3 festival shows last summer where they used an upstage screen split into 3 sections, a format that lead singer / guitarist Grant Nicholas really liked. Another consideration for the overall design was that it had to be scalable to deal the wide range of venue sizes.
This touring version utilised 60 panels of Colour Sound Experiment's proprietary BT-6 LED screen, configured as 4 tiles wide and 5 high – so 20 panels per screen – which was upped to 6-high for the London show at Brixton Academy.
Video content was a mix of existing material and brand-new footage which was created by Leitch – much of the new clips were shot on an iPhone 8 – then edited and complied to fit exactly to the screen specifications. This was replayed via a pair of Green Hippo v4 media servers.
New kit bought for the tour included Vintage Blaze 55s from Showtec, a very cool looking fixture combining a Tungsten lamp, and a RGB Link LED background effect with strobe function plus colour macros for an extra dimension. The combination of both these dynamic light sources appealed to Leitch who describes them as "beautiful" lights.
He particularly likes the fact that the LED sources are subtle and concealed, but their effect is high impact. Six of these were utilised on the tour, rigged on the upstage truss which was also flying the video panels, fitted into Colour Sound Experiment's practical and easy to rig touring frames.
Also new were ProLights AIR6PIX moving LED battens. These offer individually controllable LED pixels, and both sides of the light sources pivot to create classic ACL "fan" and "knot" looks. The idea of being able to bend the light like this really appealed to Bryan and the AIR6PIX offer something new and different from the plethora of LED battens out there.
Eight were rigged on 4 vertical upstage towers and used for both wash and effects looks. The count was boosted to 12 units for Brixton.
Leitch chose Robe's new MegaPointes as the main moving light, with 6 on the rig, distributed between 4 upright trusses at the back, a mid-stage truss overhead and 2 slightly shorter downstage vertical sticks of truss, also on the deck.
"It's a rock show" stated Leitch with a big smile, clearly relishing lighting the two hours and 10 minutes of mayhem each night with an array of loud and boisterous rock numbers punctuated with a stripped back acoustic section! "MegaPointes were perfect for this type of set! Six was all we needed!" confirmed Bryan.
The Robe MegaPointe count was upped to 16 fixtures for Brixton. In addition, 6 Robe LEDWash 300s provided filler light, some Source Fours on the mid truss were the basic key lighting and 6 Claypaky Stormy LED strobes were also attached to the upright trusses along with six 4-lite blinders.
Two Avolites Sapphire Touch consoles and the two Green Hippo video servers were supplied by MIRRAD. Leitch was delighted to be working with Colour Sound again.
He comments that the tightness and pressured timescale involved in getting so much extra kit into Brixton – and integrated into the show in time – was a serious achievement, "You have to be extremely well prepped for an exercise like that to work smoothly for what was essentially a one off" he stated.
Read more about Feeder's latest UK tour in the April edition of TPi…