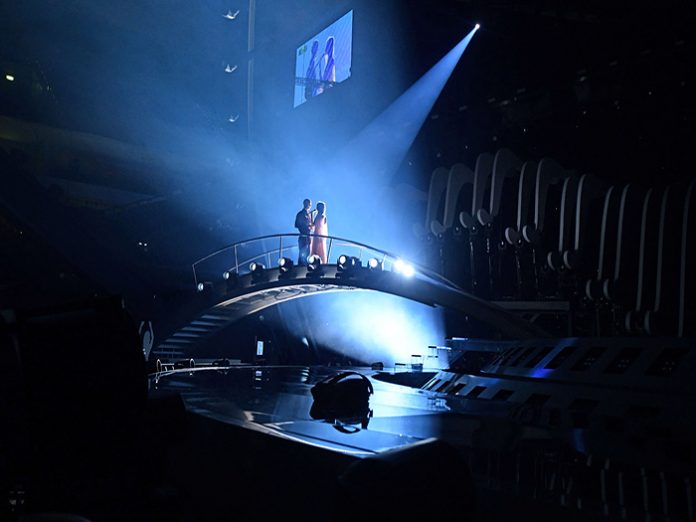 A total of 17 Robe RoboSpot Base Stations controlling tracking Robe BMFL fixtures provided a comprehensive remote follow spotting solution for production LD Jerry Appelt at the 2018 Eurovision Song Contest.
Robe's RoboSpot system was specified onto the show by Appelt and his gaffer Matthias Rau, and used extensively throughout the event's nail-biting final and two live semi-finals, which were beamed and streamed live via host broadcaster Rádio e Televisão de Portugal (RTP), reaching a final worldwide audience of around 200 million.
Once again, the technical implementation for this, the 63rd ESC, took visual imagination to new levels of ambition and excellence for both broadcast and live staging. Under the direction of Ola Melzig and Tobias Åberg who headed the large, highly talented technical teams, production values soared to new heights.
The Robe RoboSpot system was supplied by main lighting contractor Flashlight from the Netherlands, who worked in conjunction with Pixelight from Portugal. The RoboSpots, each with individual MotionCameras, were all from Robe's powerful BMFL series of moving lights – a mix of BMFL Blades and BMFL WashBeams. Having these on the rig for key lighting and highlighting with their intensity and high CRI helped produce excellent results and perfect flesh tones.
Robe BMFL Blade luminaires were rigged to one of the front trusses with two more single fixtures on side trusses left and right of the stage. A further 2 Robe BMFL WashBeams were rigged on trusses right at the far end of the arena and used for long throw shots and presenter pick-ups. Again the power of the Robe BMFL was ideal for this application.
Another 2 paired sets – a Robe BMFL WashBeam and a Robe BMFL Blade running with one MotionCamera each – were located over the stage and used for spotting people, interviews and other activities happening in the Green Room which was set up at the end of the arena furthest from the stage.
Robe Deutschland's Martin Opitz was the RoboSpot systems engineer and co-ordinated the training and technical support. His first task on arrival in Lisbon a few weeks ahead of the final was to train up 17 locally based operators to work the Robe RoboSpots.
The striking set for ESC 2018 comprised an elegant series of interlinking geometric curves and spheres accentuated with different LED sources providing a universal architecture which was designed by Florian Wieder.
Appelt worked alongside his own hand-picked FOH team including assistant LD Andreas Türpe and in addition to Matthias, Icke and Markus mentioned above, MA3D operator Jan Suiling, audience lighting operator Raphael "Grebi" Grebenstein and show lighting operator
Raphael Demonthy.
Sebastian "Huwi" Huwig operated the back-wall of LED Panels while Nick "Nick the Greek" Charalampidis looked after media server operation for all the delegation's video content.