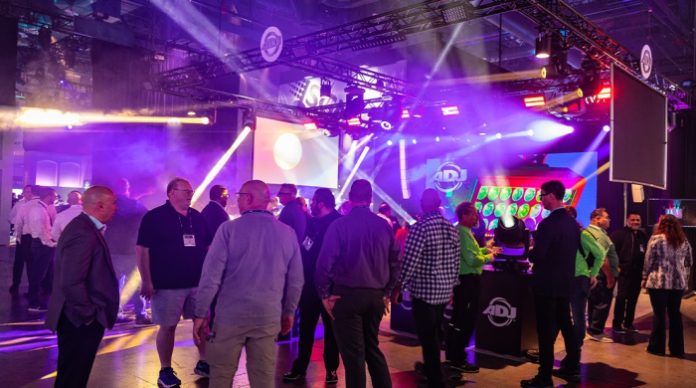 Alongside a wide variety of recently released entertainment lighting products, ADJ's LDI 2022 booth showcased the comprehensive and fully road-proven Hydro range of IP65-rated automated luminaires, including profile, spot, beam, and wash fixtures. 
The Hydro Wash X7 model was also chosen to illuminate the show's focal meeting point, the Circle Bar, where 32 fixtures were utilised by AG Production Services, the company responsible for creating the feature. In addition, two previously unseen mini spotlight fixtures and a new hybrid moving head were displayed on the ADJ booth for the first time anywhere in the world.
"It was great to be back at LDI in full force," enthused ADJ USA National Sales Manager, Alfred Gonzales. "It's been three years in the making, so expectations were high, but the show didn't disappoint. Myself and the rest of the ADJ team enjoyed showcasing our new products, but more importantly connecting in person with our customers, users and industry friends. We enjoyed the opportunity of speaking with many existing customers, as well as potential new ones, to find out where their businesses are at the moment, where they would like to see them develop in the future, and then suggesting the right ADJ fixture investments to ensure them the best possible return."
The four new models introduced to ADJ's popular Hydro series throughout the year took centrestage on the company's LDI booth, alongside existing models from the range. These fixtures have been extensively road-tested throughout the summer by numerous production companies on both sides of the Atlantic, including at Long Beach Pride, Barcode New Jersey, Oakland Black Joy Parade and the NAMM Arena Plaza Stage in the USA as well as the Rebirth Festival in The Netherlands.
Sitting proudly at the top of the range, the Hydro Profile combines an immense 660W LED engine that produces 25,000 Lumens of output with an expansive feature set to offer a professional lighting powerhouse. Its beam can be precisely manipulated using a four-blade rotatable framing system, while other key features include a CMY colour mixing system combined with a variable CTO flag, a six-slot replaceable colour wheel, two GOBO wheels, two rotating prisms, and an animation wheel, as well as motorised zoom (6° to 45°), focus and iris.
Offering a compact and budget-friendly IP65-rated spot solution, the Hydro Spot 1 features a potent 200W cool white LED light source and delivers punchy output which can be manipulated using an extensive collection of beam-shaping tools. These include motorised zoom for a beam angle of 11° to 22°, motorised focus, two frost filters, two rotating prisms, six rotating and replaceable GOBOs, and two colour wheels.
The larger Hydro Spot 2 model is powered by a potent 320W cool white LED engine. It offers an 15,000 Lumen output while featuring a wide variety of beam-shaping tools, including an animation wheel, motorised zoom (for a beam angle of 8° to 41°) and focus, two frost filters, CMY colour mixing along with a variable CTO flag and independent colour wheel, two GOBO wheels and two rotating prisms.
Finally, the new Hydro Beam X12 is designed to create stunning aerial effects, combining lightning-fast movement with the power of the latest Philips Platinum 12R LL MSD Discharge Lamp technology. The light from this extremely efficient source is focused through high quality optics to create a piercing output with a tight 2° beam angle. A carefully curated selection of beam-shaping tools delivers the functionality that lighting designers need, while allowing the fixture to remain compact and agile. It features 14 colours and white, a static GOBO wheel featuring 16 patterns (plus open) optimised for aerial effects, motorised focus, a frost filter to create a wash effect, and two rotating prisms.
As well as these recently released models, the tried and tested Hydro Wash X19 was also on display, demonstrating the potential of the Hydro Series to cover the full range of duties a lighting designer may require of IP65-rated luminaires. The X19 features an array of 19 potent 40W RGBW colour mixing LEDs, arranged in three concentric circles, which are each individually controllable to allow the creation of pixel-mapped effects. It also offers smooth motorised focus – for a beam angle variable between 6° and 40° – among a host of other useful features.
ADJ's LDI booth also saw the official debut of the new Encore Profile Mini WW and Encore Profile Mini COLOR. These are extremely compact, yet surprisingly powerful, LED-powered spotlight fixtures, which can be used with a choice of either a 15° to 30° or 25° to 50° manual zoom lens (sold separately). Both models are supplied with a size 'E' GOBO holder and offer smooth digital dimming as well as variable speed digital strobing. The WW version features a 40W LED source with a colour temperature of 3000K and an extremely high CRI of >98, while the COLOR version utilises an LED engine comprised of 16 3.5W RGBWAL (red / green / blue / white / amber / lime) LEDs, which allows extremely versatile colour mixing.
Also on display at LDI was the new Focus Hybrid, the latest addition to ADJ's immensely popular Focus Series of LED-powered moving heads. Offering an efficient 200W LED light source combined with an extensive feature set, it is a versatile luminaire that can function interchangeably as a spot, wash or beam fixture. It features motorised zoom and focus, two GOBO wheels, an independent colour wheel, two rotating prisms and a replaceable frost filter.
Building on the success of the original Focus Flex – the compact, quick, and punchy LED-powered moving head luminaire launched earlier this year – ADJ showcased at LDI the new Focus Flex L7. Featuring the same casing design and feature set as the original version, this alternate model features seven 40W 4-in-1 red, green, blue, and lime LEDs to deliver both increased output and a higher CRI. With a motorised zoom function that allows the field angle to be altered remotely between 57° and 6° as well as extremely quick motor movement, it allows for the creation of stunning high-impact aerial effects.
Visitors to the booth also had the chance to discover a wide variety of static, LED-powered stage lighting fixtures with lime-infused LED engines from ADJ's Encore Series. These included the Encore LP18IP and Encore LP12IP pars, the Encore LP32IP panel wash, the Encore LB15IP linear wash, the Encore Profile Pro Color Ellipsoidal and the Encore FR Pro Color Fresnel.
Also on display were the new Jolt Panel FX and Jolt Bar FX multifunctional wash / strobe / blinder fixtures, which each feature a central strip of 5W cool white SMD LEDs surrounded on both sides by arrays of 0.3W RGB SMD LEDs arranged into multiple independently controlled zones. Both models were showcased on the booth in multiples, allowing visitors to imagine how they might implement them into their own rig designs.
Finally, ADJ's popular 'VS' Vision Series of LED video panels were featured on the booth. This versatile, modular solution has been developed to make life easier for video professionals installing LED walls on either a temporary or permanent basis. Featuring the highest quality LED binning as well as bright, clear output, the VS Series features a selection of panel options suitable for a variety of different applications. The booth's main screen was constructed from 3.91mm pixel pitch (128 x 128 pixel density) VS3 panels, while the highest resolution VS2 and IP-rated VS3IP options were also on display.
ADJ fixtures were also utilised at the show at various places away from the ADJ booth. These ranged from compact Saber Spot RGBW LED pin spots being used to subtly illuminate exhibits, for example on the PixMob stand, to the Hydro Series taking pride of place at the show's focal meeting spot. The circle bar at the Hard Rock Hotel in Las Vegas may be gone, but that iconic LDI gathering spot was recreated this year on the show floor. The large circular bar was crowned by an even bigger circular truss, which couldn't be missed at the show, especially as it was adorned by 32 of ADJ's Hydro Wash X7 automated luminaires. The bar and lighting were supplied by Vegas-based AG Production Services, whose team drew the Hydro Series fixtures from their extensive rental inventory. Featuring seven potent 40W RGBW colour mixing LEDs, the Hydro Wash X7 is a compact and versatile IP65-rated moving head wash offering motorised zoom with a range of 6 to 40°. 
The AG Production Services team utilised their fixtures to bring the LDI circle bar to life with constant sweeping movements projecting vibrant swathes of colour onto the floor surrounding it as well as canopy drapes rigged to the circular truss. The result was impressive and enjoyed by a steady stream of attendees meeting over drinks throughout the three-day exhibition as well as hundreds of industry pros who gathered for a 'Crew Up & Connect Industry Party' on the Friday evening.