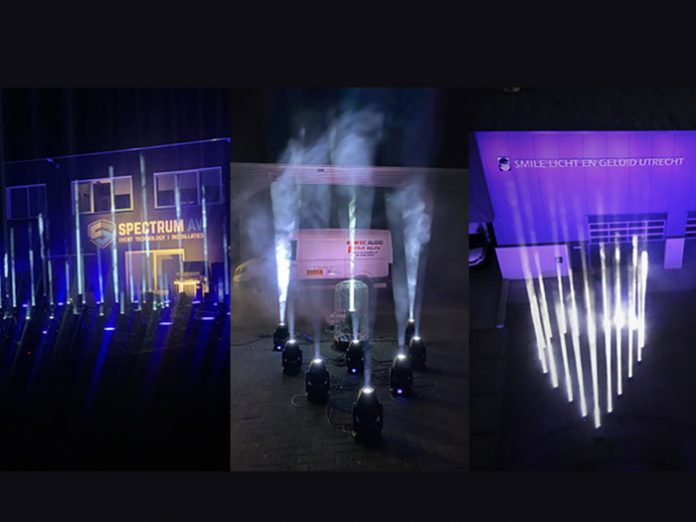 AV rental and production companies across the Benelux region came together recently to show solidarity for those affected by, and working to fight against, the global Coronavirus pandemic. They did this by setting up fixtures outside their warehouses and using them to send beams of light up into the night sky so that they could be seen by key workers in the area.
At 8pm on Sunday March 22nd, many companies across Belgium, Luxembourg and The Netherlands shone lighting fixtures up into the night sky in support of doctors, nurses and other essential workers who are serving in many different ways to keep us all safe. As an industry hit especially hard by the pandemic, the outpouring of support for the #LightTheSky campaign by AV production companies was especially poignant.
Many of ADJ Europe's customers took part in the event, including:
Spectrum AV, who setup two circular trusses on the ground outside their warehouse filled with ADJ fixtures. The inner truss was loaded with 32 compact Vizi Beam RXONE units, while the outer circle featured 24 Vizi Hybrid 16RX fixtures interspersed by 24 of the 32 HEX Panel IP LED wash panels. Smile Licht En Geluid Utrecht, who arranged 20 of ADJ's new Focus Beam LED fixtures in a heart shape outside their building.
LS Productions, who deployed 16 ADJ Vizi Beam Hybrid 2R moving heads as well as a pair of Entourage Fazes, an Entour Haze Pro and an Entour Cyclone Fan to make sure the beams really stood out in the sky. JC Delight created a rig outside their premises featuring 4 ADJ Focus Spot 4Z moving heads and 6 ADJ 12P HEX IP LED pars.TEC Audio, who directed 8 ADJ Focus Spot 4Z fixtures and an ADJ Vizi Beam Hybrid 2R up into the sky.
N.T. Sound Licht & Geluid, who combined the power of 8 ADJ Vizi CMY300 and 29 ADJ Vizi Beam RXONE fixtures to blast a thick column of white light upward into the night."We are very proud to see ADJ fixtures used in this way to honor the men and women around the world who are working tirelessly to fight the Coronavirus and keep essential services running in these difficult times," commented Toby Velazquez, President of the ADJ Group of Companies. "For our part, we will continue to do all we can to support our customers around the world, both during the crisis and when it is over, while ensuring the safety of all our employees."