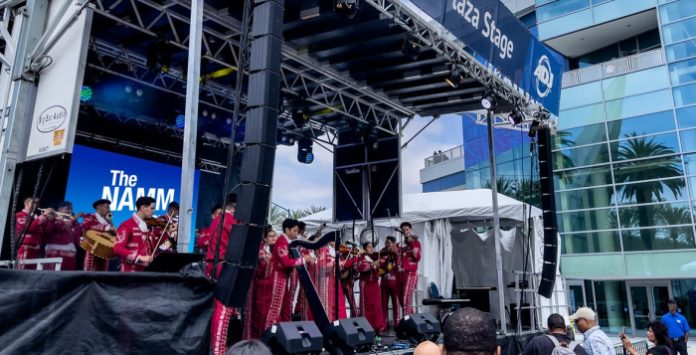 A full Imperio Pro system, consisting of IMP205 array modules alongside the new IMP118 sub cabinets, will provide the main PA for the outdoor ADJ Arena Plaza Stage at NAMM 2023. Throughout the show, an eclectic lineup of musicians will perform on the stage, demonstrating the full sonic capabilities of the Imperio Pro system.
Intended for easy transportation and very fast setup, the Imperio Pro IMP205 is a lightweight, high output active line array element that can be utilised in a variety of different configurations – both ground-stacked and flown – to cover a wide range of applications and audience sizes. Combining high quality neodymium components with Class-D digital amplifier modules and advanced 32-bit internal signal processing, it delivers unrivalled audio fidelity and deployment flexibility for a speaker of its size.
Measuring 324mm by 184.8mm by 224mm, this compact array module packs in a pair of five-inch neodymium low-mid transducers alongside six 1.75-inch IDVAT (Inverted Dome Vertical Array Technology) high frequency drivers. This configuration allows the unit to deliver a broad frequency response of 100Hz to 20KHz with a wide horizontal dispersion angle of 100⁰. The unit's internal Class D 2-way amplifier has a PFC switching power supply and is rated at 440W RMS (1,700W peak), which allows it to deliver an output of 128dB (single box measured on Axis @ 1m).
The ability of the small but mighty Imperio Pro IMP205 to deliver the necessary audio reinforcement for a medium-sized outdoor stage will be showcased on the Arena Plaza Stage at NAMM Show 2023, which is sponsored by Avante Audio's sister company, ADJ. Array hangs of eight modules per side will provide the main PA for the stage, paired with 16 of Avante Audio's new IMP118 sub cabinets, which will make their debut at the show. Additional Imperio Pro speakers will also be used for the stage's delay towers, while onstage foldback will be covered by Avante Audio's Achromic Series active loudspeakers.
Designed specifically for use alongside IMP205s, the brand-new Imperio Pro IMP118 active sub bass speaker features a high power 18" driver with a four-inch voice coil driven by a 2400W RMS Class-D amplifier. Offering inbuilt DSP for customizable crossover frequencies and selectable coverage patterns (omni, cardioid or end fire), this attractive new sub offers powerful and punchy low frequency reproduction from an easily portable cabinet. Constructed from 10-ply 15mm birch with a black polyurea finish and powder coated steel grille, the road ready cabinet is fitted with a pair of recessed handles, interlocking skid feet, rubber rear feet and convenient in-built EZ-Stacking hardware to allow multiple cabinets to be securely locked together when positioned on top of one another.
A wide variety of musical talent will be showcased on the ADJ Arena Plaza Stage throughout each day of the NAMM show, providing visitors plenty of opportunities to hear the Imperio Pro system in action. Highlights of the program include Miami's genre defying Los Wizzards, Jazz trumpeter Jonathan Dely, vocalist and virtuoso electric violinist Ginny Luke, World Music band Afro Dominicano, Grammy-nominated Caro Pierotto, Americana outfit Rose's Pawn Shop, country rockers Cimarron 615, and teenage rock band Youthanize.
As the show floor is emptying after NAMM's first day, the Arena Plaza Stage will also be the venue for ADJ's Happy Hour event. This two-hour mixer will feature live music from local cover band Heavens 2 Betsy and special guests Rodney O and Joe Cooley. Coinciding with NAMM's 50th anniversary of hip-hop celebrations, the legendary duo will perform classic tracks including Everlasting Bass and U Don't Hear Me Tho. The event will also feature a cocktail bar, providing the perfect post-show chance to relax, unwind and socialise. ADJ and Avante Audio dealers and users – as well as any audio professionals interested in the Imperio Pro system – are invited to join the ADJ team for this informal networking opportunity.
"The Avante Audio team is looking forward to showcasing the potential offered by Imperio Pro on the ADJ Arena Plaza Stage at this year's NAMM Show," commented Avante Audio Product Engineer, Tony Mirador. "Personally, I'm excited to see the double takes audio pros are sure to make when they hear the impressive audio quality and huge output of such compact line array elements. The show will also see the official unveiling of our new Imperio Pro IMP118, which has been painstakingly developed to be the perfect sub bass pairing for the IMP205 array modules. Together, the IMP205 and IMP118 offer a uniquely portable and versatile modular system that I know will appeal to many audio rental houses and production companies. Not only is the system's small size and low weight attractive – requiring less transport and storage space than other comparable options – its slimline form is ideal for corporate events when it is often desirable for a PA system to be 'heard but not seen'."
The ADJ Arena Plaza stage is located between the Anaheim Convention Center Arena and the ACC North hall, right by the pedestrian entrance to the site from W Katella Ave. Avante Audio will have a pop-up information booth near the stage with team members always on hand to answer questions. Avante Audio products will also be showcased on the exhibition floor at ADJ's booth, #10920 in Hall A.