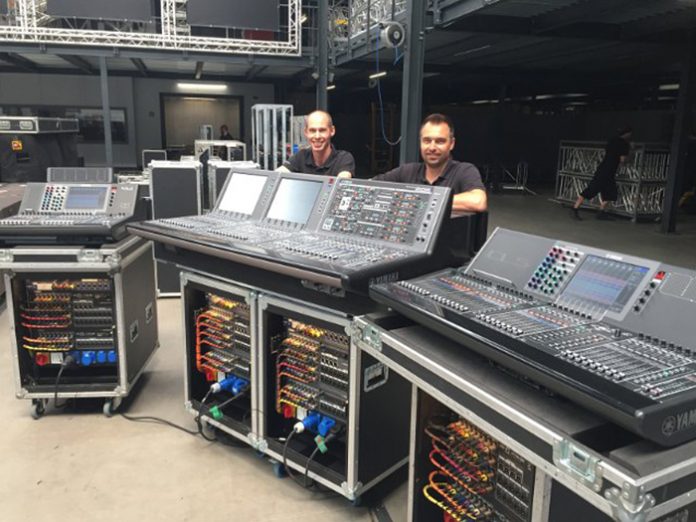 After many years of success with Yamaha's PM, CL and QL series digital mixing consoles, earlier this year Belgian rental company AED Rent invested in two RIVAGE PM7 digital mixing systems. These have already been such a success that sister business AED Lease has purchased a third system.
Purchased together with Rio3224-D2 and Rio1608-D2 I/O racks, the investment in the RIVAGE PM7 systems has complemented ongoing demand for Yamaha's other digital mixers.
"The need for CL and QL series mixers is still growing, with PM5Ds and M7CLs still being requested," says AED Rent account manager Piet Verstraete. "We have a large inventory of Yamaha consoles and investing in RIVAGE PM7 was the obvious next step up. When it was launched we were certain that it would take off in a big way and be seen as 'the new standard'. We are now seeing this happening."
He continues, "We always strive to get the best possible products in our rental stock; those which combine ease of use, a widely-accepted user interface, pristine sound quality, flexibility and reliability. So it is obvious that our customers choose Yamaha consoles!"
As well as the rental success, there has been demand for RIVAGE PM7 through AED Lease, which offers intelligent leasing solutions for a range of project-based situations. These range from single elements through to a whole production package. The company has recently invested in RIVAGE PM7 for a project which will also feature full PA, lighting and video.
With demand continuing to grow, AED Rent is confident that the investment in Yamaha systems will continue.
"Our entire Yamaha inventory is in great demand and RIVAGE PM7 means we can meet the needs of customers who need a platform that can serve more complex jobs and customers," says Piet. "2018 has seen many high profile events using our Yamaha consoles and our predictions are that these will only increase."