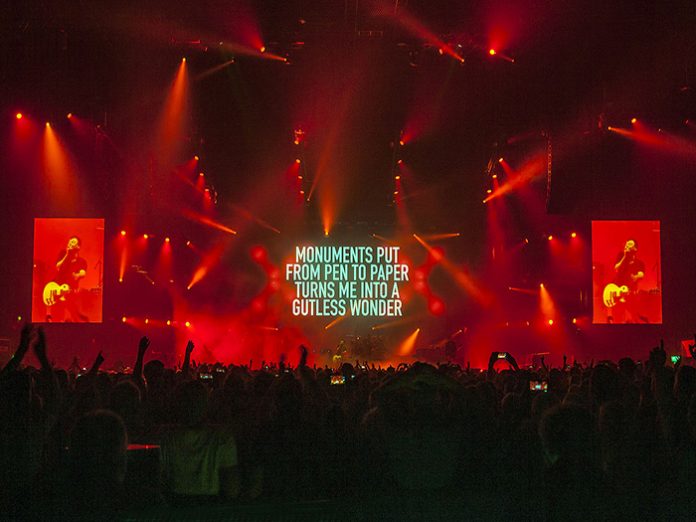 London-based lighting and video rental specialist Colour Sound Experiment supplied LED screens and processing to the recent UK leg of the Manic Street Preachers Resistance is Futile tour.
The 5mm Roe LED on the tour was part of a massive investment by the company – totalling over £1 million – in new LED screen earlier in the year.
This purchase added 230sqm of LED to Colour Sound's existing extensive screen stock which means they can offer a variety of pitches for all occasions, including 2.6, 6, 7 12, 20 and 30mm as well as the new 5 mm.
The screen was specified onto the Manic's tour by Toby Vogel who co-ordinates and manages all-things-video for the band on the road. "I have known H (Colour Sound founder Haydn Cruickshank) for many years and we have worked together on Underworld for a long time, so I was aware he had made this recent screen investment and delighted when Colour Sound was selected as the tour's video supplier."
Vogel also enjoyed working with Jo Beirne again, who has recently joined Colour Sound's lively and energetic project management team, bringing serious experience from the world of touring video.
The Manic's creative director is BAFTA Award-winning film director and screenwriter Kieran Evans. He produces all their show video content, adding a visual context which is absolutely fundamental to the gigs. This is the third tour for Vogel after Kieran originally asked him on-board in 2014 to run their live show video under his direction.
Vogel provided all the front end control and media servers himself – comprising Mac Pro towers running Resolume software and Blackmagic capture devices – together with a robo-cam system. He worked from FOH and output everything to screen, including a raw and stark IMAG camera mix that was at the essence of the aesthetic, cut by Phil Woodhead backstage in the video world.
One operated camera was positioned at FOH, fitted with a long-throw lens, with 2 more in the pit on a track-and-dolly system, and these were augmented with 2 Panasonic AW-HE60 and 3 AW-HE2 robo cams
The Manics have long been known for their innovative live show video, and a 14.4 metre wide by 4.2 m high screen upstage brought an epic widescreen impression to space, supported by 2 side IMAG surfaces each measuring 3.6 metres wide by 4.8 high.
"The screen was fantastic," Vogel commented. "It was straightforward to rig, the clarity was impressive and it gave the images the required impact and presence."
He concluded: "The Roe was a big investment, but we wanted a top-quality product, and it's already paying off. Working with Toby on The Manic Street Preachers was really enjoyable, and we were proud to be part of such a popular, successful and well-respected production."