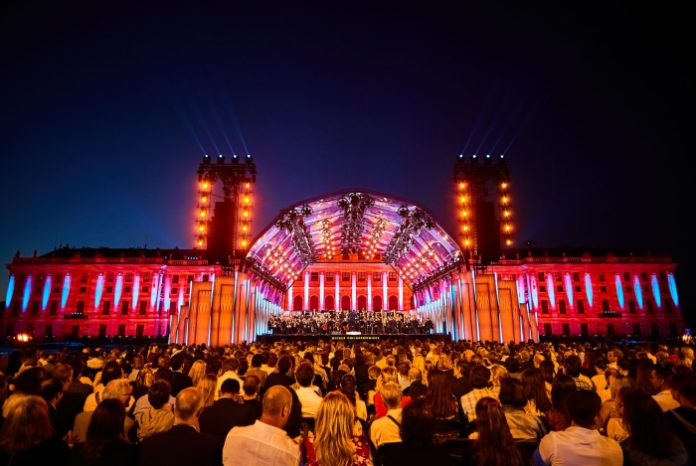 Lighting Designer and DoP, Jerry Appelt has been a constant factor in the production of Vienna Philharmonic's Summer Night Concert (Das Sommernachtskonzert) for five years, designing the entire space, decor and orchestra lighting.
When it comes to lighting the stage, the designer has long since found his favourite rig. While GLP impression X4 was still responsible for a large part of the orchestra lighting in previous years, this time around he couldn't resist the temptation to use the brand new GLP impression X5. No fewer than 62 of the German manufacturer's next-generation wash lights were used, both as orchestra backlights and for the low sides.
Appelt is highly enthusiastic about the latest generation of GLP's impressions: "In terms of colour range, the X5 is a huge step forward, thanks to the outstanding Lime chip. In particular, when lighting the personnel, for which one likes to fall back on pastel tones, it looks spectacular. It is precisely these skin tones, which are often difficult to generate from LED engines, that particularly characterises the basic mood of a light show. The impression X5 does a sensationally good job in that respect."
The GLP impression X5 emits an extraordinary luminous flux with an extended colour space, from 19 40W RGBL LEDs. Thanks to the new iQ.Gamut colour algorithm, the impression X5 produces a clean white point with a CRI 90 / TLCI 90 at 6,500 K. It also offers the option of quickly switching to other fixed colour temperatures, all of which are precisely calibrated on the colour temperature curve. With the new super-fast 1:16 zoom mechanism, the impression X5 covers a wide spectrum, from a penetrating 3.5° to a homogeneous 60° wash.
"In this constellation, and with such a high light intensity, the X5 really stands out," continued the designer. "I can achieve colours with a high CRI from this lamp that are currently not achievable with other devices. The optical system is very sophisticated and offers such a wide range that this wash light can almost be used as a beam lamp if required. Fortunately, the output is so large that it can also be used over long distances, which makes the fixture even more versatile. In my opinion, the impression X5 is the new state of the art in wash lights – a new lighting standard."
Last but not least, the newly designed circular lens also scored points: "With the X5 we now have a round image, which gives a more harmonious image in the camera, especially in the low sides," reported Appelt. "The X5 was also impressive in terms of the sound technology requirements for low noise development."
In addition to Jerry Appelt, the lighting crew consisted of Gaffer, Markus Ruhnke; Lighting Director and Show Operator, Manfred Nikitser; White Light Operator, Ole Güllich and Place Light Technician, Max Strobl.
In conclusion, Appelt paid tribute to those responsible for this event. "I would like to thank in particular the organiser, Zigo Mutschlechner, and the Vienna Philharmonic, especially Thilo Fechtner and Johannes Schneider, for the fantastic cooperation once again."