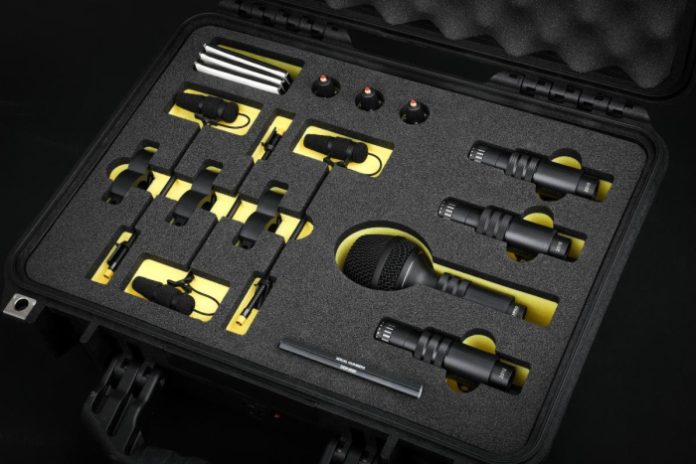 DPA Microphones has launched the DDK4000, the company's first ever Drum Microphone Kit, to help deliver a clear and natural reproduction of the low-frequency, high SPL instrument.
Comprising the brand's acclaimed 4055 Kick Drum Mic, as well as the new 2012 Cardioid and a stereo pair of the new 2015 Wide Cardioid, the kit also features three of the brand's renowned 4099 CORE Instrument Mics. With consideration for durability at the forefront of this solution, the kit has been rigorously tested to perform flawlessly for all types of music genres and is designed to withstand the demands of life on the road.
"We are ecstatic to offer sound engineers a perfect drum miking solution with the DDK4000 Drum Microphone Kit, comprised of several instrument mics with similar sonic characteristics that allows users to capture a uniform, uncoloured sound of the entire drum setup," said Bo Brinck, Product Specialist and Sound Engineer at DPA Microphones. "Every mic in the kit is designed with linear on- and off-axis response, which helps the sound designer keep the natural direct sound as well as the organic bleed between the drums and cymbals. Beginning with the clear, true sound of the entire kit gives engineers the best starting point to shape the sound. We are very excited for the creative possibilities and high-quality sound that this microphone kit will provide to the industry, and we look forward to presenting it for the first time at NAMM."
Like most DPA solutions, the DDK4000 Drum Microphone Kit comes in a sturdy Peli case, which includes microphone holders and adapters. Additional accessories such as a stereo boom, gooseneck mount and corresponding shock mounts are also available. The complete DDK4000 Drum Microphone Kit can be seen in action at the NAMM 2023 show, where it will be shown at the DPA Booth (14504) and used on the Yamaha Grand Stage throughout the event.