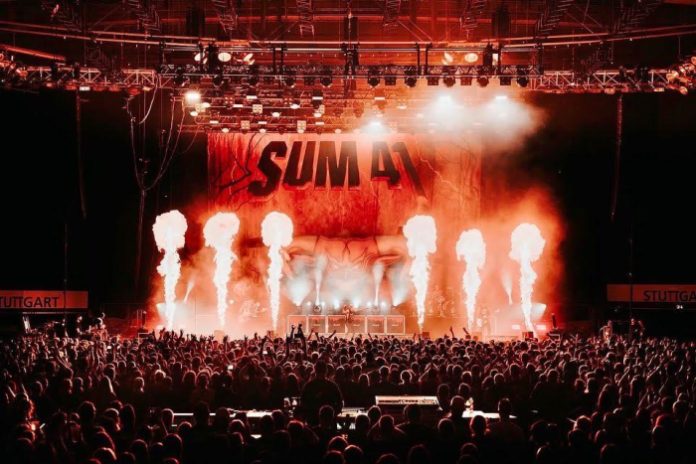 After more than 25 years on the road, Sum 41 share an insatiable hunger for touring. The GRAMMY-nominated and Juno Award winning quintet are showing no signs of travel-fatigue on the European leg of their Does This Look Like All Killer No Filler global tour, shaking up venues throughout the European continent.
Turning up the excitement multiple notches is an intense, fast-moving David Summers-designed light show that features towering apocalyptic pyro effects, a fierce centrepiece and backdrop, confetti barrages, searing audience lighting, and a series of dramatic effects from 12 CHAUVET Professional Color STRIKE M fixtures, which, like the rest of the rig, was supplied by Colour Sound Experiment.
The current tour is Summers' first arena run with Sum 41. From the looks of things, it seems like a designer-client marriage made in heaven. "We have very similar philosophies," said the LD. "The band absolutely love to send their show over the top, just as I do. I also like to light bands that are very animated and that certainly describes their stage persona. They've been very receptive to adding things like pyro, cryo and kabuki on top of the lighting package, which I think is giving the show extra personality."
"Forgoing a big centre-stage video wall, Summers and the design team went with a backdrop dominated by a haunting illustration of a devil. Summers hits this backdrop with light from a variety of angles at different points in the show. At the same time, he's always careful to balance shadows and dark spaces with the light; he's also able to endow the backdrop character with movement and personality.
"We wanted an image that would add to the giant inflatable Devil we use on stage," explained Summers. "Having this backdrop has been a great way to make the show feel more integrated."
Summers is also adding layers of depth and texture to the performers on stage by lighting them from a variety of distinct angles and silhouetting them in unique ways. Rather than relying exclusively on full silhouettes, he sometimes leaves part of a performer in light and part in shadow. He also uses colored light, in addition to white, for silhouetting. At other times, he will make artists "disappear" from sight by engulfing them in intense bright whites.
The rig's Color STRIKE M fixtures, which are positioned with battens on carts, are relied on to create this dramatic silhouetting and stage blinding, in addition to providing colour changing effects. According to Summers, the speed of these motorised strobes makes them well-suited to perform this task in Sum 41's fast-moving show.
Speaking of the Color STRIKE M, Summers said: "It's extremely bright, which gives us very intense and dramatic effects. It's also a very fast fixture and given the energy level of Sum 41 that's very important. I am using a lot of silhouettes to compliment this band's sound, and this fixture has been great in that regard."
Sum 41, is performing in Stuttgart, Frankfurt, Berlin, Bordeaux, Paris, Madrid, Lisbon, Warsaw, Budapest, Prague, and Brussels among other cities on the European leg of its tour. For Summers, these many of these venues represent a change from the live music clubs he has toured in before.
"This is really my first arena level tour," said Summers. "People like Haydn Cruickshank and Jordan Dormer from Colour Sound Experiment have been very good in helping me make this vision a reality. Also, a big shout out to my new company Sonus Productions of New Jersey for giving me an opportunity to show what I can do."