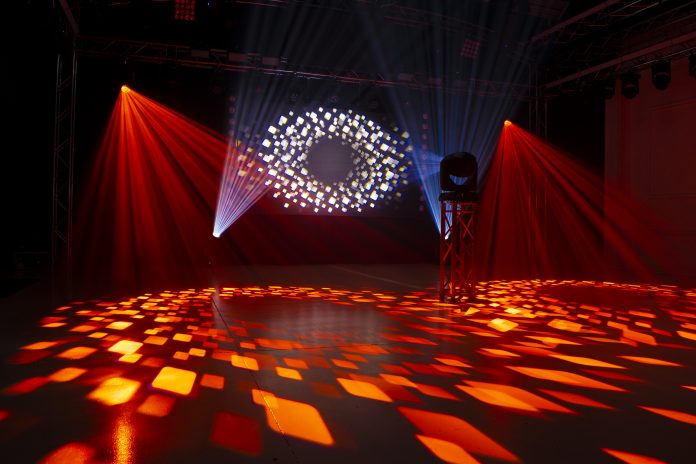 Expanding the popular ADJ Vizi Series of moving heads, the new Vizi CMY 16RX builds on the success of the original Vizi Hybrid 16RX with the addition of full CMY colour mixing, giving lighting designers an almost unlimited choice of colours.
Offering true hybrid functionality, the new fixture can be used interchangeably as a beam, spot or wash luminaire, providing ultimate flexibility for production companies and rental houses as well as allowing fewer units to be specified for permanent installations and touring shows.
Thanks to its CMY colour mixing feature, the Vizi CMY 16RX offers an almost limitless palette of colour options. Independent cyan, magenta and yellow colour flags can be mixed together to create almost any colour imaginable. This significantly increases the creative potential for lighting and production designers, allowing them to select the perfect colour hue for any given moment.
It also allows the colour of the unit's beam to be accurately matched to the colour of other fixtures used on a particular show and allows for smooth transitions from one colour to another. In addition, the fixture still incorporates a standard colour wheel which allows easy selection of nine popular colours (+ open).
The powerful unit harnesses the power of Philips' incredibly potent 330W Platinum 16R MSD discharge lamp. This light source offers an output comparable to a standard 575W discharge lamp while also boasting a long-life expectancy of 1,500 hours. With a colour temperature of 8000K, the high-quality lamp generates an even projection field that makes for sharp pattern projections and highly-saturated colour washes.
As a hybrid fixture, the Vizi CMY 16RX can switch in an instant between beam, spot and wash duties. In beam mode it offers various sizes of GOBO beam reducer that can be used to achieve a variable beam angle of 2.3 – 10-degrees, allowing for piercing mid-air effects to be created that will travel over an extremely long distance. In spot mode, its motorised zoom function allows for a beam angle of 6 – 22-degrees, which means that GOBO projections can be sized precisely to match the desired look. Finally, in wash mode the fixture offers a variable beam angle of 22 – 63-degrees, through the use of an internal frost filter, allowing for illumination of tight areas or large swathes of a stage or dancefloor.
In addition to its signature feature of CMY colour mixing, the unit also offers an expansive collection of beam shaping tools. Two separate GOBO wheels are installed; the first offering 15 static fixed patterns and the second featuring nine indexed replaceable rotating GOBOs. The static GOBOs allow for crisp mid-air visuals to be created in beam mode and can also be used in spot mode to frame the beam, creating non-circular projections. The rotating wheel is compatible with standard 15.8mm GOBOs, which means that custom patterns can be used ranging from simple stamped-metal shapes to complex coloured glass GOBOs.
In addition to motorised zoom, the fixture also offers motorised focus allowing lighting designers to ensure GOBO patterns remain sharp at any projection distance. The fixture is also loaded with two separate multi-faceted prisms which can be used to multiply GOBO projections and create mesmerizing mid-air effects or complexly animated surface projections. The first prism offers a 5-facet linear arrangement, while the second is in a 16-facet circular pattern. Both prisms offer independent, bi-directional, variable speed, indexed rotation and the unit also boast an impressive morphing feature that allows for subtle transitions from one prism to the other. The versatile fixture also offers electronic 0 – 100% dimming, a frost filter to add a soft edge in wash mode, a motorized shutter and electronic strobing feature that allows it to achieve a flash speed of between 0.3 and 7 HZ.
Power is connected to the fixture via a professional-calibre locking powerCON socket and features automatic voltage switching between 120V and 220V, allowing easy integration into any existing lighting rig. Both 3-pin and 5-pin DMX input and output sockets also mean that the unit can be easily integrated into any existing lighting control system. A large illuminated display panel provides easy and intuitive access to mode selection and DMX addressing, and a choice of two DMX control modes (23 or 25 channels) are supported. The unit is also equipped with a USB socket, allowing for easy and user-friendly installation of future firmware updates.
Despite its comprehensive feature set and powerful output, the Vizi CMY 16RX is a relatively compact fixture. It measures 639mm x 413mm x 326mm / 25" x 16.25" x 13" (LxWxH) and weighs a very manageable 52 lbs. / 23.2 kg. The unit's base is fitted with large rubber feet, allowing it to stand directly on the floor or stage of a venue, and it is also designed to accommodate two omega clamps for secure rigging. The omega brackets can be mounted in either vertical or horizontal orientation, allowing for easy mounting in any direction. Inside the box, alongside the manual and power cord, are two omega clamps as well as a safety cable for added protection when the fixture is installed at height.
"The original Vizi Hybrid 16RX has proved hugely popular, with lighting professionals across the globe valuing both its impressive output and expansive feature set," said ADJ USA's National Sales Manager, Alfred Gonzales. "However, at ADJ we're committed to continuing to push the boundaries of what our products have to offer, therefore we're very excited to now introduce to the market the new Vizi CMY 16RX. Inheriting the powerful Philips Platinum 16R MSD lamp and multipurpose hybrid beam/spot/wash functionality of the original 16RX model, this new fixture offers lighting designers the creative freedom to select the exact colour they require thanks to full CMY mixing. It is a really nice unit that is very fast and incredibly compact for a fixture with so many features and such a powerful output."
Combining a potent light source with CMY colour mixing and a whole host of other advanced features, the Vizi CMY 16RX is a versatile fixture. It is ideal for use in a wide variety of situations including permanent installation in churches, entertainment centres and nightclubs as well as touring productions, festival stages and one-off event production.