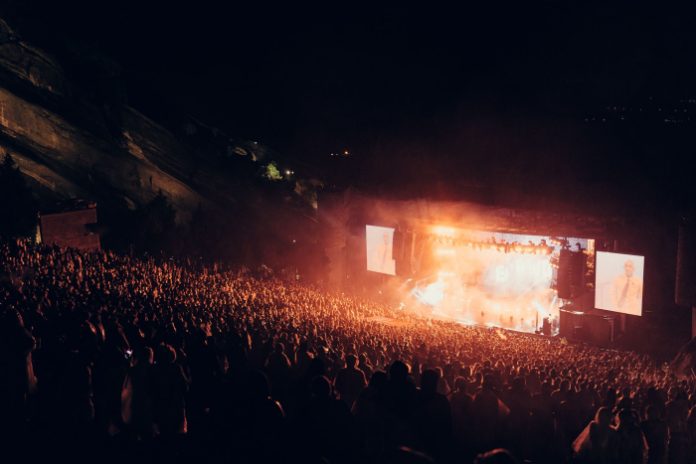 "As a lighting designer,  you always collaborate; it's critical to what you do," said Los Angeles-based LD, Julien Roux of Black Lantern Creative, as the dust settled on Blackbear's Red Rocks show. "In this particular show though, there was a very intense meeting of the minds, and  that made it very special."
Reux's enthusiasm is easy to understand given how smoothly the warm white tungsten-like glow from his CHAUVET Professional STRIKE 1 fixtures flowed with the pyro effects and video content at the Blackbear show. The immersive looks created were not merely the result of his talent, but also of the mindset he shared with SFX specialist Nick Arnold and video designer Harley Wrecks, as well as production manager Justin Trotta.
"Nick Arnold is a SFX wizard," said Reux. "Before the show we discussed how we wanted to cue out pyro and lighting together. It made programming easy, as both of us have very similar creative perspectives. We had moments where we went back and forth, but we always came together to make the show as dynamic as possible. Light and pyro worked  in harmony, each playing off the other."
The tungsten glow from the STRIKE 1 fixtures, also blended seamlessly with the video content displayed on a large blow-through wall. During some key moments of the show, the amber glow of the lights seemed to grow out of the flames being directed over the stage and golden images on the video wall.
"I loved how my tungsten looks fit right in with the video content created by Harley as well as the pyro," noted Reux. "Blackbear gravitates towards heavily flamed SFX moments since it reflects the music. So naturally, I just tried to complement those moments with lighting the best I could."
Working with 18 STRIKE 1 fixtures supplied by Brown Note Productions, Reux served up a series of intense looks in keeping with the fierceness of the pyro effects. "I hung all of the STRIKE fixtures downstage with the red shift on and used them often to rev up the crowd as blinders," he said. "Their versatility was important to creating varied looks."
To create this variation Reux sometimes faded the light from his blinders to coincide with changes in the pyro and video displays, creating a holistic feeling that engaged the crowd further. "Besides crowd lighting, I  also made sure to use the STRIKE fixtures rhythmically in our timecoded show, usually  following the drummer's lead for lighting hits," said Reux. "Changing tempo with the rest of the production made everything click."
As an example, Reux points to the song Chateau. "When it came on, we really brought in a lot of  high energy," he said. "We worked  with lots of drum chorus cues that played with a large negative space on the video. The show worked for us and fans, because everyone fed off the creativity of everyone else."