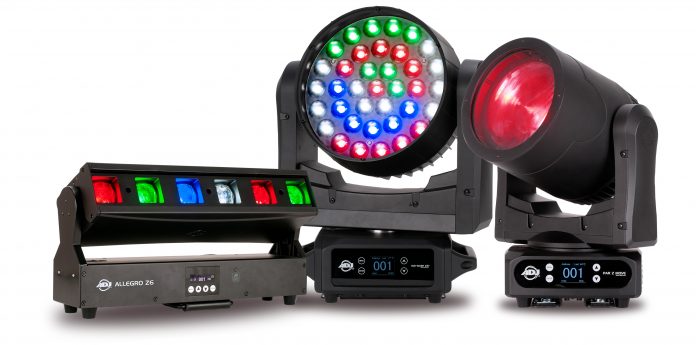 In anticipation of the 2019 Prolight + Sound trade show, which runs from April 2-5, 2019 in Frankfurt, Germany, ADJ is pleased to announce details of eight new professional lighting products that will be displayed for the first time on the company's booth (Hall 12.1 Stand E55). Including moving heads, IP-rated washes and an impressive motorised LED linear fixture, each of the new products enhances ADJ's extensive catalogue of lighting equipment in a specific area.
ADJ's new Allegro Z6 is a professional linear LED fixture, which delivers lighting designers incredible creative potential. It features 6 individually-controllable 30W quad colour 4-in-1 LEDs mounted on a motorised bar with a tilt angle of 220-degrees. The beam angle from the LEDs can be altered between 3.5 and 38-degrees using a motorized zoom function, which means that the unique fixture can be used to create a wide variety of impressive moving wash and beam effects. It features 5-pin DMX connection as well as RJ45 input and output ports for advanced control using Art-Net or Kling-Net.
Expanding ADJ's Focus Series of compact, yet powerful, professional moving head luminaires, the new Focus Beam LED is the first dedicated beam fixture to be introduced to the range. Featuring an 80W cool white LED engine, the unit has a narrow 5-degree beam angle making it ideal for creating mid-air beam effects in nightclubs and on concert stages. It offers an extensive feature set – including motorised focus, 15 GOBOs + open, 13 colours + open, 0-100% linear frost filter, USB firmware update port and two indexed rotating prisms (6-facet linear and 8-facet circular), making it a versatile tool for creative lighting designers.
The new 15 HEX BAR IP is a 1-meter linear LED wash fixture with a weatherproof enclosure. It features 15 x 12W HEX (6-in-1) RGBWA+UV LEDs and offers a 25-degree beam angle. With an IP65 rating, the unit is protected from dust, sand, moisture and water, making it ideal for outdoor installation or use by production companies working on festivals and other outdoor events. The unit is fitted with IP65-rated Seetronic locking power input and output sockets, which can be used to link the power supply for up to 6 fixtures from a single 120V supply (15 fixtures @ 240V). As well as IP65-rated Seetronic 5-pin DMX sockets, it is also equipped with an ADJ WiFLY EXR extended range wireless DMX receiver that allows cable-free operation from a compatible controller or DMX bridge from a distance of up to 2,500 ft. / 700m.
Building on the success of the Vizi Wash Z19 launched at LDI last year, ADJ will use Prolight + Sound 2019 to unveil its bigger brother, the Vizi Wash Z37. This professional moving head wash fixture harnesses the power of 37 x 20W 4-in-1 RGBW Osram LEDs arranged in 9 individually-controllable zones. This, combined with an impressive 10 ~ 60-degrees zoom range, allows the flexible fixture to be utilised in a wide variety of ways. It can generate mid-air beams as well as 'eye-candy' effects and can be used to illuminate large areas of a stage or to highlight individual performers. Featuring Seetronic locking power in/out connections as well as both 3-pin and 5-pin DMX connections and RDM (Remote Device Management) compatibility, the Vizi Wash Z37 is a professional calibre moving head luminaire.
With their compact design and potent output, ADJ's Saber Spot series of LED-powered pin spots have proven extremely popular with a wide range of users from production companies and equipment installers to event décor specialists and mobile entertainers.
Prolight + Sound 2019 will see the launch of the latest new addition to the range, the Saber Bar 6, which combines 6 individually controllable compact pin spots on one pre-wired bar. Each spot can be positioned independently and is loaded with a powerful 15W warm white (3100K) LED light source which is focused through an ACL lens to generate a sharp 5-degree beam of light. The fixture is ideal for spotlighting tables and other objects and is fitted with heavy-duty adjustable brackets for hanging as well as both 3-pin and 5-pin DMX input and output sockets to allow easy integration into any existing DMX control setup.
The Par Z MOVE RGBW is a new version of ADJ's recently released Par Z MOVE automated par fixture loaded with a 4-in-1 RGBW colour LED light source. Featuring a moving head yoke, and offering a motorised focus function that allows a variable beam angle of between 9 and 37-degrees, the unit is powered by an extremely powerful 300W C.O.B LED engine with a CRI of 80. If features Seetronic locking power connectors (allowing the power for up to 4 fixtures @ 120V and 8 fixtures @ 230V to be linked) and also offers both 3-pin and 5-pin DMX connections as well as RDM-compatible remote addressing and a built-in USB firmware upgrade port.
Adding to ADJ's popular Encore range of LED-powered stage lighting fixtures, the Encore Burst RGBW IP is a multi-colour audience blinder/strobe fixture. Powered by an intense 150W CREE COB 4-in-1 RGBW LED source, the unit generates high impact effects in any environment thanks to its IP65-rated enclosure. Protected from dust, sand, moisture and liquids, the unit can be used for outdoor events in all weather conditions and even when used indoors its sealed casing design allows for extended operational life and reduced maintenance requirement thanks to its dustproof design. The fixture features a rugged metal housing, with a smooth contoured design, and is equipped with a flexible scissor yoke that can be used as a floor stand or fixed to a rigging clamp using the supplied Omega bracket. Boasting the same distinctive design, flexible bracket and IP65-rated enclosure, the Encore Burst UV IP is a similar fixture but loaded with a 50W COB Ultraviolet LED. Both Encore Burst fixtures have a 50-degree beam angle.
"Prolight + Sound remains our biggest trade show for the European market and we're very excited to use it to introduce our customer base to these new and innovative products," enthused ADJ's EU Sales Manager, Sebastian Mobers. "Alongside the new product debuts, we'll also be showcasing the products that have previously been launched at NAMM earlier this year and LDI at the end of 2018. We're particularly looking forward to introducing both existing and prospective customers to our ground-breaking IP65-rated moving heads, the Hydro Beam X1 and Hydro Beam X2, which are set to make a big splash during the upcoming festival season!"
Prolight + Sound 2019 will take place at Messe Frankfurt, 2 thru 5 April. Featuring a time-coded light show highlighting the potential of ADJ's latest lighting, video and effects technology, the company's booth at the show – Hall 12.1 Stand E55 – will be manned by representatives from both ADJ Europe and ADJ USA. The ADJ team will be happy to provide product demonstrations, answer technical questions and offer advice to visitors on which fixtures from across ADJ's expansive range will be most suitable for any given application.