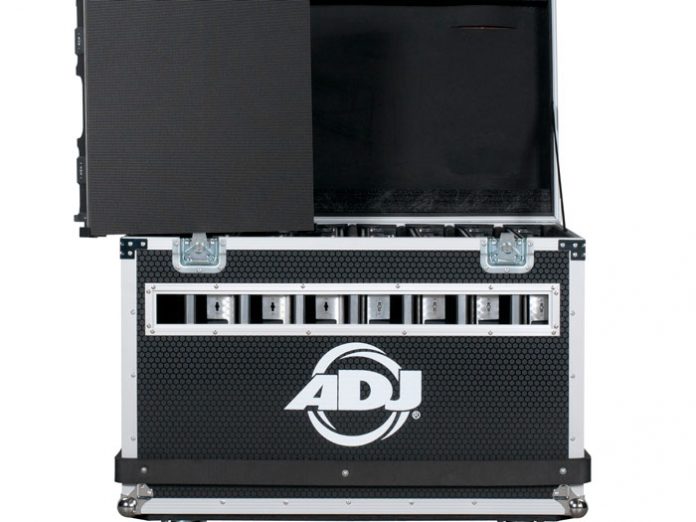 The new 'VS' Vision Series of LED video panels offers a versatile modular solution that has been developed to make life easier for video professionals installing LED walls on either a temporary or permanent basis.
Each panel in the range features four individual modules, which are front serviceable, making it ideal for temporary hanging as well as permanent installation. Across the range, the modules are all mounted to the same frame, allowing panels of different resolutions to be used together and meaning that the same rigging bar and other accessories can be used for all VS models.
Featuring the highest quality LED binning as well as bright, clear output, the VS Series features three-panel models. The VS5 offers a 5.95mm pixel pitch (84 by 84-pixel density), the VS3 has a 3.91mm pixel pitch (128 by 128-pixel density) and the VS2 offers the highest resolution in the range with a 2.97mm pixel pitch (168 by 168-pixel density). All three panels utilise 3-in-1 RGB SMD2121 LEDs with a brightness of 1000 NITS and a very high refresh rate of 3840Hz. They offer a wide viewing angle of 160° (horizontal) / 140° (vertical) and a high contrast ratio of 5000:1, allowing for the delivery of exceptionally vibrant video reproduction.
Every panel in the range is equipped with a high-quality Novastar A5s data receiving card and features DataLock securely-locking ethernet input and output sockets that allow the signal from a compatible video processor (for example the Novastar MCRTL-300, VX4S or Nova Pro HD) to be linked from panel to panel. Each unit is also equipped with locking power input and output sockets, which can be used to link the power supply from one panel to another.
All of the panels feature in-built articulated protectors which fold out from the back of the unit to provide protection to the corners – the parts of the panels most prone to damage – during transit. In addition, each panel also features a convenient recessed carry handle built-in to its top edge. This makes the compact (19.68" by 19.68" by 2.75" / 500mm by 500mm by 69.6mm) and lightweight (17 lbs. / 7.7kg.) panels extremely easy to carry and rig.
The rigging of the panels is made even easier by the Vision Series' innovative magnetic locating system. This pulls together the top of one panel to the bottom of another, allowing a technician to hold the new panel temporarily in place with just one hand while using their other hand to engage the pin-locking mechanism. This means that a single crew member can quickly and easily erect a full wall of panels.
The VS Series is completed by a range of accessories that can all be used interchangeably with any of the panels in the range. The VSRB1 is an intelligently-designed rigging bar that can be used to vertically hang or ground stack up to 20 VS panels. The VSRQR is a convenient 'quick rig' attachment that fits the rear of any Vision Series panel so that it can be fastened directly to a 2" pipe or truss. The VSSCSB is a support base that allows up to three VS panels to be mounted in a freestanding column, ideal for temporary digital signage applications. The VSMRT is a module removal tool that magnetically attaches to the front of Vision Series panels to aid technicians in removing modules from the front side when servicing.
A dedicated flight case, the VSFC8, has also been created specifically for protecting and transporting up to eight Vision Series LED panels. The robust wheeled road trunk features eight padded slots for the panels, a hinged lid that locks in place using two butterfly catches, a rubber bumper strip that runs around all four sides of the case, and two recessed bar handles on either end. It also features a useful clear plastic window that runs down one side, allowing users to easily identify how many panels are stored in a case without opening the lid. This also allows crew members to check which way the panels are facing if the case needs to be flipped on its end so that they can ensure the LEDs are facing upwards.
"Since ADJ entered the LED video panel market with the AV Series over five years ago, we've enjoyed phenomenal success," explained ADJ USA's National Sales Manager, Alfred Gonzales. "ADJ video panels are now used worldwide, installed permanently in churches, nightclubs and entertainment centres, and utilised by production companies working on all kinds of tours and one-off events. However, at ADJ we never dwell on our past successes, but always strive to do even better. For the new Vision Series, we've combined everything that made the AV Series so popular – value, reliability and ease of use – while also addressing the feedback we've received from our valued customers. Front serviceability is something that integrators often ask for, which we are pleased to offer throughout this new range, while the innovative magnetic rigging system offered by the Vision Series will make life a whole lot easier for our event production and touring customers."