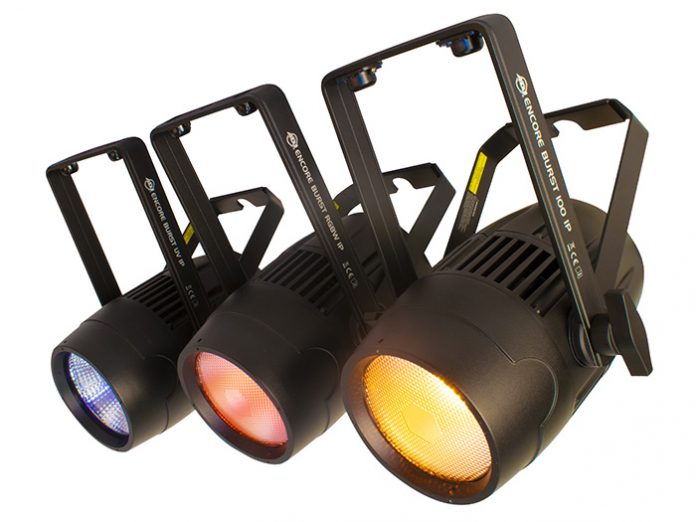 Following the success of ADJ's Encore Burst 200, its popular high-intensity twin warm white LED-powered blinder, the company have announced the expansion of the Encore Burst Series with the introduction of three new single LED wash fixtures. Each model features the same sleek IP-rated casing and flexible multipurpose bracket, while offering a different powerful LED engine designed with a specific lighting application in mind.
The Encore Burst 100 IP features a potent 125W warm white CREE C.O.B LED and has a wide 50° beam angle making it ideal for use as an audience blinder or general wash fixture. This extremely punchy unit has a colour temperature of 2700K and also offers a dim-to-warm feature that authentically replicates the dimming profile of a traditional halogen lamp light source by introducing a 1200K (amber) low intensity LED element at lower dimmer settings. In addition, the model offers variable speed strobe and pulse effects which add to the flexibility of this professional lighting fixture.
Also designed for use as a versatile wash or audience blinder/strobe effect, the Encore Burst RGBW IP offers the added creative potential of full red, blue, green and white colour mixing. Harnessing the power of a 150W CREE C.O.B 4-in-1 RGBW LED light source and also offering a wide 50-degree beam angle, this versatile fixture can be used to bath a stage or crowd in an almost limitless choice of colours as well as for creating powerful multi-coloured strobe effects.
The final new model to be added to the series is the Encore Burst UV IP. This fixture features a high-intensity 50W C.O.B. ultraviolet LED, with a wavelength of 365nm, and is designed to fill large areas with UV light. Ideal for concert stages, nightclubs and festivals, as well as theme parks and state fairs, this powerful black light will make white and fluorescent materials glow vibrantly from a considerable distance.
All three fixtures feature the same distinctive die-cast metal housing, which has been designed to withstand the rigours of touring and regular temporary event use. It also offers an IP65 outdoor rating, meaning that it is sealed from liquid, moisture, sand and dust, making the fixtures suitable for safe and reliable use outdoors in any weather. Even when used inside, the fixtures' protection from dust and other particulates make for a reduced maintenance cycle and an extended operational life.
Each model also boasts a flexible multi-purpose bracket, which adds to the versatility of these powerful units. The two part yoke can either be split to form a floor stand or combined to create a regular hanging bracket complete with an Omega bracket attachment. In either configuration, the fixture can be locked securely into place using large plastic thumb-tightening screws located on both sides of the unit.
IP65-rated Seetronic 5-pin DMX input and output sockets, together with Seetronic locking power input and output connections, are located on the back of each fixture. These are protected by rubber caps which can be inserted into the sockets whenever they are not in use to prevent the ingress of liquids or particulates. All three models offer multiple DMX channel modes and are fitted with OLED display screens to facilitate mode selection and addressing. They are also RDM-compliant, allowing remote addressing from a compatible control system.
With compact dimensions of just 9.21 inch x 9.8 inch x 12.12 inch and weighing only 4.2kg each, the three new Encore Burst fixtures are all easy to store, transport and rig. They also place minimal demands on rigging, in terms of space and weight requirement, while generating extremely powerful output suitable for large scale productions and installations.
"Combining the power-saving and long life benefits of an LED light source with the classic blinder effect in flexible and weatherproof case design, the original Encore Burst 200 has proved to be immensely popular," comments ADJ USA's National Sales Manager, Alfred Gonzales.
"We're therefore very pleased to be able to announce the immediate availability of these three new additions to the Encore Burst line-up. The Encore Burst 100 IP offers a warm white single wash/blinder option, while the Encore Burst RGBW provides both intense cool white and the flexibility of full-colour mixing to allow washing of huge areas with richly saturated colour, and the Encore Burst UV offers a powerful source of atmosphere-enhancing UV light. All three fixtures offer incredible punch and even beam spread from extremely compact units as well as sharing the same rugged IP-rated metal housing and flexible hanging bracket, meaning that they can be used on the same show or install in varying combinations while maintaining a coherent aesthetic."
The Encore Burst 100 IP, Encore Burst RGBW IP and Encore Burst UV IP are all available now from ADJ subsidiaries, distributors and dealers worldwide. These units are rough, tough, light and bright, making them ideally suited for a wide range of uses including theme parks, churches and concert tours as well as small-to-large indoor and outdoor temporary events.