Individuals from all corners of the live events industry took to the streets, city centres, towns and even rivers on 11 August 2020 to highlight the issues facing the events sector. In the process of doing so, organisers proved their organisational skills and effectiveness. Here's a round-up of some of the region-specific events which took place during the day of action…
LONDON
The epicentre of the #WeMakeEvents incentive started in London, UK. Created by PLASA, the #WeMakeEvents banner was used for several social media drives since the lockdown began. The underlining message of the campaign is to highlight the uncertain state of the live events sector and that, without serious government intervention, a world-renowned industry which generates billions for the UK economy may not recover.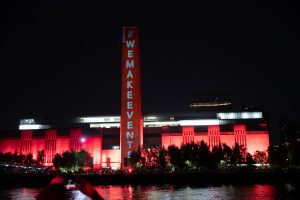 The campaign called for "meaningful support" from the government until the industry can operate in a way that is not limited by social distancing policies including: grants – not loans – made available to businesses in the events supply chain; an extension to the furlough scheme until the industry is back to work; and an extension of the self-employment scheme, tailored towards the industry.
Following several online events, on 11 August, the campaign moved into 'Red Alert'. Billed as the final of the day of action, London's rendition of campaign saw a boat with a number of key members of the live events sector on board sailing down the Thames, passing Royal Festival Hall, the London Eye, the National Theatre and the Tate – which were all illuminated red. As the boat reached key locations – such as Westminster Bridge and Jubilee Bridge – hundreds of volunteers dressed in red and 4,000 socially distanced supporters lined up on the banks of the river. Level 42 frontman, Mark King and folk singer, Frank Turner performed sets on the boat, as it made its way to the Tate Modern, displaying the message: 'throw us a line'.
Managing Director of PLASA, Peter Heath commented on the incentive: "The live events industry supply chain, essential to every single event in the UK, is set to completely collapse without financial support from the government, due to social distancing prohibiting mass events. Large-scale events are not expected to reopen until Spring 2021 at the earliest, and the reality is that the sector can't wait that long. While the government's commitment to provide £1.57bn to our crown jewels is welcomed, this does not help the companies and freelancers who work in the live events supply chain. We've issued a 'Red Alert' for #WeMakeEvents because the sector is on its last legs, and now the whole industry is coming together to ask the government to 'throw us a line'."
On site during the demonstration in the capital was Royal Albert Hall's Head of Production and Technical, Ollie Jeffery. "Events at the Royal Albert Hall rely on countless suppliers, manufacturers and freelancers, and we will all need to work together to make the shows of the future," he commented. "Many livelihoods across the industry are now at stake and it was both heart-breaking and heart-warming to be part of the industry coming together yesterday to call for support."
DiGiCo Managing Director, James Gordon, who was also on site, commented: "It was great to see the industry coming together in a controlled way. The aim was to demonstrate the plight of the skilled freelancers working within our industry and the companies in the supply chain that put on the best shows in the world. I think we achieved that, but there's more work to do."
Producer of the activities for the #WeMakeEvents campaign, Gary White summed up the day of action: "It is just overwhelming to witness the professionalism and dedication of everyone that was involved in producing this and those people who registered and responsibly came out to be seen and heard peacefully in London and in all regions across the UK."
---
MANCHESTER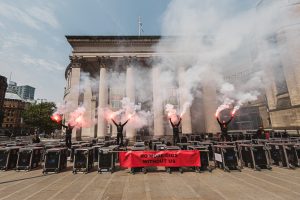 Taking place in TPi's own backyard, 2,000 live events personal gathered for a flight case push that saw the mass of those from the music industry walk over a mile down Oxford Road, from Manchester Academy to the central library in St Peter's Square in the centre of the city. Pulling the pieces together for this protest were a selection of well-known names from the city's live events community including; Paul Stevart, Nick Gosling, Chris Snow, Julie Cotton, Ben Johnstone, Jon Drape, Mike Atkinson, Michelle Thompson, Gemma Stansfield and Nick Robinson.
The Manchester protest became the world's first event in which organisers implemented the Tour Production Group (TPG) COVID-19 Working Guidance. Production Manager, Nick Robinson, together with Ben Dawson as Crew Chief and Flight Case Manager, and Event Trucking Services' Alex Webster as Transport Coordinator, were on the ground with Production Manager and TPG committee member, Nick Gosling, who helped co-ordinate efforts from New Jersey.
"We brought in Go For Show mobile production offices, which were used by the production, media and creative management teams as on-site communication and planning hubs," stated Robinson. Gosling added: "We used the guidance to determine how many cases could safely be put into each truck and then unloaded while undertaking the correct social distancing measures." In addition, the team also adhered to flight case cleaning protocols and implemented the correct PPE while on site at Manchester Academy.
dbnAudile and tube uk supplied flight cases, with STS Touring Productions on standby for backup. tube uk also sent a support vehicle in the event of any flight case breakages and for every 40 cases, supervisors with comms were on hand.
Before the march began, TPi managed to grab some time with one of the representatives of the Manchester rendition of #WeMakeEvents – Melvyn Coote of tube uk. "Manchester has – or perhaps I should say had – a thriving events industry. So, a group of us got together to highlight who we are and to really put across the message that we really need help as we are simply not allowed to work."
As the conversation continued, a huge gathering of highly skilled and experienced industry professionals from across the city began to form. "The UK events sector is world leading and it's on the edge of imminent collapse," Coote stated bluntly.
As an owner of an audio rental house, Coote spoke first-hand about his experience during lockdown. "We went from a business that had been turning over £1.2million a year to zero. We have done a few smaller jobs in the past few weeks, but with venues operating at such a low capacity, they are all at a fractional price. We are running about 3% or 4% of our regular work at the moment. We don't really know what the future holds."
With a full warehouse, the team at tube provided a third of the flight cases that were pushed by protesters, who came in out in their droves – all adhering to COVID-19 guidelines including masks and social distancing. "We couldn't highlight our proficiency in putting on events by holding a disorganised protest," stated Coote simply. "This is what we do, and we have put every measure in place to keep everyone safe."
The march saw all the flight cases pushed to the centre of town and then collected outside the city library. Once the walk was completed, protesters were asked not to gather in an attempt to avoid a bottleneck of both protesters and the general public. In a very crew-like manner, they got the job done then faded into the background.
---
LEEDS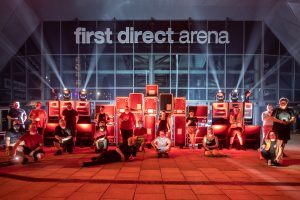 In Leeds, a collective of crew gathered in the city centre to raise some awareness on the plight of the live events sector. "We filled Millennium Square with 300 people, who were all eerily up lit, 3m apart," explained Emma Griffith of JP Events Safety, one of the event's main organisers.
During the city's demonstration, organisers also welcomed speakers from a cross-section of three industry representatives to speak to the audience including: Owner of Brudenell Social Club, Nathan Clarke; Zig Zag Lighting Managing Director, Neil Hunt; and Helen Tytherleigh, a representative of the Yorkshire freelance community, which has "fallen through the gaps" of UK government support.
"Each gave a powerful, and at times emotional account of how the COVID-19 pandemic had affected their livelihoods," stated Griffith. "We saw a venue filled with those who not only wanted to fight for their industry, but who were happy to be reunited with friends and colleagues that they hadn't seen for months."
Like many of the other demonstrations across the country, those wishing to attend had to sign up to keep control of numbers along with following COVID-19 guidelines including wearing a face covering and using hand sanitiser.
---
LIVERPOOL
More than 400 out-of-pocket live events professionals transformed the ACC and the M&S Bank Arena in Liverpool into a beacon of 'emergency red' – projecting alarming statistics that highlight the devastating reality of the lockdown of live events.
With each participant practicing social distancing, protesters gathered in front of the ACC for a photo opportunity for the press in attendance. The Liverpool event began at 9pm, presenting PLASA Events #WeMakeEvents campaign video, projected onto the surface of the M&S Bank Arena.
Adlib Managing Director, Andy Dockerty, addressed those in attendance: "It is imperative that we break decades of 'being invisible', start to be seen and find our voice," he stated. "We generally do what we do 'behind the scenes' as we love the experience and thrill of the event but have no desire to 'be out there' on the stage. But I think we all now need to be in that spotlight."
Dockerty commented that it was "uplifting" to see how many partner companies and "rivals" joined together, working as one towards a common goal. He also thanked every organisation that got involved in producing the event, including: eventdesign.co; MSP Global; Lumen Productions; KB Event; TRUCKINGBY Brian Yeardley; and the team at M&S Bank Arena Liverpool.
"It was a humbling moment to witness so many people whose lives have been decimated, and who have serious agendas, being so considerate and observing all the necessary rules and regulations with such diligence," Dockerty commented after the event. "This is testament to who we are as people."
---
HULL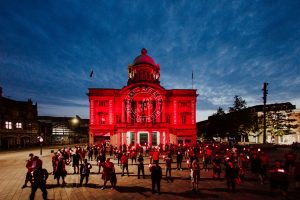 Events professionals from Dock Street Events and HPSS in Hull stood in solidarity with colleagues all over UK. Hull Maritime Museum and the City Hall were illuminated red, while 130 events professionals lit their phones red and stood in socially distanced solidarity. The Bonus Arena, the Polar Bear, the Welly and Hull Truck Theatre were all lit up in 'emergency red'.
Hull's day of action was spearheaded by MD of Hull stage, sound and lighting company HPSS, Hugh Jones and Managing Director of Hull events production company, Dock Street Events, Chris Clay.
"At this time of the year, HPSS would normally be employing up to 40 freelancers from across the region," Jones explained. "Although the Job Retention Scheme, which we are very grateful for, has helped, when this stops in October, we will still have no work for these people until theatres and concert halls reopen. If these people leave the industry then, even when allowed, events will not happen."
Jones initially contacted Clay following a discussion with the national #WeMakeEvents team with the goal of doing something locally. "With my background in event and safety management, he wanted to know if I thought we could gather people in the city centre safely," Clay explained. "I was very keen to help, so wrote an event safety management plan, which we discussed with Humberside Police and the local authority, both of whom were very supportive."
"I spoke to several members of the public on the night and when I explained about the crisis, they were shocked," Jones reported. "I think some members of the public hear the government say that outdoor performances and now indoor performances can re-start and they think we are OK. Of course, the reality is very different."
Jones explained how culture in all its forms plays a huge part in the life of Hull. "There is a fantastic grass roots music scene here – companies like Back to Ours and Absolutely Cultured do great public art and community work and there are lots of exciting young theatre companies," Jones said. "It boils down to supporting the industry venues, supply chain companies and freelancers to survive until the industry is viable again."
---
NOTTINGHAM
In Nottingham, industry veterans joined forces to light up some of the city's most famed venues, including Rescue Rooms, Rock City and Bodega, in 'emergency red'. There were also a number of speeches and performances from outside the Theatre Royal.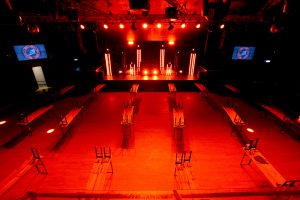 "The reception was great," commented Marc Reeves, Head Engineer of two of the city's most popular venues, Rescue Rooms and Stealth. Reeves was one of they key organisers of the event, working alongside Harriet Grace from Accept Management Press and Photography Liaison, and Dave Guy, Technical Director, Theatre Royal & Royal Concert Hall.
"The response was very positive," continued Reeves. "I know for the industry workers that attended Rock City, it gave them some hope and feeling of some level of control over the situation – which was something I found very moving. I had some lovely messages from people afterwards."
Over 40 event professionals attended a #WeMakeEvents montage video shown outside Rock City. Outside the Theatre Royal, there was a brief speech and a couple of short performances from local musicians.
OneBigStar, led by Director Steve Yeardsley, also lent a hand to proceedings at the Theatre Royal, lighting the venue in red and beamed the WeMakeEvents logo onto Theatre Royal & Royal Concert Hall. "The community response was positive, particularly out front of the theatre," commented Grace, who described how lockdown had affected her business.
"My business has essentially ground to a halt. Although there is still lots of work to be done – dealing with cancellations as well as the usual business admin – none requires creativity or, importantly, generates any revenue. It's now becoming increasingly clear that 2021 is not going to be business as normal either and the strain it is putting on businesses and individuals is immeasurable."
Reeves concluded: "I just hope that most of Nottingham's local industry businesses can survive – it's such a vibrant city in terms of live entertainment. I have so many fantastic memories as a result of that culture, that it's heart-breaking to see it suffer. The hope is that we can continue to ramp up the #WeMakeEvents campaign and raise awareness for the industry."
---
BLACKPOOL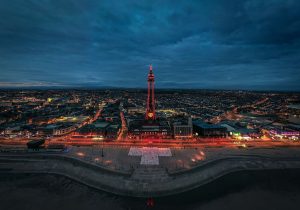 Based in Poulton-le-Fylde by Blackpool, rental specialist Arranpaul, was set to commence several festivals, tours and stage musicals when the COVID-19 pandemic struck – rendering the sound, lighting, rigging and staging supplier redundant. "Our phones were ringing constantly with events and gigs being cancelled or postponed," Arranpaul Audio Operations Manager, Tom Beattie told TPi. "Blackpool is an entertainment town so there are many companies locally who supply the theatres, venues, hotels, and so on that have been hit the hardest following the closure of resorts and entertainment venues overnight."
The discussion process behind the #WeMakeEvents' Blackpool event was a last-minute affair – but "executed perfectly". Beattie reminisced: "I had seen all the events happening across the country and was thinking of attending the Manchester and Liverpool events, when I received a message from Blackpool-based events professionals looking to pull something together in the region. four days later, we were all on site."
The Blackpool #WeMakeEvents event comprised a range of events specialists in Arranpaul, Intrak, H3 Hire, Asets UK, Stageworks WWP, Grazity, Six15 Events, SBFX and PROLIGHTS. Venues across the region such as the Winter Gardens, the Grand, Marine Hall, Lowther Pavilion, and Viva were illuminated 'emergency red' in support of the joint #LightItInRed and #WeMakeEvents campaign.
"It was a very simple idea, we had a small stage truck with an LED screen to present the PLASA videos," Beattie explained, along with over 80 battery-powered LED uplighters, made up of CHAUVET Professional QWash, LEDJ, PROLIGHTS, ADJ RXONE Beams fixtures. Among the poignant scenes was the arrival of Astera battery powered Titan Tubes configured to spell the word 'help' as well as 40 flight cases for attendees and passers-by to sit on or stand by in a sign of solidarity. "We always had in our minds the drone shot panning over to the tower."
Thankfully, the Blackpool Council and the local community were receptive of the efforts. "A special mention to Chris Pope [Blackpool Council] for his help," Beattie reported. "Blackpool is an entertainment town, and we want to keep it that way when we come out of the other side of this."
For Beattie and the wider events community, the event was a reminder of the issue at hand. "It has been said many times we are a self-sustainable industry in 'normal' times, but this is far from that, we need help until we return to normality. Or it's going to be a very dark and quiet show when events do eventually return."
Looking to the uncertain future as a company, Beattie explained the firm are constantly "crunching figures" to survive this dire period. "We will follow PLASA's lead in phase two, three and four to help drive our campaign home."
---
WAKEFIELD
To show its support for the #WeMakeEvents campaign, TechLED bathed Production Park, including the Studio and Rockpool Café, in the #LightItInRed campaign's signature colour, 'emergency red'. TechLED's MD, Gordon Addison, once again turned to the power of Prolight's LEDJ Spectra QX40 Pixel exterior fixtures to illuminate the buildings.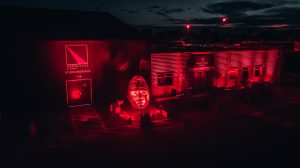 Addison commented: "We would like to say a massive thank you to all our customers and everyone who came together to highlight the devastating situation faced by the whole events industry. It's of the utmost importance that the government's proposed care package reaches all aspects of the events industry and the plight of our industry is acknowledged and addressed."
Production Park's Jack Scarr, added: "At Production Park, our focus and concern are for freelancers and small production and rental companies, like TechLED. They cannot work now due to the current restrictions on mass gatherings. They need support in the form of grants not loans, and a sector- specific furlough scheme. Their survival is vital so they can continue to create incredible experiences for event-goers – which would not be possible without them."
---
TUNBRIDGE WELLS
Thirty miles south-east of central London in Tunbridge Wells, the local events community decided to light local venue, The Forum, a small 250-capacity standing venue which has seen the likes of Green Day, Coldplay and Adele play over the past decade. Speaking to TPi about the event was Audio Consultant at RH Consulting & Director at Copper Leaf Media, Roland Hemming.
"We put this together without really paying attention to the rest of the national campaign." he reminisced. "We were the baby event in comparison to the larger cities in the UK, but The Forum is one of those venues everyone has played because we're a tiny town which touring artists visit before becoming Glastonbury headliners."
Technical equipment was supplied by EM Communications and SRD Group, and comprised a 10K video projector to project a PLASA Events #WeMakeEvents campaign video along with BECTU stats on an 10m by 8m screen, which was later cut to a live feed of the London event courtesy of a Roland Vision mixer, sounded out by a pair of QSC active loudspeakers, a Soundcraft mixer, a Shure Radio mic, and illuminated in 'emergency red' by six 120W LED lights.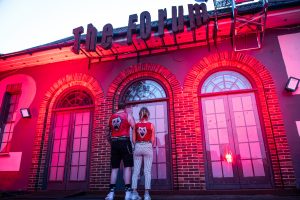 "We made a brief speech with just under 300 people turn up, as well as a local make-up artist who body painted a few people, while adhering to COVID-19 secure guidelines and procedures," Hemming explained. "We invited local press and councillors; it was received very well but the problem is the wider community and the UK government don't realise the severity of the crisis the events industry is currently facing and how big and profitable the industry is as a global enterprise."
With several industry insiders residing in Tunbridge Wells, Hemming recalled the sense of "togetherness" in the community. "The spirit was wonderful and it's a shame it's being done for such desperate reasons. It's OK saying we can have socially distanced events now, but the promoters are worried that the government won't underwrite or rule out the possibility of a local lockdown, which they have for holidaymakers."
---
BRISTOL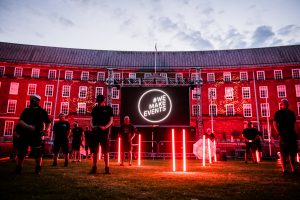 Bristol-based event industry professionals turned College Green and the Bristol City Council building red as part of the #WeMakeEvents campaign, highlighting that the industry is at 'red alert' and on the brink of collapse. Over 100 event professionals also took part in a socially distanced art installation on the green, titled 'one hundred unseen', wearing all black with red masks.
The scenes on College Green were made possible by a collaboration of Bristol based event businesses SLX Hire & Events, Fineline, Enlightened, Utopium, Cirque Bijou, BES Marquees, Pytch and Okoru Events. Other events and entertainment venues across the city were also lit red, including The Hippodrome, St George's Hall and the Old Vic.
Alastair Currie, CEO at SLX Hire & Events, said: "It was so important that Bristol participated in this national campaign, as so many brilliant and innovative event businesses exist here in the city – along with exceptionally talented employees and freelancers.
Currie added: "This awareness campaign is about the entire supply chain and flagging to the public and the government how extensive the impact of this crisis has been to a huge variety of businesses involved in the industry. Whilst many are now able to go back to work, event businesses remain unable to generate meaningful income and will no doubt be the last back to work. Our industry is in serious difficulty and we risk losing both the talent and expertise of an industry that is world leading."
He continued: "We would like to thank Bristol Council for giving us permission to undertake this activity. College Green is an iconic location at the heart of our city – a city which embraces and thrives from events held within it."
---
EAST SUFFOLK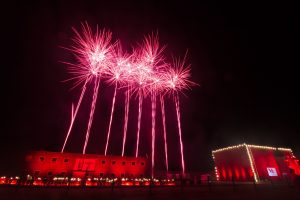 Phoenix Fireworks, Team Audio, 15-52 Sound & Lighting, Gofer Limited, Bentwaters Parks, OLD JET and the wider East Suffolk events community joined forces to present the region's contribution to the national #WeMakeEvents campaign with an eye-catching firework display.
Indicative of the events industry, a loose concept was brought to life by a team of seasoned events professionals. "We sat down a week prior to the 'Red Alert' event and got to work," Synergy Audio Operations and Technical Manager, Tim Speight told TPi. "We met at 10:30am, pushed some flight cases out of the warehouse onto the car park, sent a drone up and once we got that first visual, we realised we could create something special."
Phoenix Fireworks was initially brought in to provide a handful of pyrotechnics. However, once the team arrived on site, with quite a large palette of pyro and an entire US military airfield to use, creative freedom came to the fore as the firm provided sparkles aplenty. The old airfield in question was Synergy Audio's new HQ, which it had moved into as the crisis hit.
"We realised that we were staging quite a dramatic event with absolutely no audience. Strangely, we could do this scale of operation legally, and the only bit that was missing was the bit you do it all for normally, which was the audience," Speight reminisced. "A lot of the local community were commenting on the event, so it is mission accomplished from our side, raising awareness for an industry which has otherwise been left behind."
Speight continued: "We supply all things audio for a range of regional events, but we really are doing no work at all at the minute. As a small company, we are totally reliant on freelancers and it pains me to witness the devastating effects on their livelihoods."
Summing up his experience of the campaign, he said: "The scale of events across the country was fantastic to see. There's clearly a huge amount of solidarity across the events industry, which comes as no surprise, we are an industry which is a big family really," Speight quipped. "The show must go on!"
Elsewhere in East Suffolk, venues across the region were illuminated in 'emergency red'. "I'm overwhelmed with the result and visuals and it's clearly a big statement, which I was proud to play a part of," Speight concluded. "It was down to the team and an example of how we operate as an industry. A bunch of people came together with a loose plan and we were able to create something spectacular within a day."
---
EDINBURGH
Professionals from all corners of the Scottish events industry gathered at Edinburgh's Nelson Monument and Acropolis of the North, which were lit in 'emergency red', while lasers fired the #WeMakeEvents logo onto the surface. The event also showcased a number of aerial acrobatic performances – all of which was compiled into to video edit released after the protest by Gabriel Stella of Ghosthouse Media.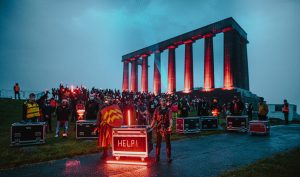 Protest organiser, Miriam Wolanski of Wolanski's Pole & Aerial Fitness, handled the rigging and creative demonstration elements. Wolanski was originally contacted by London Union of Venue Technicians Representative, John Rogers to join the #WeMakeEvents campaign.
"The PLASA campaign was underway but they found there was no representation for technicians in Scotland," Wolanski said. "I reviewed the campaign details and felt it warranted alignment. I took the question back to the Scottish Events and Technicians Crew group and within 48 hours of asking people if they'd like to take part, I had over 150 positive responses."
Aiding Wolanski in the organisation of the event was Freelance Event Safety Advisor, John Diamond; Funktioncreep's Andy Stentiford; Nigel Marett; Laser Tech and Projectionist, Sophia; Production Manager, Shane Grieve; Black Light, and Blue Parrot Theatre & Live Events' Patrick Watson.
Andy Stentiford and Production Manager, Shane Grieve, worked on lasers and the operations for the lighting of the structures along with their crew. Wolanski oversaw attendees and stewards and worked with the police to ensure guidelines were adhered to. "We had great support from administration wizard Ben Stimpson," she continued. "Usually a freelance lighting technician, he worked on everything from registrations to assisting with press contacts and helping me field social media."
Attendees were capped at 200, with an additional 20 crew to facilitate the event. The team successfully delivered a poignant message all without causing any inconvenience to the public.
Summing up her experience of the #WeMakeEvents Scotland campaign, Wolanski said: "It was overwhelming to see so many people pull together to create a demonstration in such a short period of time. We know from the volume of people who were emailing after the registration was full that that they were disappointed that they could not also be there."
She added: "The numbers for support were far higher and we all want to thank every one of them for respecting the guidelines, which helped us work with the police, the council and in-keeping with all of the safety procedures in place."
---
CARDIFF
In the Welsh capital, 18 of the city's famed music venues, from the Motorpoint Arena down to the grass roots venues on Womanby Street, were lit in red with over 200 people attending the various locations to stand in solidarity for the live events sector.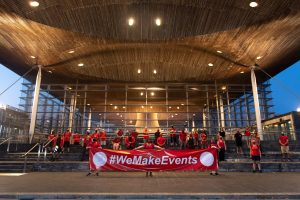 Key to the event's success were Stage Lighting and Sound Services, SC Productions, Figure of Eight, Freelance Tech, Amy Liddington, Nia Jones PR; 2Can Productions, Magnum PA and Tantrwm Digital Media.
Sarah Hemsley-Cole of SC Productions picked up the story: "Phil Hurley, Stage Lighting & Sound Services asked me to join him in the Cardiff delivery and, following a Zoom call, we began pulling all the pieces together. We drafted in some of our furloughed staff and a friend who works in press and PR in the arts and together we moved forward."
The organisers also contacted colleagues across the country, as well as suppliers and venues across South Wales. "We wanted to deliver within the Welsh Government guidelines regarding gatherings – hence the clusters of no more than 30. We wanted to prioritise the photos of the people as well as the buildings," Hemsley-Cole stated.
The organisers also contacted colleagues across the country, as well as suppliers and venues across South Wales. "We wanted to deliver within the Welsh Government guidelines regarding gatherings – hence the clusters of no more than 30. We wanted to prioritise the photos of the people as well as the buildings," Hemsley-Cole stated.
She added that Cardiff Council was on board from the start. "The council owns several of the theatres in the city, and it was fully supportive of facilitating the lighting up in red on civic buildings. The reaction was extremely positive and lots of people were taking our pictures. We have had great coverage in the Welsh media in both the English and Welsh languages."
To close, Hemsley-Cole looked to the future, drawing positives from the protest: "We are planning a social event when the numbers we can gather in increases, as a means to support individuals who are financially and emotionally vulnerable. One thing #WeMakeEvents gave us was a real sense of all being in it together and the strength of seeing each other and meeting new faces was extremely humbling."
---
Highlights of this article originally appeared in issue #253 of TPi, which you can read here.