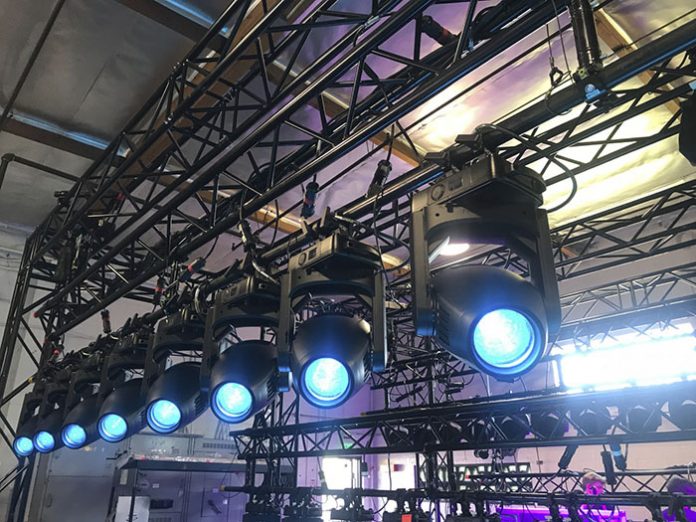 Volt Lites of Burbank, California has taken a delivery of Ayrton Ghibli and Mistral TC fixtures, expanding its lighting roster with its first-ever Ayrton purchase. Ayrton is exclusively distributed in North America by ACT Lighting.
Helmed by co-founders Harrison Lippman and Matthew Shimamoto, Volt Lites is a lighting production shop for the greater LA rental community and a wider national clientele.
Ghibli is Ayrton's first LED spot luminaire with a factory-equipped framing system. And during use Ghibli delivered a light output of 23,000 lumens in a highly compact format. Its proprietary optical system produced an extremely uniform fat beam with no hot spot. Ghibli's selection of gobos and colours was made in collaboration with lighting designers to meet the needs of the entertainment industry.
Mistral-TC is a new versatile and fully-equipped LED spot luminaire designed for applications requiring perfect colour reproduction. The ultra-compact fixture has an entirely new LED module using a monochromatic light source calibrated at 7,000K with a native colour rendering index greater than 90 and extremely high TM30 readings, which enables Mistral-TC to produce more than 14,000 lumens. Its optics achieved an extremely uniform flat beam that rendered images perfectly in all conditions and at any beam angle.
"Both the Ghibli and Mistral-TC are exquisite LED profiles that hit all the marks and complement each other," said Lippman: "The Ayrton line has really impressed us, and we're excited to get the new fixtures into our clients' hands: Volt Lites is one of the first companies to offer Mistral-TC in the US. The fact that ACT Lighting added Ayrton to their line card means we've been able to add Ayrton fixtures to our inventory."
Shimamoto said: "It is a new workhorse for our growing line of spot and profile fixtures. The Ghibli produces bright vivid colours, has a flat, even field for key light and razor sharp optics for mid-air projection. This allows for the light to play a variety of roles. I also love how quiet they are for our more sensitive environments and the Ghibli's factory-equipped framing system is another plus, Clients have come to expect shuttering capabilities, and it's very challenging when a fixture does not offer framing shutters."
Talking about the Mistral-TC, Lippman said: "It is a superior, compact LED profile with a very similar range of functions as its big brother, the Ghibli. I like the form factor, the output and the light quality as well as its close-to-silent operation."
Both fixtures have already been in demand by Volt Lite customers. "The Ghiblis are very popular for film, commercials and live television while the Mistral-TCs are starting to go out on all types of live events and corporate projects," Lippman concluded.