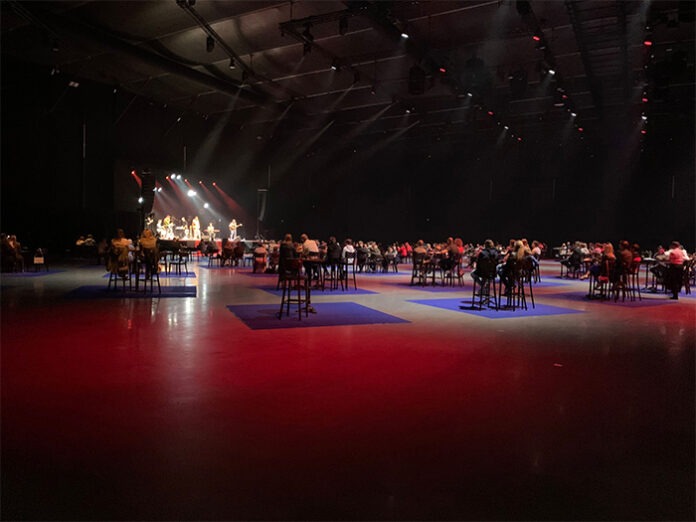 The Studio 100 Pop-Up Theatre in Puurs, Belgium is the world's largest temporary show venue, and regularly plays host to large scale musical spectaculars. A flexible space with mobile seating for around 2000, the 7000sqm auditorium has seen blockbuster productions of the wartime-focused '40-45', and most recently an updated version of Daens, The Musical.
Production specialist Studio Haifax, a customer of CODA Audio distributor Viladco, deployed a CODA system for alternating productions of 'Daens' and '40-45' before the COVID-19 pandemic intervened.
During lockdown, with no prospect of the major shows returning, Studio 100 worked with artist management and booking company House of Entertainment to devise a programme of concerts that could effectively utilise the space whilst observing strict social distancing measures.
Labelling the events, The Living Room Concerts, House of Entertainment brought in a wide range of popular artists who performed 30 concerts in total during July. Although only 200 customers were permitted per show, it was essential that the audio system was still large enough to cover the whole space to cater for the socially distanced audience tables.
Studio Haifax used a CODA Audio system comprising 22 ViRAY, 4 APS, 4 G308 and 24 SCV-F in a cardioid-arc. Thirty concerts took place during the season including appearances by Natalie & Jef Neve, Snelle, The Starlings, Glannis Grace, Christoff, Belle Perez, Samson & Marie, Willy Sommers, Hooverphonic, Nick & Simon, De Romeo's, Dana Winner and Clouseau. In spite of the unusual circumstances, the concerts proved to be very popular and the visiting sound engineers working on behalf of a wide spectrum of acts, were all very happy with the outcome.
CODA Audio's Director of Global Marketing, David Webster commented: "While the timescale for a return to normal in the live performance sector remains uncertain, events such as the 'Living Room Concerts' continue to demonstrate the creativity and determination of the industry to overcome, in whatever ways possible, the constraints of the pandemic. We're pleased to hear that our versatile systems are front and centre in these efforts to reconnect artists and audiences."