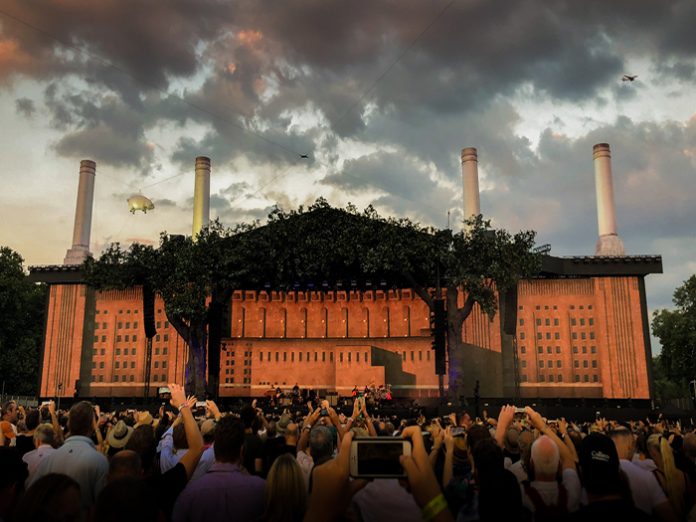 Star Events redesigned the entire Great Oak Stage sub-structure and super-structure to accommodate Roger Waters' Us + Them production, which opened the BST Hyde Park series in spectacular style on Friday.
With gags including smoking Battersea Power Station chimneys rising above the stage, graffiti strewn flying pigs and the surround sound effects synonymous with Roger Waters, Us + Them managed to set a new precedent, even for a Hyde Park performance.
The Pink Floyd-heavy two and a half hour show contemporised the politics from the band's mid-70s/early-80s canon through a series of stunning visual sequences fitted to the songs.
The back of the traditional performance box was pushed up and film, cartoons and stills on the resulting 1,100sq m video wall focused on state-sponsored torture, refugees, human rights, Donald Trump and the singer's support for Palestine.
Involved with the AEG Presents/Waters negotiation since last summer, Star Events had to demonstrate its capacity to stage the show, without compromise, before switching back to a more traditional format for The Cure the following night.
That changeover involved three cranes, 6 trucks for the kit coming out, including 10 Star structures from Front of House used for Waters' surround sound and projectors.
On stage, the Star Events' team rebuilt the main floor deck and provided rigging support for the big screen move and lighting install, leaving everything ready for doors on Saturday.
Roger Barrett, Special Projects Director at Star Events, commented: "To achieve what Roger Waters needed while still enabling the other five major BST Hyde Park shows was challenging to say the least. That extended to reducing the Great Oak Stage trees from three to two, but enhancing the leaf cover to hide a lot of the Waters' production on the roof. It showed the flexibility of the VerTech system though, we only had to make a small handful of special components, and the show was absolutely stunning."
Jim King, British Summer Time Hyde Park's Festival Director, concluded: "Star Events has been the go-to company for most of our projects pretty much since I started in the industry. Obviously we're not touring Roger Waters' stage so the Great Oak had to be adapted. Star Events set about working with the Waters' team to execute how we could do it and they did an incredible job."