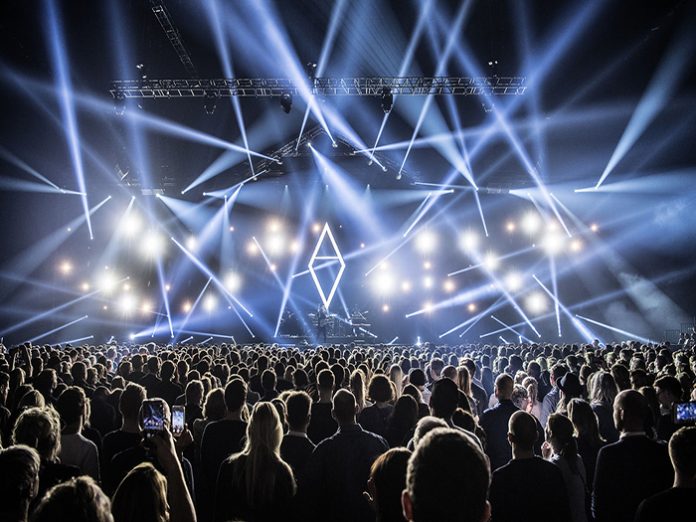 Danish singer, songwriter and music producer Alex Vargas played a special one-off concert at Copenhagen's 16,000 capacity Royal Arena, with a set and lighting design by Theis Wermuth of creative visual practice, Create This.
The centre of the design featuring 22 Robe MegaPointes, supplied, along with the rest of the lighting kit, by Nordic Rentals.
The 22 Robe MegaPointes were positioned on a triangular shaped truss immediately above centre stage, right at the heart of the show, and they worked extensively throughout the performance. Their brightness and distinctive quality of light clearly stood out from all the other lights on the rig – around 150 other fixtures – plus 4 5W and 4 10W RGB lasers.
With no video, it was all down to lighting to make visual impact and create the drama, contrasts and rawness needed to match the massive dynamic swings in the music. A stark black backdrop featuring a large replication of the logo filled the upstage space, and all the mood and magic was expressed with lighting.
"It was essential that I had a primary fixture that was bright, and could be a really excellent spot, wash and a beam all on one," explained Theis.
The MegaPointes were used for a vast array of different looks – from fragmented break-ups to tight piercing beams.
"I really love the fact that finally we have a fixture with no compromises – it's a perfect profile as much as a wash or a beam – all three types of light are exactly as they should be," stated Theis.
Theis programmed and ran the Royal Arena show himself using an MA Lighting grandMA2 console.