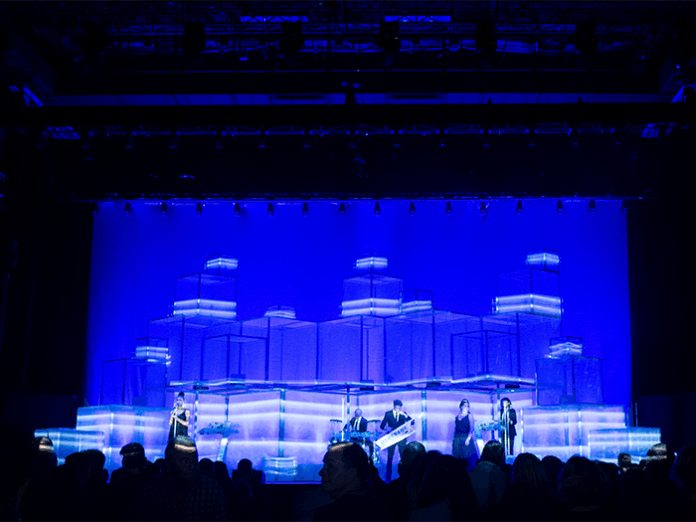 Human League's 27-date Red tour began in Brussels on 31 October 2018, playing various sized venues and wrapping up at London's Eventim Apollo on 8 December 2018.
Really Creative Media has worked with The Human League on previous tours, supplying projection equipment and creative content and the band returned to their trusted supplier to push their visual creative offering for the Red tour.
RCM supplied a MALighting GrandMA3 Light console and On PC Command Wing as a backup console, along with two Catalyst V6 Media Servers, six Panasonic RZ21K 20,000L laser projectors and two Panasonic RZ31K 30,000L laser projectors. These Panasonic projectors ran with a laser light source rather than lamps, which meant they were more reliable and the brightness was consistent throughout the projector's lifespan. The set consisted of stacked 3D giant cubes, some with the band inside, which meant projection mapping onto the front and rear surfaces.
RCM Director Nick Dew, explained: "There was quite a variation in the size of the venues, so we had the option to swap between the RZ21K and the more powerful RZ31K, depending on what levels we needed to consistently achieve the wow factor for all of the audiences. We also invested in GrandMA3 consoles, which give new features to expand our creative options."
Really Creative Media's Jack James was responsible for the designing and overseeing all of content in-house for the band. His brief was to make the cubes feel 3D and bring in movement, colour and life. James explained: "Whilst working with a 3D set was challenging to create content for technically, it was an opportunity to explore some of the old favourites of the projection mapping world, such as rotating the cubes and making the whole set fall down and rebuild itself, all synced to the track."
The band have always led in their use of video so Show Designer Rob Sinclair, Lighting Designer Liam Griffiths, and RCM's team worked alongside Tour Manager Simon Watson to make sure the RED tour continued that tradition with the introduction of projection mapping.
Sinclair and James started the process in March, which gave plenty of production lead time to plan the creative content and which media servers to use. James explained: "We built 3D printed models of the set in advance to make sure the content would work. It requires very precise setup, so Mike Higgs had to be fastidious to get every surface of the cubes in the same place every night, which can be a challenging process on a touring schedule."