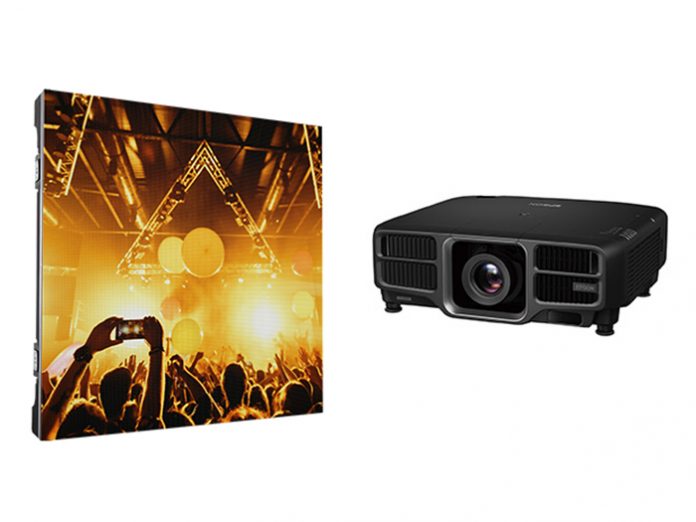 PSCo, trade only rental supplier of the latest display technologies, has invested in Absen's brand-new 3.9mm indoor/outdoor LED product within the Polaris range. The PL3.9 Pro LED is exclusively available in the UK from PSCo.
This revolutionary technology means that the PL3.9 Pro with HBB can achieve 5000nits brightness with a 1921 black-face SMD – using less power and without compromising on brightness or black levels. This is delivered in an IP65 rated chassis allowing for excellent visual performance outdoors – with the same high-performance grayscale as previous generation Absen rental technologies. This visual performance can also be delivered at lower brightness indoors without compromising on colour depth or contrast.
The brand-new Polaris chassis adds further creative flexibility with the ability to create convex (-7.5deg) or concave (+10deg) curves both flown or ground-stacked using the integrated adjustable sidelocks.
PSCo has also invested in Epson's EB-L1755U, 15,000lm laser projector for their rental fleet; adding the 15k to the existing fleet of 8k, 12k and 25k, as well as an extensive range of lenses to accompany them.
This further investment shows dedication from PSCo to Epson's range which has already seen great success since the launch last year. The new 15,000lm is also compatible with Epson's extensive selection of lenses, which is expanding to include a new ultra-short throw option.
Epson's 15k projector comes with all of the key features of the existing models, including outstanding connection options, high native contrast ratio, versatile 360-degree installation and in the same lightweight chassis as the leading 12,000lm projector.
Stuart Holmes, PSCo Director, commented: "Epson's range of laser projectors are innovative and market leading, and we have already seen great success with our trade rental partners. The strides Epson's are making in the market, particularly with 4K, shows their dedication to the product and creating a solution that can produce stunning image quality while still ticking all of the boxes needed for a live events product."