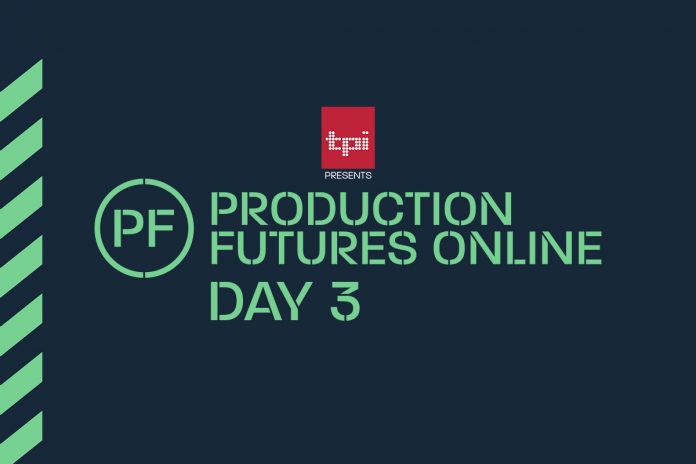 Taking place from 11am to 6pm, Production Futures Online hit the Swapcard app and website platform this week, presenting students, freelancers, and young people across the world (most in lockdown) access to training sessions, workshops, webinars, product demonstrations, panel discussions and interviews with live event experts and TPi Award winners.
TPi Editor, Stew Hume sat down with some of the team behind the Virgin Money Unity Arena – one of the few outdoor events that managed to go ahead this year in the UK. During the discussion, Engine No.4's Dave Weeks, Kingdom Services Project Manager Matt Simpson, and R&M Productions Peter Shorten recalled measures put in place to ensure audience safety amid the COVID-19 pandemic and what can be learned from this project.
This summer, the Mura Masa touring team and Native Management launched the 3T initiative, which provides black women with knowledge and skills to break into the live music and production industry. Hoping to counter the lack of diversity within the live events space, the collective – spearheaded by performing artists, Mura Masa and NAO – opened applications and welcomed a number of black women along to Millennium Studios for workshops to learn about the logistics of live touring. In this Production Futures Online panel, comperéd by sound engineer turned 3T tech teacher, Freyja Lawson debriefed TPi Assistant Editor, Jacob Waite about the process and the first cohort of 3T graduates shared their individual insights and experience of the initiative.
With video becoming increasingly more prevalent in set design, the importance of content is undeniable. More Eyes, founded by Matt Sharp and Pete Thornton, has been on the forefront of audio-visual productions – scooping the Des Fallon Video Visionary accolade at the TPi Awards last year for their involvement on the Gods of Rap tour. Both Matt and Pete joined TPi Assistant Editor, Jacob Waite at Production Futures Online to discuss the demands of content creation and what those hoping to pursue a career in this field can do during this uncertain time to best prepare themselves for the future. [It seems that content is king, after all.]
Behind every world tour, there is a metaphorical minefield to be manoeuvred across to ensure the band, crew and set arrive at each destination safely and on time. In a Production Futures Online panel, Rock-It Cargo's Chris Palmer, TAG Global Travel's Trevor Johnson, Phoenix Bussing Andy Gray and Fly By Nite's Matt Jackson unpicked the proverbial web of travel logistics, explaining how logistical foresight makes each world tour possible.
As well as playing host full programme of talks and panels, Production Futures Online is home to various technical production training sessions. In an introductory Vectorworks session at 2pm (GMT), attendees learned how to create realistic truss layouts, attach loads and lighting devices, and suspend trusses from house rigging points. Vectorworks Industry Specialist, Tom White also demonstrated how to rake and angle trusses to create an accurate representation of your truss system.
Don't forget to register for Interfacio's CV workshop session at 12pm (GMT) tomorrow, ChamSys each day at 4pm and another session from Vectorworks at 2pm on Friday. All the sessions have limited places so sign up for your ticket to Production Futures here and click attending on Swapcard.
Applications for the TPi Breakthrough Talent Awards are now open and forms can be found here. Whether you're in the early stages of your career, still studying, or a keen amateur – if you have a passion for live events, then we want to hear from you.
Mumford & Sons' tour team join Production Futures Online to answer questions on working in the live events industry, production tech and recalled backstage banter. Special guests included FOH Engineer, Chris Pollard; Lighting Designer, Ed Warren; Guitar Technician, Alex Oakley; Guitar and Bass Technician, Ryan Wyatt and Merchandise Manager, Pete Dunn. The panel was hosted by Sennheiser UK's Andy Egerton and Kevin Gwyther-Brown.
mondo*dr Assistant Editor, Emma Davidson spoke to Strategic Director of Music Venue Trust's Beverley Whitrick about the #SaveOurVenues campaign, how COVID-19 has affected venues in the UK and how businesses may return in the near future during.
Over the past decade, video has played an integral role in set design for live shows and tours. In a Production Futures Online chat, Phil Mercer Co-Founder of TPi Awards Favourite Video Rental Company, Universal Pixels reflected on the company's involvement in The Chemical Brothers, The Spice Girls, Snow Patrol and Massive Attack and described the changing role of video in touring.
From curating aesthetics in academy-sized venues to sold-out stadiums with Justin Timberlake; Lighting Designer and CEO of Fireplay, Nick Whitehouse is a familiar face in the industry. He joined TPi Editor, Stew Hume on Swapcard at 5.30pm (GMT) to discuss the impact of late, great Bryan Leitch; how he made his way into the industry and what exactly goes into designing a big budget arena tour – detailing JT's previous two touring campaigns, The 20/20 Experience and the Man of the Woods World Tour. He also bravely fielded live questions from the next generation of live events professionals.
So, what are you waiting for? Sign up for your free ticket to view this week's talks here. Once you've received an email confirmation from Eventbrite and accessed the Swapcard app/website, you're set. Don't forget to visit the virtual booths at Production Futures Online to hear from a range of industry experts. If you missed any of the panels, talks, and sessions thus far, they, along with the rest of the week's content will be available to view after broadcast on Swapcard.