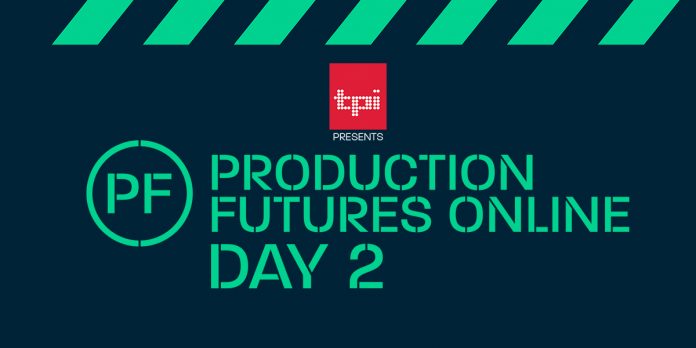 Taking place from 11am to 6pm, Production Futures Online hit the Swapcard app and website platform yesterday, presenting students, freelancers, and young people across the world (most in lockdown) access to training sessions, workshops, webinars, product demonstrations, panel discussions and interviews with live event experts and TPi Award winners.
Lighting Designer, Durham Marenghi – who has created lighting design for theatre, opera, dance, trade, concert, heritage, architectural and television productions worldwide – shared the secrets to successful large-scale aesthetics. Specifically, his work during the Opening and Closing Ceremonies of the Rio Olympic Games in 2016.
Over to the most important place on tour, Rockpool Tour Catering's Simon Mitchell discussed life on the road with Metallica and the food which fuels the metal juggernaut on the road. For whom the bell(y) tolls…
Moving online for this year's event, Interfacio founder Richard Wear addressed the key question – "How do I secure my dream job and what happens after that?" Wear offered advice on building your experience as you prepare for full-time work, as well as a guide on what you must include to make your CV stand out and make an impression.
The session covered techniques for applying for jobs, with some surprisingly simply pointers on how to get noticed and get the interview you really want and then what to do, and what not to do, once you are in the room speaking with your prospective employer.
Finally, there was discussion around building and developing your professional toolkit, and continuing to make smart career decisions as you progress through your professional journey. Speaking of professional progress, nominations are now open for this year's TPi Breakthrough Talent Awards. Applications can be found here.
To celebrate their first release in a decade, drum 'n' bass heavyweights Pendulum presented a livestreamed performance unlike any other last month. Performing in the middle of the sea on top of the famed Spitbank Fort, the band and their loyal crew pushed the limits of what a performance in lockdown can look like. During day two of Production Futures Online, Production Manager, Mattie Evans reflected on the high-octane production.
Following a brief intermission, Vectorworks Industry Specialist, Tom White walked guests through Vectorworks' pre-visualisation software. As well as playing host full programme of talks and panels, Production Futures Online is home to various technical production training sessions, don't forget to register for ChamSys each day at 4pm and sessions from Vectorworks at 2pm on Wednesday and Friday. All the sessions have limited places so sign up for your ticket to Production Futures on Eventbrite and click attending on Swapcard.
After lunch, TPi Awards Backline Technician of the Year, Bob Munro reminisced about trading life in his Scottish hometown to tour the world with the likes of The Blossoms and Miles Kane – detailing the roles and responsibilities of a top level Backline Tech. Spoilers: it's about more than cleaning guitars.
Having created stunning lighting shows for Yungblud, 30 Seconds to Mars and Bullet For My Valentine, award-winning Lighting Designer, Tom Campbell shared an insight into what it's like to tour with some of music's most exciting rock acts – sharing sage words of wisdom for those hoping to do the same.
Far from the days of loading in black boxes, live audio is now a much more complex and scientific art. Business Development and Strategy Manager of Solotech UK, Paul Timmins dissected the role of an audio supplier, the number of specialisms open to you within the field, and divulges how you might find a place within it.
With an army of crew and suppliers, it's the job of the Production Manager to pull all the pieces together and oversee every technical element of a tour. Having managed George Ezra, Fatboy Slim and David Gray's past few touring campaigns, Jake Vernum explained his personal path to the position and the skills and mindset you need to take on the job.
Hello, Glastonbury! Arguably the world's most famous contemporary cultural gathering, the Worthy Farm festival marks the pinnacle of live music and technical proficiency. In a chat with TPi Editor, Stew Hume, the Head of Production for both the Pyramid and Other Stages, Emma Reynolds-Taylor explained what it takes to oversee such a mammoth task and the leadership need to make each year a success. A strong conclusion to a second day of talks from some of the industry's leading names.
So, what are you waiting for? Sign up for your free ticket to view this week's talks here. Once you've received an email confirmation from Eventbrite and accessed the Swapcard app/website, you're set. Don't forget to visit the virtual booths at Production Futures Online to hear from a range of industry experts. If you missed any of the panels, talks, and sessions thus far, they, along with the rest of the week's content will be available to view after broadcast on Swapcard.