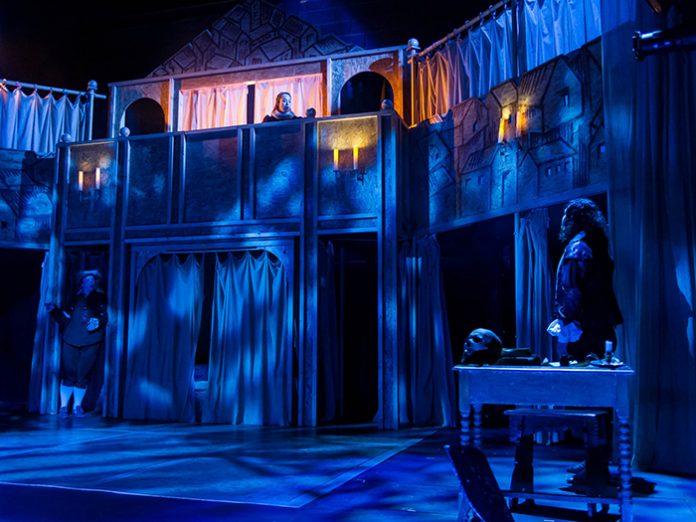 Performed in front of a small and socially distanced audience of industry professionals, Mountview Academy of Theatre Arts immersed attendees in the fictional tale of Shakespeare's unrequited love for his ideal women, with the stage rendition of Shakespeare In Love. Adam King oversaw lighting design, which, despite the well-advised safety protocols at the theatre, was able to convey a richly textured sense of time and place.
"We had lots of different locations to depict in the play, but due to COVID-19 we could not have massive scene changes," said King. "It therefore became very crucial that our lighting really help drive the scenes taking place on stage, whether they be dingy taverns or grand ballrooms."
Helping King accomplish this was a house rig that featured over 40 CHAUVET Professional fixtures. Among them were 15 Ovation E-910FC ellipsoidals, which were located in FOH and boom positions and served as the main face light and key light into the peace, as well as 16 Ovation F-915FC Fresnels, which were used for top lighting, back lighting and silhouetting.
Also in the mix were eight Ovation B-2805FC Batten and two Ovation B-1965 Batten fixtures. Some of these units were placed behind curtains to create vivid colours, whilst the other were set behind scenic window cuts outs to provide colour from the interior of buildings. A third group of these fixtures were used to light the full stage curtain.
Colour played a key role in King's design. For example, throughout the show, he used rich blues to convey nighttime. He also relied heavily on dark spaces to accentuate different moods.
"Being able to close down and have darker space was really helpful," said King. "We started off the show fairly dark as not to give away the full set. This is where we used our fire pit to be the main light on one actor, whilst using a gobo of a grill from above to catch the others. Shadow can be as important as light in telling the story."
Though often effective in stage lighting, silhouetting took on added importance in this production. "During these times with COVID-19 and social distancing, silhouettes helped to give the illusion that people were closer than they actually were," said King. "Backlighting curtains with the Chauvet units allowed us to use the silhouettes to make the stage feel busier than it was in reality."
Social distancing and other accommodations made for safety protocol required King and the Mountview team (Hakan the house Prod LXs, Connor Thornton, the student Prod LX, and Alexander Hannah, student programmer) to make various adjustments, such as using lighting in place of some props.
This was an opportunity King welcomed. "Adaptation can come either from artistic intent or restrictions that limit you using the 'real thing,'" he said. "In one way, it doesn't matter. I absolutely love the challenge!"
Like the audience who revealed in this romantic comedy, King was also thrilled that live productions (with safety protocols in place) are beginning to reemerge. When they do return in full force, he, like all theatre lovers will welcome them with open arms. They're long wait will be over!