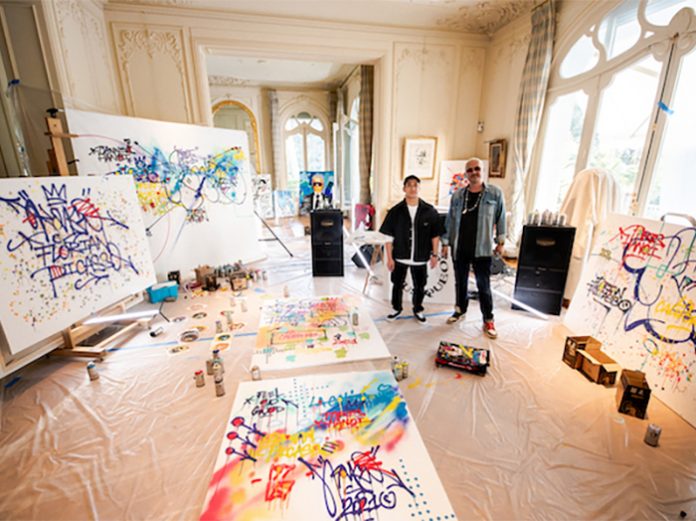 DJ Florian Picasso recently staged a unique livestream from the confines of his great-grandfather Pablo's former residence in Cannes, on the French Riviera in conjunction with artist Cyril Kongo, for the benefit of Maria Bravo and Eva Longoria's Global Gift Foundation.
The show sought to raise awareness and funds for Vietnamese orphanages and was staged from the living room of the villa which was transformed, with the addition of paintings, sketches and sculptures to its original state as Pablo Picasso's studio. As Florian's set progressed, Cyril Kongo worked beside him to paint a unique piece of art using a Pioneer DJ CDJ-3000 as a canvas, which was later auctioned with all proceeds going to an orphanage in Vietnam.
Pioneer Pro Audio provided the technical support for the event and provided a range of equipment to help power the stream. As well as the combination of the CDJ-3000 multi-player and a DJM-V10 mixer supplied by Pioneer DJ, Pioneer Pro Audio furnished the event with two XY-3B loudspeakers and two XY-218HS subwoofers to deliver powerful in-room sound, as well as a pair of XPRS-10 powered speakers for monitoring.
"It was such a blessing to be able to serve a good cause and give back to my roots by combining music and art," Piccasso remarked.
AlphaTheta EMEA Managing Director, Kei Aikawa commented: "We are very happy that Florian chose to deploy a Pioneer Pro Audio setup to complement what was a fantastic fusion of creative arts on behalf of such a worthwhile cause."