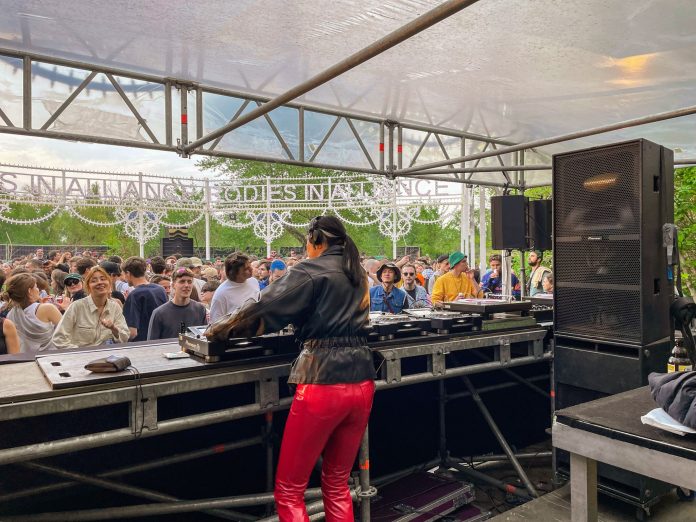 Festivals are back. That's the simple message that sprang loud and clear from the 2022 renewal of Horst Arts and Music Festival, which took place recently at Vilvoorde in Belgium. Concluding on 1 May and describing itself as an immersive three-day symbiosis of autonomous art, inventive architecture and electronic music, the event attracted an attendance in excess of 25,000 and featured performances from a diverse and world-class programme.
The organisers at Horst matched their artistic ambitions with high quality production, part of which was supplied by KAGE Audio. The event's production specialists supplied Pioneer PRO AUDIO systems for both the 'Bodies in Alliance' and 'Moon Ra' stages. 
Pioneer PRO AUDIO enjoyed its first outing at Horst Festival in 2019, when its XY-Series loudspeakers were deployed to provide audio as part of an experiential art installation inside one of the huge cooling towers in close proximity to the site. This year saw the brand appear in its more traditional role covering the dance areas and DJ booths for two stages.
The dance area of the 'Bodies in Alliance' Stage saw KAGE install four GS Wave stacks with four WAV-TWPOD (omnidirectional super tweeter pod), supplemented by four XY-122 two-way, full-range and two XY-218HS horn-loaded subwoofers. Here the DJ booth was covered by two XY-3B three-way and two XY-215S subs. For the smaller Moon Ra Stage, the dance area was covered by eight XY-122 two-way, full range loudspeakers, supplemented by two XY-218S bass reflex subwoofers and two XY-215HS horn-loaded subs. two XY-122 took care of the DJ booth.
Joeri Verholen, Pioneer DJ Country Manager Belgium, commented: "The Horst Festival was a huge success again and our partner KAGE Audio did a fantastic job with the systems. The combination of art and music makes it a unique experience and it was a great way to kick off what promises to be a packed summer festival schedule for Pioneer PRO AUDIO systems."
The Horst Festival marked the start of a busy season for Pioneer PRO AUDIO systems, with two more high-profile events in Belgium next on the agenda. The tenth anniversary edition of Extrema Outdoor at Houthalen Helchteren will see Pioneer PRO AUDIO loudspeakers on multiple stages, as will this year's renewal of Legacy Festival at Silver Lake, Mol. KAGE Audio will once again be in action as will another of Pioneer's production partners in the territory, FOL Sound & Vision.