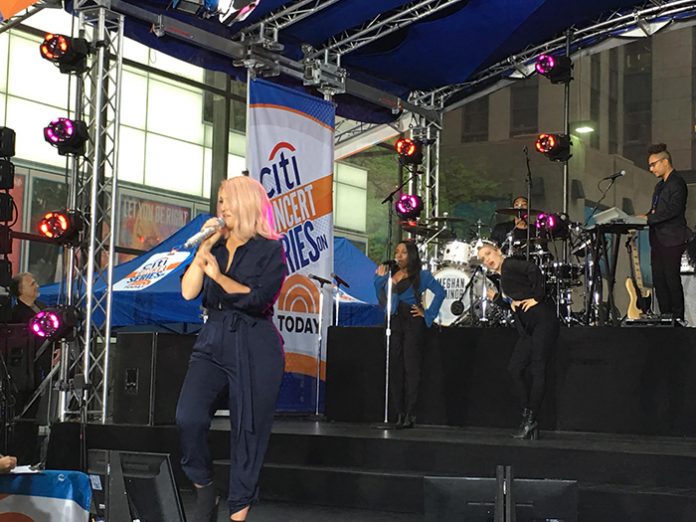 Innovation is nothing new at the Today Show. The first early morning news program, and one of the longest-running shows on television (it debuted on January 14, 1952), this American icon has thrived by pioneering new concepts like the celebrity meteorologist, and early morning concerts by major recording stars.
In keeping with this tradition, the show recently raised the visual bar for morning TV music segments, when its Lighting Director Peter Greenbaum upgraded its Citi Concert Series stage to create a wider array of concert-style looks by adding 25 Chauvet Professional Maverick MK Pyxis fixtures, supplied by WorldStage.
With its 60W RGBW center beam, surrounded by a ring of nine 15W RGBW LEDs, the multi-functional Maverick MK Pyxis represents somewhat of a departure from the fixtures Greenbaum has traditionally used on the Citi Concert rig. 
"The Pyxis creates an extensive variety of effects that you don't see on a TV concert type of stage," he said. "Its powerful center beam is also new for me, but I fell in love with the fixture after WorldStage showed it to me. I can use it to create real concert looks on stage, which, along with the quality of our artists, helps keep the Today ShowCiti Concerts a step ahead of the competition."
Since obtaining the Maverick MK Pyxis fixtures in mid-May, Greenbaum has used them for Citi Concert performances by Meghan Trainor, Darius Rucker and Shawn Mendes." Their movement and colour add the kind of summer concert fun factor to our stage that I was after," he said.  "The LEDs on the outer rim look really great on camera when we program them to appear as if they are 'spinning.' We rely on them for eye candy, but they're also a very nice wash."
The multi-functional versatility of the Maverick MK Pyxis, along with its compact size, makes it well suited for the Today Show's outdoor stage. "Being in the middle of Manhattan, we don't have a lot of room on our outdoor stage, so space on our rig is at a premium," said Greenbaum. "The Pyxis doesn't take up a lot of real estates, plus it does the job of more than one fixture, so yes it's really invaluable here on our rig."
Typically, Greenbaum mounts the Maverick MK Pyxis fixtures on vertical truss spread evenly over the stage. Whenever possible, he also likes to use them to mask the stage's risers.  He believes that having these areas covered in colourful light creates a more visually appealing image on camera.
Greenbaum has been so impressed with his Pyxis fixtures that he plans on using them inside as well, positioning them on the new "Wall Area" of the Today Show studio. "These fixtures aren't intended just for lighting things, they are also meant to be looked at," he said.
And "being meant to be looked at" makes something very good for television. That's a truism that hasn't changed since the Today Show first aired 66 years ago.