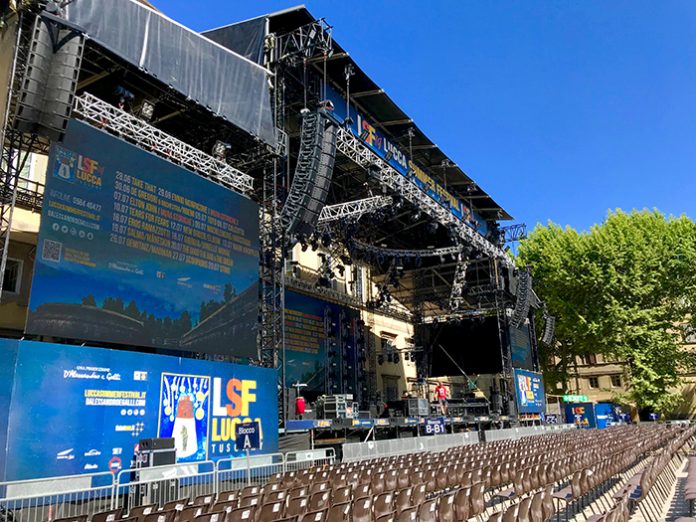 To satisfy the sonic needs of a wide variety of genres, an Outline PA was chosen for the second consecutive edition, supplied by this year's audio contractor, Target Sound, one of Poland's largest full-service production companies and an Outline GTO Partner based in the southern Polish city of Chorzów.
Lorenzo Patellani and Paolo Calza were the Outline system engineers at the event and the former explained: "Ensuring all the spectators an unforgettable sound experience was no easy task, as the square is wide and short and the stage-front also very wide, so considerable care had to be taken to ensure perfect coverage of the entire audience. To this end, the decision to field Outline's new compact Superfly line array systems on out-fill chores proved a winner, thanks to their excellent control of rear dispersion, which avoided on-stage sound spill, and their 90° horizontal dispersion, optimizing coverage of the side sections of the audience area."
The set-up featured nine GTO C-12 plus a GTO-DF as down-fill per side, plus 9 + 9 Superfly systems on out-fill duty. On stage there were two stacks of four Mantas 28 systems, and eight LIPF 082 enclosures along the edge of the stage on front-fill chores. The bottom end was entrusted to twenty Outline DBS 18-2 (twin 18" systems), used with a virtual arc configuration.
Calza added: "The powerhouse comprised six Powersoft X8 and the "heart" of the system's rack drive at FOH was Outline's Newton, a powerful flexible unit which, thanks to its combination of new filter technology, multi-format audio signal routing, multi-format standard conversion and digital signal synchronisation, enabled us to meet absolutely all the requests on behalf of artists' audio teams."
This satisfaction was borne out after the festival by three FOH Engineers. Top Italian pop singer-songwriter Eros Ramazzotti has been drawing huge audiences throughout the world since the late 1980s and his first world tour included a performance at Radio City Music Hall in New York City. He has collaborated with top artists, such as Tina Turner, on his 1997 Eros album and concert tour, has received a German Echo Award for best international music artist and many of his albums have topped the international charts.
Ramazzotti's FOH engineer, veteran Andrea Corsellini, said: "Even if we were very close (to the PA), I had an excellent impression of the C-12 and I'd like to hear it in more "classic" situations, with the desk further from the stage. From what I heard, it has an excellent timbre and a very 'Hi-Fi' horn, which I really like."
Kansas-born R&B sensation Janelle Monáe, who has already two Grammy nominations to her credit (the futuristic debut album ArchAndroid and her third, Dirty Computer), chose Lucca festival as her only 2019 Italian date.
Janelle Monáe's FOH Engineer, Amanda Davis, added: "The Outline system gained a fan as soon as I opened the PA up. I didn't have to do much at all to get what I needed out of the system, which translated the core sound of the instruments/vocals on stage clearly. Also, considering I had a 95dB limit and Janelle's shows can get pretty loud, I had a lot of headroom."
Curt Smith and Roland Orzabal (Tears for Fears) had the entire square singing and dancing, particularly with Shout, but also with Everybody Wants to Rule the World and other great hits that have stood the test of time, and thanks to which the bath duo has sold over thirty million records.
FOH Engineer Joe Harling enthused: "I genuinely love this PA. It is very natural sounding, seemed to behave evenly across the whole frequency spectrum, and had plenty of headroom for our show. I never felt like I was fighting it, and it never got in the way. I felt that it translated the emotion of the music perfectly, and it was really nice to hear all the mistakes in my mix through such a revealing box.
"I am not very technical, and that's why I had the amazing system tech Ville with me, so I probably couldn't comment too much about stuff like rigging, software differences. What I can comment on is the musicality of the PA. I really felt like I was mixing music, not mixing a PA system! There are only a couple of other PA systems that I feel the same way about. I find that some of the 'big names' sound too processed, and impart too much negative character to the sound. This PA is definitely in my top three or four now."