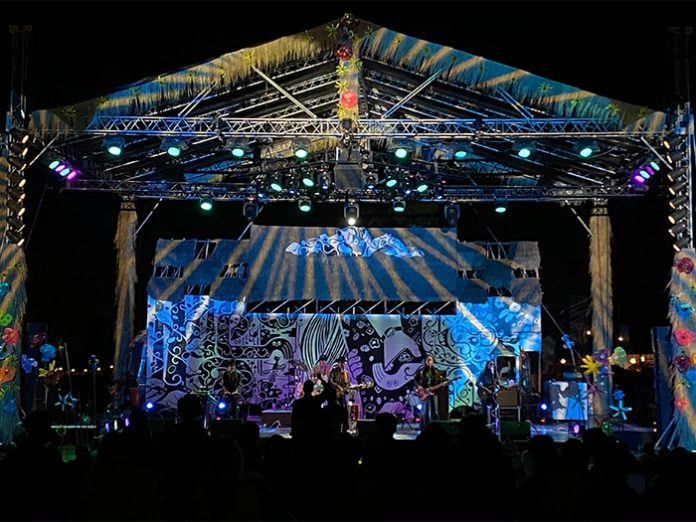 Despite health and safety restrictions amid the COVID-19 pandemic, the determination of promoter Mooban Wonder has enabled the Wonderfruit Festival to present most of the events of its December schedule.
Mr Team Productions has been supplying NEXO STM sound reinforcement systems to Wonderfruit since 2014. For the latest edition of the five-week festival, held at the Siam Country Club in Pattaya, Pok Sutat Kohkiat and his staff had to adapt their designs to suit a reduced audience area and smaller attendance.
"Wonderfruit attracts an elite international audience," said Kohkiat. "Visitors come from all over south-east Asia for this event, because of the quality of the performers and the diversity of the entertainment, which includes arts, crafts, cooking and yoga class as well as live music. Standards are high. Our technicians are often amazed by the quality of performers, who come from all over the world. They bring their own engineers, and we have to look at more than 40 riders."
This year, for the first time, the team decided to fly NEXO S118 subbass cabinets with the main arrays of the STM Series. "The audience area was reduced in size, and we only had 40 metres from FOH to the back of the area; the lowered stage didn't have enough room to house a sub array, so we put 16 S118s in omni mode and flew them together with the six a side main and bass STM Series main arrays."
The team also had to figure out where to put the front fill. "We put NEXO Alpha cabinets in the roof, firing down, and it worked very well," Kohkiat remarked. Alpha was also used for side fill, and on-stage were 12 units of NEXO PS15 for stage foldback under the control of a Yamaha PM5D monitor console.
Mr Team Productions undertakes all the audio technical production for the main Baan Sabai live stage and the Baan Arai DJ tent. More NEXO Alpha was brought in for this, supplemented by STM B112 bass cabinets and S2 subbass. Two other DJ stages, Singha's Ziggurat and Baan Moonism, were using NEXO PS15s, and NEXO could even be found in the festival canteen, where ID24s kept up the entertainment.
All attendees and staff at the Moobaan Wonder event had to comply with Thailand's strict COVID-19 rules, including body temperature readings, hand sanitisation and mask wearing. Attendance was reduced to just 30% capacity, which regrettably resulted in Moobaan Wonder having to cancel the last couple of weekends in the schedule.
"We are now dependant on the vaccine to see whether we can come back this year," said Kohkiat. "At Mr Team, we are diversifying into other areas – government projects, video mapping, museum and exhibition projects, and installations – in order to keep going. I believe small events will resume if the health situation improves, and we will start to see the first signs of new growth."