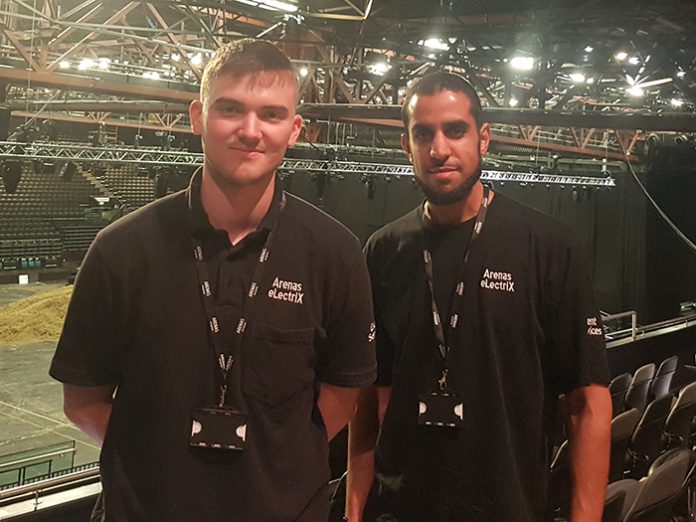 The NEC Group Arenas are continuing their work in nurturing young industry talent, having taken on the first electrical apprentices in UK arenas.
The 2 apprentices – Liam Dyde, 21 and Mohammed Waseem, 28- will be mentored through a 3-year placement by the Group's Arenas ElectriX team, in the hope of completing their NVQ Level 3 in electrics.  What makes this different to most electrical apprenticeships, is the specialist knowledge gained in temporary large scale electrical supplies and distribution- a must when ensuring the safe, reliable and electrical supplies for visiting productions to Arena Birmingham and the Genting Arena (soon to be renamed Resorts World Arena).
Throughout their apprenticeship, they will be undertaking a mixture of theory and practical work; developing their knowledge in testing, inspection and delivery of the electrical supplies.  One day per week in term time will also be spent at Solihull College & University Centre for additional practical and theory lessons.
NEC Group Arenas Chief Electrician and mentor Peter Hammond said: "There is a noticeable skills gap in the arenas electrical industry, something that we too have noticed with our in-house team.  As skilled individuals retire, there's be a decline in numbers of those able to step into their positions. With demand for our services higher than ever before, featuring bigger more technically ambitious live events, we thought it was time to take action."  
NEC Group Apprenticeship Coordinator, Angela Walsh added: "At the NEC Group we are committed to providing a variety of career opportunities for youngster across the country that provide career stability in fun and dynamic environments.  This new scheme we've developed in association with Solihull College & University Centre, will not only help bridge this skills gap but also give young talent the opportunity to be involved in on-the-job training, and bring us as the employer, fresh blood and fresh thinking."  
http://www.necgroup.co.uk/