Owned and produced by Vision Nine, the 2016 NASS Festival drew in 15,000 festival goers and over 400 athletes to Shepton Mallet for a weekend of music and action sport lifestyle, which this year included the International BMX Freestyle Federation (iBMXFF) World Championships – almost three decades since the UK last hosted the competition. TPi's Kelly Murray got in on the action.
Staged alongside one of Europe's top skateboarding competitions, Bath & West Showground, near Bristol, became home to some stomach-churning scenes. Alongside this, more than 100 artists comprised the music line up, which hip hop royalty Jurassic 5 and electro house pioneers Knife Party headlined.
Production Director Tom Sabin has worked with Vision Nine for more than four years, leading the technical feat on a variety of events including Boardmasters, Masked Ball and Freeze. This year, he says, the biggest challenge for the NASS production was the changes implemented, namely moving the main stage into the centre of the site. He told TPi: "It worked extremely well, brought the audience into the area earlier and improved the general audience flow around the event." The popularity of NASS and the need to factor in action sports as well as music needs means the Vision Nine crew essentially works on NASS for 12 months of the year. Continued Sabin: "I've already started on 2017! Yet the physical build time takes eight days once we're on site as the showground has so much infrastructure in place already so it's much faster than a greenfield site." As well as the main stage move, Sabin and his crew also had more outdoor sport activities this year, such moving the vert ramp to a central area of the event site. "This definitely added to the atmosphere as our dirt jump course was bigger this year."
A purpose-built pro park featured a 14ft vert ramp that served as a home from home for the international athletes.
When it comes to his suppliers, Sabin has a handful of trusted companies in tow. He elaborated: "Audile supply our audio and lighting as I've worked with Rob Leach and the Audile team for over 10 years now; they understand our shows and have both great kit and crew. They also produce great quality advancing information in terms of drawings and renders to bring their designs to life. Importantly, they work hard on-site to get the best possible results for every stage.
"Audile travel down from Manchester but it makes logistical sense to use a number of suppliers who have kit coming out of Glastonbury, which is just up the road from this event. Alpha supply our fencing, SPS and Serious Stages provide our staging and although there was a delay in Glastonbury load-out times due to poor weather conditions, the knock on effect for us was pre-empted.
"Transition Video are great too; they're always reliable and have great VJ skills. They brought together sport, festival brand and artist video content in a coherent visual programme for the main stage."
Emma Reynolds has been the NASS main Stage Manager for three years after stage managing the main stage at Boardmasters in 2013. Having helped the festival go from strength to strength, she explained her key objectives: "The main thing to keep in mind with high profile acts I find, is to respect their crew and help them around your stage as much as possible. I introduce them to all of my crew so that everyone knows who they are and can offer a helping hand as and when needed. J5 had a couple of large props on stage so we had to make sure we had the floor space to build and the height to accommodate these, but our Sunday night show with Knife Party was the largest production, so once we knew that would fit everything else slotted in nicely. I advance the main stage at NASS as well as run it on the day, which really helps as I already have relationships with visiting teams. Audile do an epic job, so it's well worth them making the journey. I couldn't do it without them and the hard work and knowledge of their crew is a real credit to the company. Delta provides the stage crew and they're brilliant.
"The reason I love working on NASS is as much to do with the BMX and skateboard elements; it really sets it aside from all the other shows. I used to work in the skateboard industry prior to working in events, so its great to get back to my roots and see old friends, some of whom come from overseas to ride at NASS. It's recognised as a destination for riders on the summer competition circuit and has enjoyed the addition of riders like Matt Hoffman this year and Tony Hawk in 2015."
The Technical Production
Audile's Rob Ashworth believes the nature of the festival brings a different element to the production: "It's certainly a different vibe to work on a sports / music combo festival – the dual focus really adds something to the weekend. When the focus moves from sports during the day to music in the evening and into the night, the audience is fresh and anticipating the music. The crowds are really energetic and up for it!"
The main stage was a standard Audile festival package a d&b audiotechnik J-Series PA and FOH control comprised an Avid Profile console and Lake LM44 prosessors. d&b M4 and C7 wedges were placed on stage and run from a Yamaha PM-5DRH. The lighting comprised various Clay Paky fixtures including Mythos, Sharpys and Stormy CCs. Ashworth also specified Robe 600 and 100 LEDWash Beams, with a Chamsys Magic Q PRO100 desk for control. "A substantial rigging and extra lighting package was provided for Knife Party, upping the count of Mythos and Robe 100 LEDBeam fixtures," he noted.
The Southbank area was in the round. He continued: "We supplied a quad-hang d&b V-Series system controlled by a Midas PRO2 and Precise Audio M15 wedges and P18B subs provided the monitoring.
"Lighting was rigged on a four-leg slick ground-support system, and comprised Clay Paky AlphaSpot 700 HPEs and Sharpys, Robe 100 LEDBeams, Martin by Harman Atomics and Prolights PixRoll 12's, controlled by an Avolites Pearl Expert.
"The Warehouse and the Hanger both featured Funktion One Resolution sound systems, with a wider variety of lighting fixtures including Martin by Harman MAC 700 Profiles and MAC 250 Entours, Clay Paky Alpha Beams, Showtec Active DMX Sunstrips, again controlled by Chamsys and Avolites consoles.
"The VIP area also featured a Funktion One Resolution sound system, with ChromaQ DB4's and Studio Due StudioLEDs for lighting."
For the sports production elements, which included both commentary and music in the Pro Park, a d&b audiotehcnik C7 system was provided. Other small sound and lighting packages were supplied for the numerous other sports areas. Ashworth noted: "Generally the genre of the music doesn't make a big difference to our designs, but with NASS the dual sports / music focus lends a different atmosphere to the gig and our crew really enjoy working on it as a result." Audile's Rob Leach designed the lighting and headed up the lighting team, with Dan Scantlebury designing audio and crew chiefing the sound team.
Video
Transition Video's Rhodri Shaw supplied the main stage video screen with Video Illusions' own product. He said: "I have a long-standing relationship with Tom Sabin, and although I've worked on the event for a few years, this is the first year I've done so as Transition Video. I think the concept of NASS festival works really well. Combining an extreme sports festival with a music festival has its challenges, but the crew at Vision Nine pull it off and 2016 has definitely been the festival's best year to date. Vision Nine are always very accommodating and working alongside our friends at Audile and Delta makes the job run smoothly."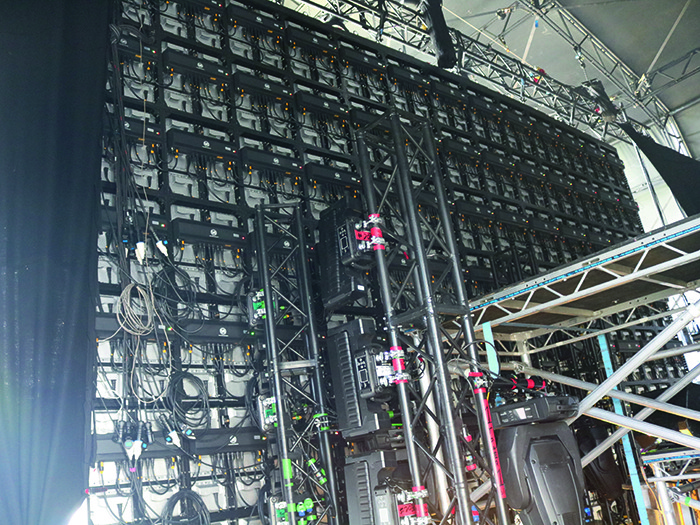 Video Illusions Nick Whiteoak furthered: "We've been involved with NASS for years so it's always nice to have our kit in use. We love the festival – back in the day Video Illusions even designed a score board system for Sportsvision – as Vision Nine were known then.
"Rhodri at Transition is a good friend of ours and we were delighted to supply him with our brand new VIL66mm. It has to stand up to direct sunlight all day on that main stage and with 5500nitts, it does. Tom Harding also did a fantastic job VJing."
Video Illusions products were also used for Knife Party's performance. "The same panels were used on the backdrop to risers supplied by Litestructures. We are able to remove modules in our VIL6 product that allows for bracing to pass through and attach to the clamps behind the crow. Perry Scenic makes these and the effect is a phenomenal show," added Whiteoak.
Staging
Serious Stages, which provided the main stage structure, also enjoys a long-standing relationship with Vision Nine. Steven Corfield, Managing Director at Serious Stages, said: "NASS had previously been held as an indoor show or with a very small outdoor stage, however as demand for the festival increased and its potential grew as an outdoor event, we were brought in to deliver the larger staging requirements. This year's NASS festival witnessed bigger acts than ever before, meaning the production required a larger stage. However, the organisers wanted to ensure that it remained in keeping with the festival aesthetics and offered an intimate connection between audience, artist and the surroundings."
In order to achieve this, Serious Stages supplied a 16m steel Orbit stage with a Supernova roof consisting of three 3.6m bays and a cantilever, to allow increased weather protection and enhance audience sight lines. Two 7.2m x 2.4m covered extensions flanked the stage and housed monitor desks and production technology. An access ramp was also installed from the rear of the stage to the loading dock, as well as a set of 1.2m wide steps from the stage deck to the ground. A 12m x 7.2m stage extension was also installed at the rear of the stage. Two 9m single mast flying systems were also installed to hang PA speakers, and a 4.8m x 4.8m covered FOH tower was constructed, decked on two levels to house lighting and sound.
Continued Corfield: "Our Supernova roof is manufactured in our Somerset facility and offers organisers and production teams a steel frame and steel truss medium sized roof, capable of taking the higher production loadings. Its modern engineering design and our in-house fabrication combine to ensure full wind-loading calculations and weight loading calculations are carefully undertaken for every show. With the Supernova, the depth of the stage can be varied by five metre increments thanks to our modular bay design, with rear loading ramps, access stairs and covered side-sheds for monitor desks or storage areas. This roof was perfect for NASS, enabling organisers to accommodate major bands with heavy production loads and video loading in the roof arches.
"The biggest challenge was the very wet weather which had lasted for three weeks by the time we undertook this build. This is particularly hard for the crews who are constantly battling with weather; crew welfare is very necessary under such conditions. The Bath & West Showground is great to work on as it has hard standing ground and roadways that criss-cross the whole site. Of course the timing of the event meant that we were also taking down stages at Glastonbury during the NASS build up, careful planning meant this wasn't an issue."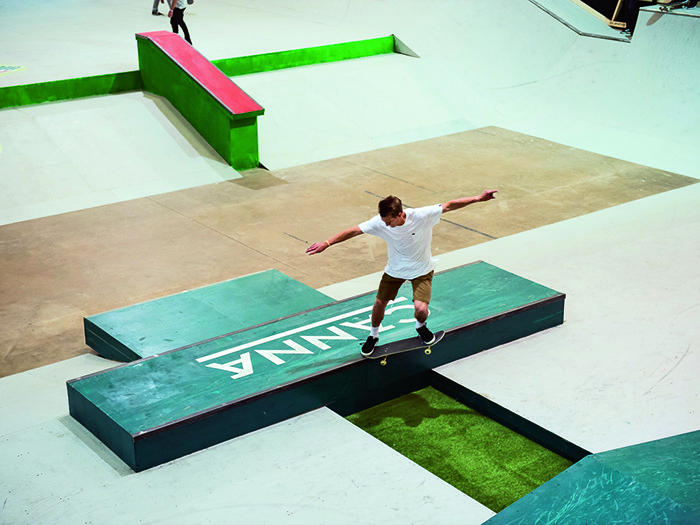 The Serious crew was led by Jack Lea who had an an eight man team, plus a permanent standby crewmember for production and show days.
Concluded Corfield: "This was our second year supplying NASS and we were thrilled that our stage hosted some of the biggest names in music. Just like the sports it showcases, the music bill was fast and loud so our stage had to accommodate the accompanying large scale technical production and creative elements. It was important that our stage was flexible for all acts, as well as having the right look to accommodate performances taking place throughout the day as well as the evening. For us it's about supporting organisers in delivering a great festival and creating the best possible experience for artists, production teams and the audience – from the stages to the ancillary structures."
Event Solutions supplied 110 metres of front of stage barrier across all of the site's stages, LX Trix provided power.
The Action Sports Lifestyle
The International BMX Freestyle Federation (iBMXFF) World Championships saw Logan Martin, Vince Byron, Nick Bruce and Matthias Dandois taking the World Champion titles. This was the first time the iBMXFF World Championships have been held in the UK in 28 years. Australians Byron and Martin took the Pro Vert World Champion title and Pro Park World Champion title respectively while American Bruce was named Dirt World Champion and France's Dandois was crowned Pro Flatland World Champion. A truly international turn out.
For the first time ever, amateur athletes were also invited to compete, with the top performers qualifying through to the pro competition. Jak Tones took the title for Amateur Park, Jon Kearns won Amateur Vert and Keegan Alves won Amateur Flatland. As well as the BMX Worlds, top pro skateboarders competed over the weekend for their share of prize purse totaling over $50,000 (the largest BMX and skate prize purse in the UK).
Sabin explained the effect this element has on the festival crowd: "The mixture off programming we offer makes a difference to the audience profile and movement. A lot of the attention during the daytime is on sport as some of the best-known sports stars can draw music headliner size crowds. Each of the sport courses has its own production requirements to facilitate a smooth build and operation and we work closely with specialist contractors for each discipline to improve these from an athlete and audience point of view each year."
Vision Nine's Richie Inskip, Brand and Event Manager, was also keen to point out the impact action sports notoriety is having on the UK event.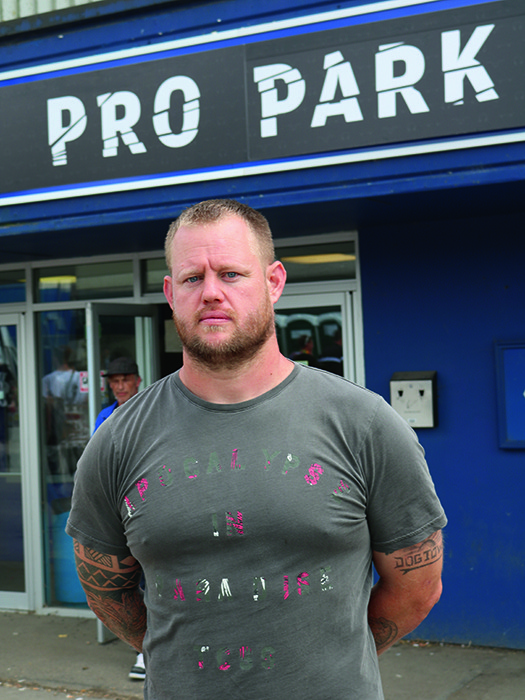 "My job involves carrying our brand personality and curating the sports elements – from courses to contests. This festival attracts the alternative youth culture, so we have to make sure we get our brand across effectively.
"For example, scooters get a bad reputation in action sports, but I've worked with some of the best riders out there and it undoubtedly communicates with a younger audience. We're looking at integrating all action sports into NASS so that we can represent what we're about accurately.
"This year we've also stepped up our game when it comes to aesthetics on site. There's been a significant increase in this thanks to the creative team from Upfest, a non-profit organisation based in Bristol. They've brought some of the most famous street artists in Europe to NASS and had them decorate the black scrim [fence covering] with their own style, so throughout the grounds you'll see a lot of different art influences."
Joe Baran, NASS Sports Production Manager for three years running. He told TPi: "I run my stage the same as I would a music stage because I have DJs and comperes working here and the athletes are the performers, so there's a similar crossover, but NASS has grown and grown. One of the coolest things we've got is the biggest vert ramp in Europe. The Ghetto Park, the Ring of Fire – where people literally skate through a burning hoop [see cover photo] – and the other courses around the site make it a really popular event for people who love to BMX and skate with their friends. I've definitely seen a growing sports community year on year."
Pete King – an ex pro skater – is responsible for building the biggest vert ramp in Europe, which is present at NASS. Having worked with the event for the last six years, his company now builds the outdoor vert ramp and places mini ramps around the site in order to help create an authentic street skate environment. He said: "I'd like to think we bring something to festivals that isn't typically there; live action! It isn't just for people who ride or skate, it's great fun to watch and there's lots of adrenaline at the forefront."
Shaun Scarfe of Four One Four also provides skatepark ramp equipment, as well as contest management to BMX and skate shows. "We spend a lot of our time working on indoor skatepark builds and ramp equipment for promotional events and adverts," he said. "For NASS Festival we made the Pro Park Course. In brief it is a full on skate park layout, not the usual couple of ramps you see at events; it's a fully bespoke layout that we only ever build the once, so it's always fresh. As NASS hosted the iBMXff World Championships this year, we wanted to go all out and build the best course possible."
The build of the Pro Park took 3.5 days using a crew of 32 who utilised 54,000 screws and 18,200m of timber and 590 sheets of plywood. "We do a lot of prep in the workshop cutting materials, sorting and packing for about two weeks, but the design starts months in advance as there is a lot of detail to consider," he furthered.
Scarfe, who has a long association with the festival, and has also seen a significant rise in its popularity: "I was at the very first NASS as a BMX rider and we were doing shows for the crowds before NASS hosted BMX or skate contests. When NASS decided to host a contest we organised the BMX side of things, contacting riders, judging and choosing the MCs. Since the early days a lot has changed; the sports are still very young but they have evolved quickly. NASS has done very well at progressing and evolving the contest setting and the course has grown, meaning the rider level is now the highest in the world."
2017 And Beyond
Inskip concluded by saying how this year's festival went: "2016 has been an incredible year for NASS, with the largest crowds we've ever seen. Jurassic 5 and Stormzy stole the show on Saturday night, before an epic Sunday of action sports which saw Danny Leon and Logan Martin as four time champions in skate and BMX Pro Park respectively. My personal highlight was the Matt Hoffman and friends demo, what a legend."
Reynolds added: "NASS is moving in a strong direction. Andrew Topham, festival owner, and Tom Sabin, our Production Manager, both genuinely listen to the feedback we give year on year, which really helps to push the festival in the right direction. Long may that continue – I can't wait to see what NASS 2017 has in store!"
Ryan Matthews, Event Marketing Manager at Vision Nine, said this had been the festival's most successful year to date, with a huge team effort from the event's creative and technical suppliers. "It's a brilliant event to be involved with, we're very passionate about what we do, and this year I think we've done it better than we ever have before."
NASS Festival 2017 will take place between 7-9 July.
TPi
Photos: Live photos courtesy of NASS Festival; TPi.
www.nassfestival.com
www.visionninehq.com
www.audile.co.uk
http://videoillusions.net
www.stages.co.uk
http://eventssolutions.co.uk
www.sps-productions.co.uk
www.lxtrix.co.uk
www.deltamax.co.uk
www.alphafence.co.uk
www.transition.video
www.fouronefour.co.uk
www.kingramps.co.uk