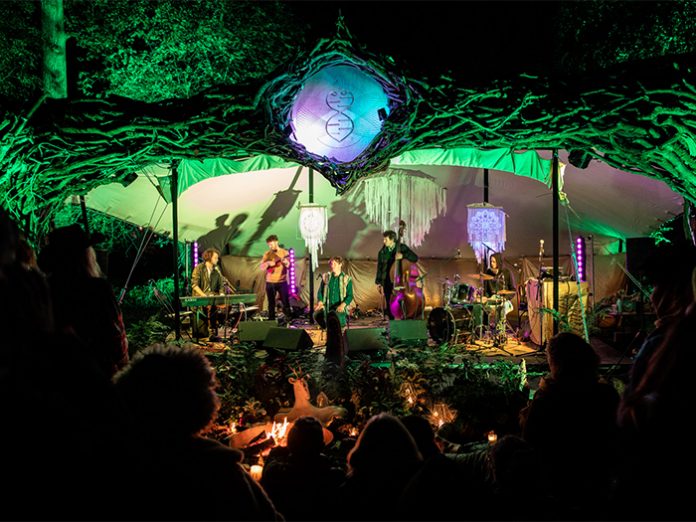 Set in the tranquil parkland and ancient woodland of a stunning Berkshire country estate, Medicine Festival 2020 proved to be the perfect tonic for attendees and crew alike. It had been at least six months since most had been involved in any form of public event, but with safety measures in place, the five-day festival prescribed a healthy concoction of music, ancestral wisdom, art, wellbeing, future thinking, food, environmentalism, spirituality, dance and performance.
Audio Feed had been appointed as the sound partner long before COVID-19 turned the world upside down. When the organisers decided to go ahead, the Funktion-One specialist was tasked with updating the sound system designs for the three-stage set-up.
The decision to host the inaugural Medicine Festival in such challenging circumstances was founded in a desire to provide some much-needed positivity for the downcast events industry – currently fighting for its life in the fallout of the COVID-19 crisis. Organisers worked closely with West Berkshire Council to enable the event to go ahead on the Wasing Estate. The council and the Department of Culture, Media and Sport, were said to be delighted to have the opportunity to showcase how outdoor festivals can take place safely.
Safety measures included the reduced capacity – from 5,000 to 600 – COVID-19 compliant risk assessments, social distancing, screening at the gate and a track and trace system for post-event. Audio Feed's Oz Jefferies relished the opportunity to get back to the business. He said: "It was great to get the crew and the equipment out working on a project again, and to work closely with our favourite contractors. It wasn't always clear whether it would go ahead or not, but we were happy to support it when it did. We had to change the sound designs many times, but there was still a requirement for some good sized Funktion-One systems."
He added: "We certainly had a few challenges. The downpour on build day reminded us what it's like to work in the British countryside. Meeting with event organisers, music curators and musicians and always remembering to keep two metres apart was out of the ordinary, as was building speaker stacks using face masks. However, the exhilarating feeling of building speaker stacks again was great."
The Main Stage featured four Funktion-One Evo 6EH speakers, with four F124s two F215 Mk2s for bass reinforcement, and a pair of F101s for infill. Three XTA APA-4E8s and an MC2 Delta 80 DSP powered the system, with a DiGiCo S21 console at FOH. Over on the Lake Stage, four Funktion-One F1201s and four BR118s combined with XTA APA-4E6 and MC2 Delta 80 DSP amplifiers and a Midas M32. While Movement Shalla was home to two F101s, an E60 amp, an X04 controller and a Midas DM12.
Commenting on the sound, Nick Mulvey's FOH Engineer, Marco Perry, said: "The Funktion-One Medicine Festival 2020 sound system was well spec'd to cover eclectic DJ sets, various ceremonies and some truly magnificent live acts during the long weekend event. Within the noise constraints and its multifunctional purpose, the Funktion-One system performed outstandingly. Great performances, great sound system and great crew."
The festival's Music Curator, Moshe Halperin, echoed the sentiment: "Phenomenal crew, great sound system, great spec – over and above what was expected."
Reflecting on a successful long weekend, Jefferies said: "It was very exciting to get in a field again and to work at an event that took social distancing seriously. The energy of the musicians was incredible, and their reaction to the Funktion-One sound and XTA amplifiers was even more intense than normal."
He concluded: "The crowd had more energy than normal, perhaps because the rumour around the site was that this was the only festival of 2020. The Evo 6 system always manages to produce that little bit more energy from the crowd as well, especially with live music."