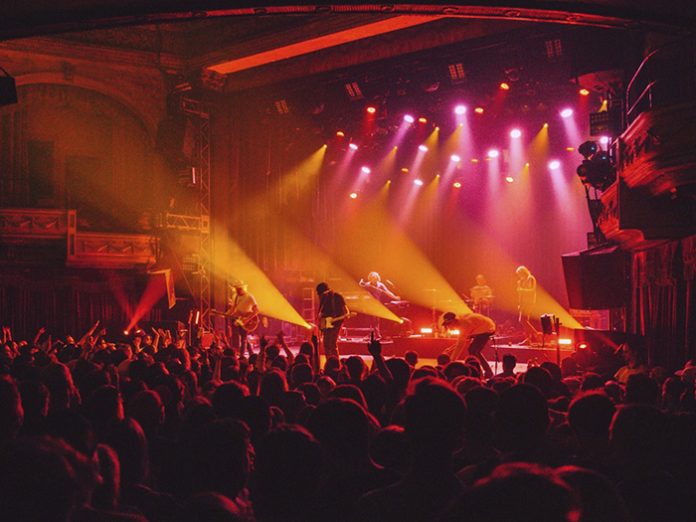 Australian band Ocean Alley's Lighting Designer, Max Baldwin used Chauvet Professional Rogue R1X Spot fixtures supplied by Squeek Lights, for their recent North American tour.
"Our entire idea was to get looks in 400 or 500 capacity rooms with limited-stage in North America that were similar to what we got at giant festivals and amphitheatres in Australia," said Baldwin. "Obviously, we couldn't duplicate the Australian looks exactly, but we could reflect the spirit of those shows with a smaller rig. The Rogues were essential to our plans. Working them with the various house rigs we encountered gave us a lot of options."
Although he varied the arrangement of fixtures from night to night, depending on the configuration of each venue's stage, Baldwin typically positioned a Rogue R1X Spot fixture on either side of the drum riser. He also placed units on the stage left and stage right deck.
From these positions, the 170W LED spots were used to create a variety of vibrant production looks. Drawing on the fixture's 3-fact prism, Baldwin created intense aerial effects that filled small and mid-sized venues with vivid light. He also evoked surreal moods for some of the band's more ethereal songs by backlighting its members with a range of richly saturated colors.
The versatility of the Rogue R1X Spot gave Baldwin the flexibility to conjure up an endless array of looks that reflected the wide range of material in Ocean Alley's 14-song, 70-minute set, which encompassed torrid rock anthems, singalongs and soft, touching ballad-like numbers.
"This was a very dynamic and moving show that reflected what Ocean Alley is all about," said Baldwin. "We used the Rogues for everything from chasing in rhythm with drum fills, to creating powerful static looks during a big vocal parts or solos. The rooms were not big, but the looks were. I was extremely happy with how we were able to transition the show from one sized venue to another, while still keeping its meaning intact."