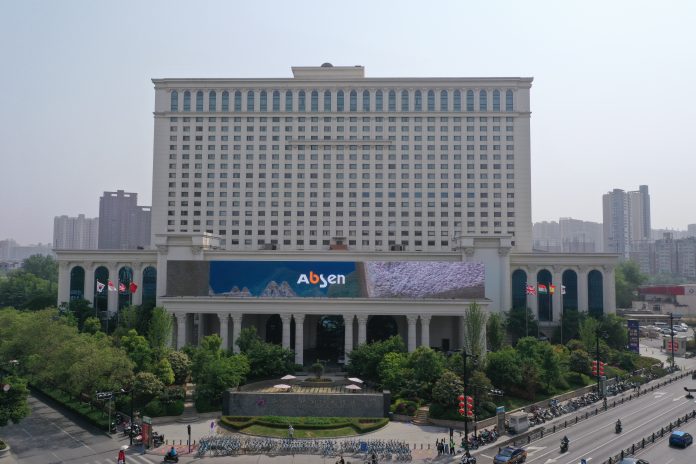 Absen LED products have been used to create a gigantic DOOH display that towered 15m high above the exterior of the Hua-Yang Plaza Hotel in Luoyang, China, where the month-long Peony Culture Festival took place. The festival, which occurs each year from mid-April to mid-May, sees the peonies in full bloom and various folk performances staged around the gardens.
The Hua-Yang Plaza Hotel is situated in the middle of Luoyang National Peony Garden, Luoyang National Flower Garden, Wangcheng Park and the Peony Square, which made it a perfect location for the billboard to provide a warm welcome to all of the visitors that journeyed from across the globe.
The display itself – made up of Absen's market-driving A1699 product – measures a staggering 730 sqm and offers a pixel density of 6760 x 420, making it the highest resolution OOH LED screen ever seen in the city.
The billboard was located in the perfect spot to attract passers-by, with Wanda Plaza just opposite and the train station and airport within several minutes' drive distance.
The product chosen for this auspicious application – Absen's A1699 – is an updated version of the A1688, which is one of the most successful outdoor LED products in the company's portfolio. Nearly 200,000 sqm of the A1688 has been used in more than 120 countries and regions over the past 12 years.
"With such a gigantic LED display, the power consumption is, on average, around 63 KW/H," said Landy Liao, Absen product manager. "Thanks to the Absen-encapsulated LEDs, this DIP product is very energy-efficient without compromising the high brightness levels – even in the direct sunlight. These factors, among many others, are what helps Absen to stand out among its competitors."
Some of the other advantages of the A1099/A1699, besides its high level of brightness, are its contrast and IP ratings, and its solid reliability, not to mention the extreme energy efficiency that makes it the ideal solution for OOH applications in a variety of complicated environments.
As well as the sheer scale of this massive project, time constraints were also a major challenge for the integration team.
Zhang Feng, Absen's sales manager for the project, explained: "The team only had one month to prepare the installation, and the date of the festival's start was non-negotiable! This was a huge project considering the number of displays we were installing. We couldn't arrive on site until after 22:00 every day because of the hotel's operating hours and its location of the centre of the city. Thanks to the eight-member engineering team's seven straight days of hard work, we finally fulfilled this seemingly impossible task."