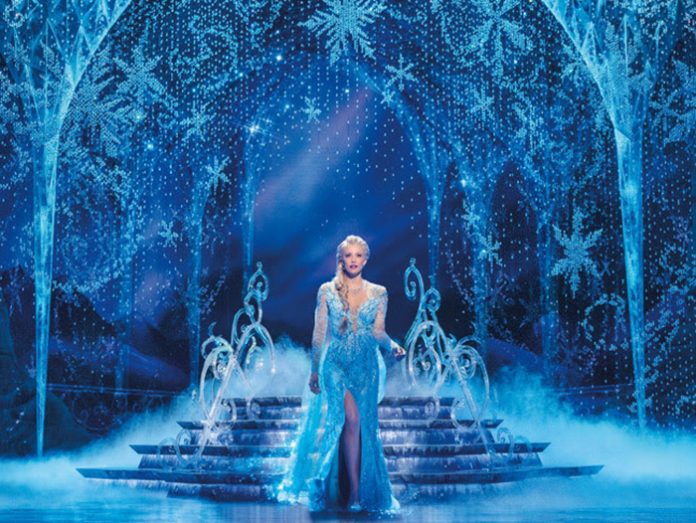 Lighting Designer, Neil Austin has relied heavily on Martin Professional MAC Encore Performance moving heads to help light the West End production of Frozen The Musical for audiences at London's Theatre Royal Drury Lane. He selected 115 Martin MAC Encore Performance CLD fixtures as part of a fully moving rig as he "predicted there would be quite a lot of cold white light on Frozen!"
The inventory was supplied by White Light, whom Austin says he has been renting from "since I was a 15-year-old schoolboy." White Light were supplied by Sound Technology. 

As the predominant fixture in his rig, the MAC Encores are set on five overhead bars and six ladders either side of the stage in a virtually all-LED rig.
"They're basically everywhere I could fit and afford one. I'm a huge fan of Encores and put them onto every show where the budget allows. The quality of light is extraordinary. 

I knew there were brighter lamps available but I didn't want another discharge lamp because they decay over time. I wanted something that would remain the same colour and brightness the entire way through the run of a show, and the MAC Encore has more than sufficient brightness," he explained.
"In Martin's hands, LED is so beautiful. It's a truly full-spectrum light source.  No longer do you have to dial in pink to get a reasonable colour for people not to look ill—it really is just like daylight coming through a window. The base colour of the unit is great for faces."
On another famous Broadway show, Austin replaced older tungsten generics from a previous version of the show with the MAC Encore WRM, and the old discharge lights with the CLD versions. "In fact the majority of lights on that show are now Martin MAC Encores. So I know them well."
"[Sound Designer], Peter Hylenski, came up to me to ask what lights I was using. He couldn't believe how quiet they were," he recalled. "At last we're able to be responsible collaborators by not forcing the Sound team to have to ride everything so much louder just to compete with our fan noise. Moments of silence on stage are now truly achievable thanks to the MAC Encore. On top of everything else they are reliable."
He continued: "Manufacturing has improved tremendously in the last 30 years, but also, once that discharge, super-hot heat source has been removed, componentry becomes so much more reliable and long-lived."  

He says that after 18 months of lockdown "to return to the West End, on the biggest show of my career with the biggest rig felt like such a decadent opportunity. It has helped me rekindle my love for the job."
Austin credits the team of experienced production electricians on board the production, including: Martin Chisnall, Gerry Amies, and Associate Lighting Designer, Jess Creager, whom they flew over from America where she had previously worked with the LD on Broadway.
Other key members of his team include fellow Associate, Jamie Platt, and Lighting Programmer, Dan Haggerty – Austin's long-time collaborator – who operated using an ETC EOS. "This amazing team made working on Frozen a real delight — I had a blast, and I hope they did too! My experience has been one of utter joy and least stress."