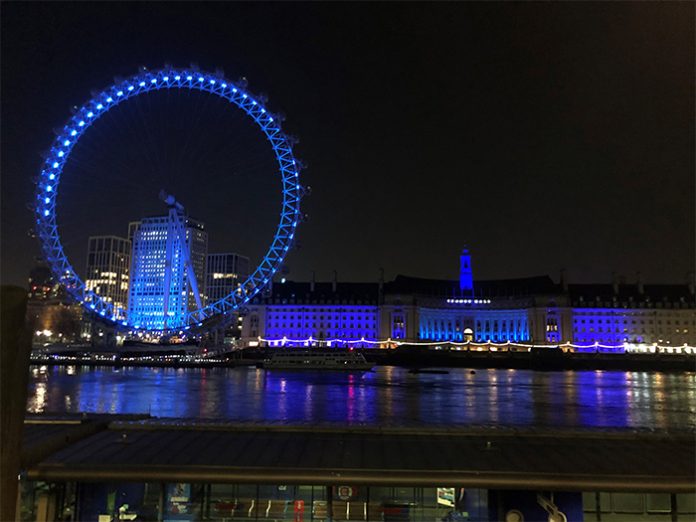 The collective behind the #LightItBlue campaign has formed a community interest company (CIC) dedicated to raising funds for mental health charities, with particular focus on benefitting people from the events and entertainment sectors.
#LightItBlue was created at the onset of Lockdown by a group of events and entertainment industry professionals to show a united display of gratitude to the NHS and frontline workers during the COVID-19 pandemic.
Within four months the campaign had become a global movement spanning 23 countries across six continents and enjoying a social media reach of 700 million.
The initiative began on Thursday 26 March when over 100 of the UK's most famous event venues, sports stadiums and giant LED screens were illuminated in blue to coincide with the nationwide applause for the NHS and frontline care workers.
Since then, iconic landmarks across the world – including Windsor Castle, Niagara Falls, Komazawa Park Olympics Memorial Tower and the Prince's Palace of Monaco have taken part by illuminating blue on Thursday nights. Celebrities and members of the public joined in the ensuing social media campaign to #MakeItBlue in their own way.
One of the new CIC's Directors, Tom Rees, said: "Mental health was on our agenda right from the start. We knew that thousands of event and entertainment industry jobs would be lost or put on hold indefinitely. With so many production companies, venues, agencies and freelancers facing an uncertain future, the impact on individuals' mental health will be catastrophic."
Gary White, co-founder of #LightItBlue added: "In harnessing our skills to thank healthcare and key workers during the pandemic we also wanted to reach out to all the jobless production crews, security staff, riggers, sound engineers, and so many other events and entertainment industry colleagues."
White added: "As live event professionals, it's our mission to support industry colleagues who are in need, while promoting public mental health awareness through arts, entertainment and cultural projects."
MAKEITBLUE CIC has been formed to raise funds for a range of mental health charities and initiatives, including events and entertainment-specific organisations.
Backup – the Technical Entertainment Charity; Stagehand – the Production Services Association's welfare and benevolent fund and Stress Matters are just three of the charities listed on the #MakeItBlue website as potential beneficiaries.
On 22 July members of the #MakeItBlue Collective spoke at the Event Freelancer Summit 2020, describing how the UK events industry sparked an initiative that evolved to become a global movement.