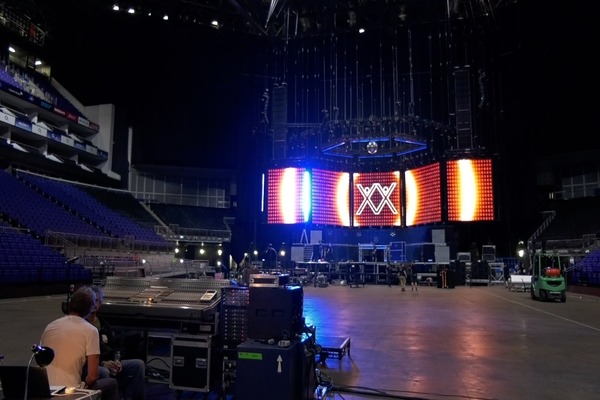 In 2017, the flagship Firenze touring system by Italian innovator K-array was deployed for the return of 1980s superstars Bros at the O2 Arena in London.
The arena was the home of Bros' return over two nights, supported by a core front of house system comprising 12 KH8 panels per-side for full venue coverage.
"K-array makes a range of unique and extremely clever products that are totally out there and on their own in the industry, so being able to bring Firenze back into this genuinely iconic venue in London, one of the most loved venues on the planet for live music, is a real honour," said Sam Nankivell of UK distributor 2B Heard, who provided technical support for Production North across both nights. "This is an unmissable opportunity to fly the system in the O2, to show people how it works and to be part of a large production that has the whole country talking."
The K-array system's previous appearance at the O2 saw it cover the blanked-off top tier of the Arena with a core system of 9 KH8 panels per side, while 12 KH8 panels per side were flown to deliver consistent coverage for Bros, 6 IP65-rated KS8 subwoofers per side provided low-end extension. In addition, 2 discreet side hangs comprised 3 Mugello KH3 concert series panels plus 4 Mugello KH2 down fills per side.
"The way it rigs, the speed with which it rigs and the lack of space it needs in a truck, it's all impressive," added Production North Director Steve Levitt, who controlled the front of house position during both shows.
On-board each panel is an IP65-rated electronics module delivering 8 channels of Powersoft DSP and amplification, utilising the Armonia platform for system EQ and control, and providing 2,000W of power on each output. System optimisation to suit the venue is achieved simply with AFMG's EASE Focus software, which also forms the control interface for the creation of all required FIR algorithms, ensuring quick and simple operation over a single, trusted platform. Additionally, all of the Powersoft amplifier modules are IP addressable, enabling quick and seamless configuration updates.
"After asking 'When will I be famous?', Firenze has now proven itself multiple times here in the O2 Arena, and out at festivals such as the Isle of Wight," concluded Nankivell. "Engineers and production companies are realising that they can have it all, a high-end touring system which is incredibly affordable in terms of trucking, extremely fast to fly, and which provides a truly world class performance."