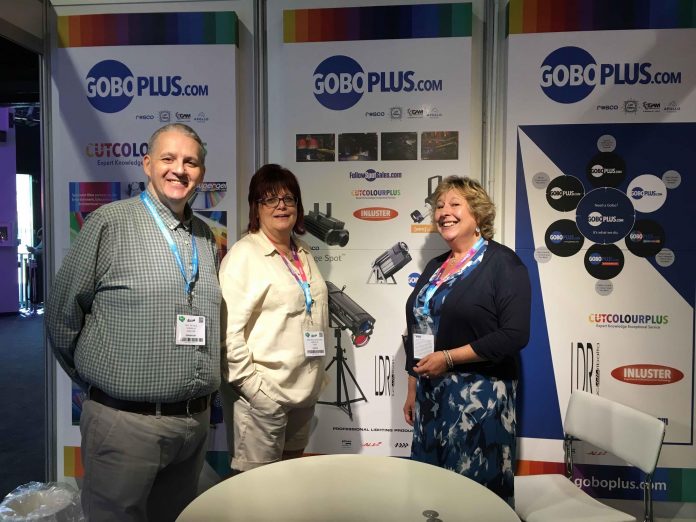 GoboPlus.com, the one-stop, online shop for gobos and projection products, exhibited at PLASA Focus Leeds 2019 where the team showed off its new, extremely high-resolution glass gobos.
"The new glass gobos render images in much finer detail than has been previously possible," explained CEO Paul de Ville. "The exquisitely fine resolution allows much greater detail to be produced on smaller gobos, and has been created in response to the huge improvements in optical quality of most modern lanterns. The resultant HR gobos give the lighting designer more scope, not only allowing for more detailed images, but also enabling more accurate adaptation of standard gobo designs to fit on the new generation of smaller gobos used by many moving light fixtures."
In a further exciting development for the company, GoboPlus.com chose PLASA Focus Leeds to introduce an additional brand into the GoboPlus.com portfolio, FollowSpotSales.com. FollowSpotSales.com will join CutColourPlus, the filter cutting and supply service, and Inluster lighting consultancy under the GoboPlus.com umbrella.
FollowSpotSales.com is, with immediate effect, a UK distributor for one of the last remaining independent lantern and follow spot manufacturers, LDR of Italy, which produces a complete range of profiles, Fresnels, soft-lights and follow spots, each of which are available with LED, discharge and traditional tungsten light sources, for entertainment technology as well as display and architecture.
To head this new division, GoboPlus.com has employed well-known and respected industry figure, Mandy Bullock, who brings to FollowSpotSales.com, nearly fifty years of industry experience and an extensive background in sales and rental roles. Her sales history includes roles at Theatre Projects, Lighting Technology, Lightfactor and Zero88, as well as a current training role, in conjunction with Andy Friedli of Leisuretec, on the Lighting Basics course.
"I am really excited to be joining this incredible team," said Bullock. "By joining GoboPlus.com and heading up FollowSpotSales.com I am going back to my roots. I have a real passion for our industry and the creative and focused people we work with and have missed selling lanterns and consumables. My new role at FollowSpotSales.com will fulfil this as I promote the full range of LDR products – the LED models as well as the traditional tungsten sources – alongside the projectors, lanterns and consumables from the GoboPlus.com and CutColourPlus brands."
"We are very excited to welcome Mandy on board and have the opportunity to raise the profile of the LDR brand in the UK," said de Ville. "Mandy comes with a wealth of experience and connections across all markets and is in the perfect position to represent this brand and the whole of GoboPlus.com on the UK market.
"The cumulative years of experience and expertise in customer service and product knowledge, that we have in the GoboPlus.com group, means that she fits our culture perfectly. This, combined with the dedication of our young sales and administrative team, all of whom are driven by a passion for their work, attention to detail and care for their clients' projects puts us in a unique position."