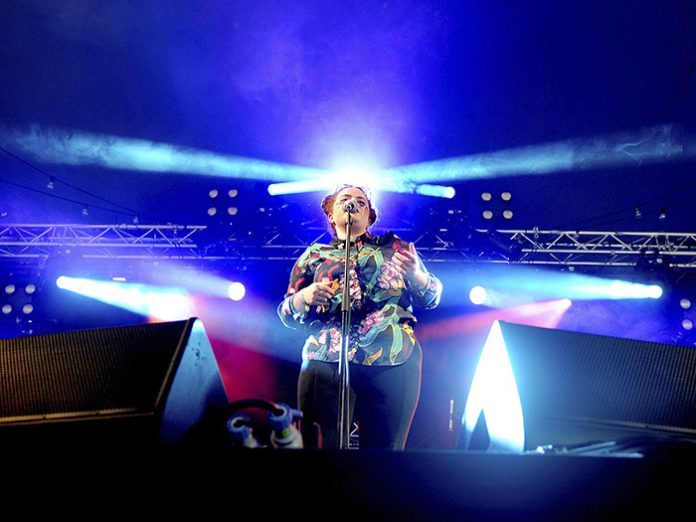 To provide warm and engaging lighting for the field of Avalon's main stage this year, returning provider GLS Lighting specified a collection of Rogue and STRIKE 4 fixtures from Chauvet Professional, in addition to 10 Chauvet DJ Festoon fixtures.
"As the Avalon Stage serves as a key focal point not just within the Field of Avalon, but also within the Glastonbury festival itself, we wanted to create some big looks to make the stage stand out even more this year," commented Ian Turner, GLS Project Manager. "With our curated selection of Chauvet Professional fixtures, we were able to provide excellent support to bands such as Sophie Ellis-Bexter and Busted."
The GLS team, headed by Marcus Bartlett and John Curtis, positioned 12 Rogue R1 Beam, eight Rogue R2 Wash and eight Rogue R2 Spot fixtures on upstage trussing. While the R1 Beams were selected for their incredibly punchy beams and compact size, the combination of the saturated colours of the R2 Wash and the powerful beams and gobo effects of the R2 Spot provided the lighting technicians at the Avalon Stage with a versatile toolbox of looks from which to accompany the performances with incredible atmosphere.
Given that the stage was up and running during all hours of the day, one of Turner's key considerations was ensuring no show atmosphere was lost for the performers playing during the sunlight hours. Thanks to the incredibly bright Rogue fixtures, Bartlett and Curtis had a practical tool for both the daylight and evening shows.
"Thanks to the sheer brightness of the fixtures, not one ounce of the intense show atmosphere was lost during the daylight hours when the light had the tendency to creep into the two entrances to the stage tent," continued Turner. "Thanks to the R2 Wash and R2 Spot's ability to draw both a wide wash and a narrower beam, the stage looked full and the performances looked powerful."
The GLS team also specified six STRIKE 4 fixtures, which were positioned on above stage and side stage truss. Thanks to the excellent blinding, warm white wash and strobe effects of the fixture, Turner and his team were able to usher in a much larger stadium feel to many key moments in the various shows.
"Depending on the situation, we were able to create intensity with the blinder effects or atmosphere with the low level tungsten effect glow," commented Turner. "The dimming curve is especially interesting for the festival environment, and is incredibly practical. No more cumbersome dimming racks!"
The piece de resistance of the Avalon stage, however, was the 10 Chauvet DJ Festoon fixtures which were placed around the tent. The dynamic IP-rated pixel-mappable light strings brought an additional vintage inspired look to the stage, which helped to underline the field of Avalon's relaxed festival atmosphere.
Thanks to the combination of Chauvet Professional fixtures, Turner and his team were able to ratify Avalon's 'festival within a festival' status for another year. "Glastonbury 2017 was hands down one of the best yet – for both the festival at large and Avalon," concluded Turner. "I'm pleased we were able to ensure that the performers and audience at Avalon could enjoy the best possible atmosphere."