Where does EW-DX sit among Sennheiser's wireless offerings?
"The goal for Evolution Wireless Digital is to cover all application scenarios and use cases that our analogue evolution wireless G3 and G4 series caters to, being our most successful wireless series to date. Looking at the systems from a user perspective, EW-D has been designed for musicians and performers who need to be their own sound engineers, EW-DP for filmmakers and videographers, and EW-DX is targeted at pro users, no matter whether they are working in the music and event industry or in education and corporate settings. From a portfolio perspective, EW-DX sits between the flagship Digital 6000 series and EW-D."
How is EW-DX equipped to deal with issues facing tours heading out on the road?
"EW-DX is a digital system and has been designed to emit as little intermodulation products as possible. The switching bandwidth is up to 88 MHz, enabling the transmission of up to 146 channels and up to 293 channels in Link Density mode in an equidistant frequency grid. Operators can be certain that they are making the most efficient use of the available spectrum. It is also reassuring to know that the Link Density mode slightly reduces the range, which can be compensated for by the antenna system, but does not compromise the excellent audio quality of EW-DX."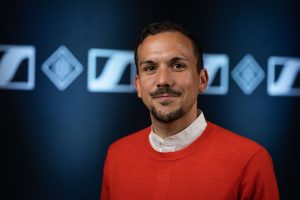 What hardware options are currently on the market?
"A two-channel EW-DX receiver, a handheld transmitter, either with or without mute switch, and a bodypack/instrument transmitter with either a three-pin or a 3.5mm jack connector. The next  addition to the family will be  the charging module for the L 6000 rackmount charging unit. Launching later this year are two-channel and four-channel Dante-enabled receivers."
Which additional features will those operating in touring sector benefit from?
"Even in critical RF environments, EW-DX ensures stable transmission. Audio quality is another important point for engineers. They have described the audio as being transparent, well-defined, and clear. EW-DX uses the purpose-designed Sennheiser Performance Audio Codec (SePac), ensuring excellent audio transparency from the capsule to the system output. Latency, which is always a factor in digital systems, is a mere 1.9 milliseconds, which is imperceptible in practical application. Engineers are pleased with the operating time of the handhelds and bodypacks with the BA 70 packs, it amounts to approximately 12 hours. They also like that they can rely on the display for the remaining battery life in hours and minutes. We have also received very positive comments about the Bluetooth sync, which is much more convenient for them. You do not longer need to crouch in front of your rack when you want to establish the RF link. EW-DX is currently being used on tour with Culcha Candela, A Girl Named Tom, and Anthonia Edwards, among many others."
This article originally appeared in issue #276 of TPi, which you can read here.