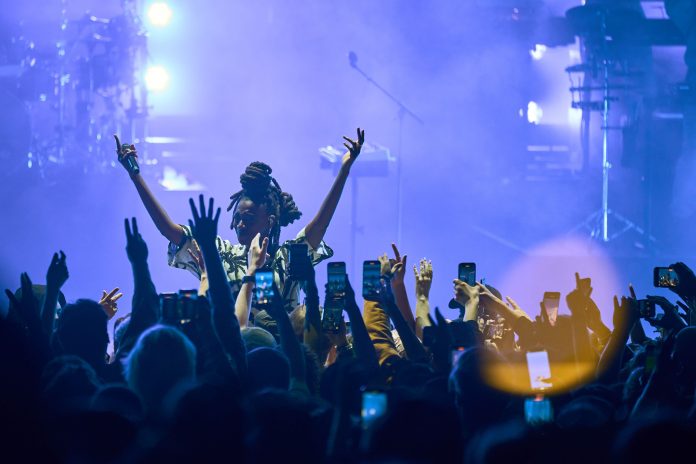 Eric 'EZ' Wade, who runs production management company, EZ Services, has been touring UK theatres and clubs with Little Simz with technical support from sound system supplier, Entec Live.
This is a new relationship which has quickly kicked into overdrive, after the West London technical services company had been strongly recommended. EZ was introduced to Entec Head of Sound, Dan Scantlebury by Monitor Engineer, James 'Kedge' Kerridge. This was at the beginning of the year as rehearsals were about to begin. Fittingly, Kedge had also served his apprenticeship at Entec, and so was able to provide the recommendation based on his own experience.
"I had worked with various production companies and was always struggling to find the right relationship. It was generally Entec's approach that impressed us — how they spoke to us, how they dealt with quotations and their general workflow are all of the same high calibre. I can call late at night with a requirement and it was there, first thing in the morning. On top of that, their gear is always well prepped and maintained. At EZ Services we like to stay loyal and so we have transitioned our other clients to Entec and that's really worked out for the best."
By that he means Bristol band Elder Island, Bow Anderson who supported Ella Eyre on the recent tour, Girl In Red, Youngr, MiC Lowry and Ghetts.
Most of Little Simz' dates have been through theatres and O2 Academy venues culminating in a grand three-night finale at Brixton. Along the way, when they have not played through house systems they have rigged Entec's d&b KSL PA system, which they rigged at Brixton Academy with d&b V- and C-Series onstage. This has brought the best out of Little Simz' fast-paced show, characterised by her boundless energy, supported by four backing musicians and her long-serving DJ/hype man.
In addition, DiGiCo SD12 consoles were stationed at both FOH for engineer Claudio Cueni, and in monitor world for Kedge, while RF was based around Shure Axient wireless system and PSM 1000 personal monitors. According to EZ, it had been Kedge who had set the standard for Entec. "He handles the technical infrastructure and that makes Claudio's task so much easier."
There is further Entec personnel involvement within the crew, as Colin Woodward is their audio tech and patch technician, while Tom Olorenshaw does the prep and makes sure the workflow is smooth. Reflecting on their roles, Ez said: "Colin was another who backed our decision to go to Entec while it's really impressive how Tom gets everything to the team; his working method is perfect."
He also paid credit to Dan Scantlebury, whose remote role has been vital, since with a limited production budget they are not carrying a dedicated system tech. "Dan's working knowledge of venues is second to none," he said. All of which has helped to ensure a smooth experience regarding system set-up. They also have the technology to multitrack every show and carry out virtual soundchecks, notes EZ.
And as for working with Little Simz, he said: "I have been production manager with a lot of artists each with their own challenges but she's definitely an artiste I've had the pleasure of growing alongside and I'm proud to be with her. She's a lovely artist to work with—she doesn't put herself across as someone you can't approach but she likes to know who her crew is. She sets a high standard which we strive to live up to."
EZ says his appreciation for Entec has grown exponentially as the relationship has developed — particularly with the support they have offered during the sudden busy period that has followed lockdown. "They have really looked after me," he said
He likens the experience to a visit to the barber. "You work out your preferences, and when they have taken it onboard you can just sit back in the chair and relax. I will give them a basic brief, and their response is almost intuitive for example they'll know if I want to fly something whether it's in the safe weight limit. "And that type of feedback is much appreciated when you are receiving a million phone calls a day!"