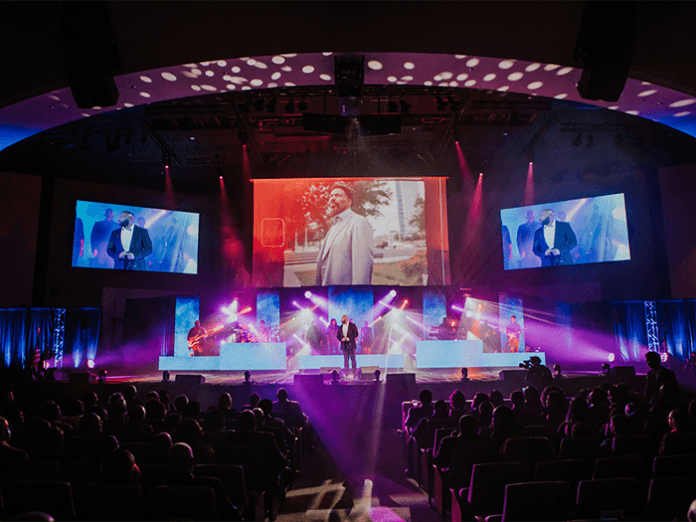 Sherman James Productions Founder and Executive Producer Anthony Evans and Production Manager and Show Designer Anthony Martinez work with the Nashville-based production provider to create an intimate yet impactful design.
Held at Oak Cliff Bible Fellowship in Dallas, Texas, Kingdom Legacy Live was a historic evening celebrating the work of Dr. Tony Evans who became the first African American to release a complete Study Bible and Commentary.
In an evening that would be filled with musical artists and special guest speakers, his son Anthony Evans who is the founder of Sherman James Productions along with the production team were tasked with creating an unforgettable night. Wanting to implement a more intimate experience within the church's large sanctuary, Production Manager and Show Designer Anthony Martinez worked with Nashville-based Elite Multimedia Productions who supplied the live event lighting and video design.
"I handle all of the production elements for Sherman James Productions and for this event at Oak Cliff Bible Fellowship we needed to create a different atmosphere from their typical worship design," began Martinez. "The church just went through a large renovation where they opened up the stage and painted all the walls white in order to light and texture in different ways. In our design discussions, Anthony Evans the event Executive Producer and I decided to create more of a theater black box feel where we could bring everything in a little closer, but still have a beautiful backdrop for the musical artist performances."
Getting started on the design, Martinez began to look at the production partners who would be able to assist with the production and technical support. Having had a previous relationship with Elite Multimedia, he was confident that they would be able deliver the expertise and technology required.
"This was my first time working at Oak Cliff Bible Fellowship and we knew going in that we would have to work around the church's production elements already in place without interfering with their midweek service," said Kenny Mason, Production Manager Elite Multimedia Productions. "Since the church had recently underwent a renovation to update their production technology, we tried to find a way to incorporate all the physical items now in the room into Anthony's vision for the design and make it happen."
"We had a previous relationship with Kenny who used to work with Sherman James Productions on our tours," added Martinez. "This gave us a great connection to go in right away and partner with Elite Multimedia Productions without having to start from ground-zero in developing our relationship. Sherman James Productions has done two tours with Elite Multimedia Productions so partnering with them on this event made it really seamless to plan and communicate what we needed to accomplish."
Moving forward with the evening's design, Martinez and Mason had to create a production rig that could not only meet all their guidelines but could also be implemented quickly for a one-night event. Challenged to work around the production schedule of the church's weekly services, they understood that communication would be key.
"We started the design by migrating the production elements from a previous tour and then increasing the lighting and video gear for this scale," explained Martinez. "To do this, we would need to work in conjunction with the church's production team who were planning their own worship services and Elite Multimedia did a really great job of coordinating exactly what the church would handle, what we would handle, and how we would all work together."
"To create an alcove for the musical guests and give us the separation needed between either side of the stage for guest speakers and presenters, we decided to build-up LED video elements that started on the ground then tiered up and out," added Mason. "To fill the space in front of the large choir loft, we then created a focal point that led up to the larger video screen through alternating video and lighting towers, along with risers in the center that were also wrapped in LED video."
In a busy production schedule, the pre-planning and preparation that goes on behind the scenes are influential factors of an events success. Experienced in how to make sure a rig is production-ready when it arrives, Mason and the team at Elite Multimedia were able to quickly have the production up and ready for showtime.
"From the time we unloaded the truck, we were able to get everything show ready within the first day, short of final programming," admitted Mason. "We did a lot of pre-rigging at our shop in Nashville, so all the lighting towers were on GT Truss and everything was pre-populated with all the cable looms. We also did a fair amount of CAD work at the shop, so we knew all our video dimensions with all the right lengths. Once we were onsite at the church, it really became about drag-and-drop."
Time now for the stars to take the stage, Kingdom Legacy Live was ready to excite and inspire a packed sanctuary with those eager to hear the words of Dr. Evans. In a night filled with many of Gospel music's biggest names, the production design was able to beautifully accentuate the impactful message for all those in attendance.
"We had a wide array of artists so in the lighting rig we had a diverse mix of fixtures that allowed us to go from a high energy, hip-hop feel into softer, more intimate moments, and then the video content mirrored that array throughout the evening," concluded Mason. "It was extremely energetic with a passionate congregation and musical artists that really drive an audience."
"A lot of times when you design a project on paper it doesn't always translate and look the same in a live setting, but everyone absolutely loved the end result and it turned out better than we anticipated," added Martinez. "Kenny spent a lot of time programming and building video content and a lot of the church technical staff commented that we had filled the space perfectly and wanted the gear to stay. The whole team at Elite Multimedia did a great job with a true atmosphere of partnership to make sure everything went off smoothly."