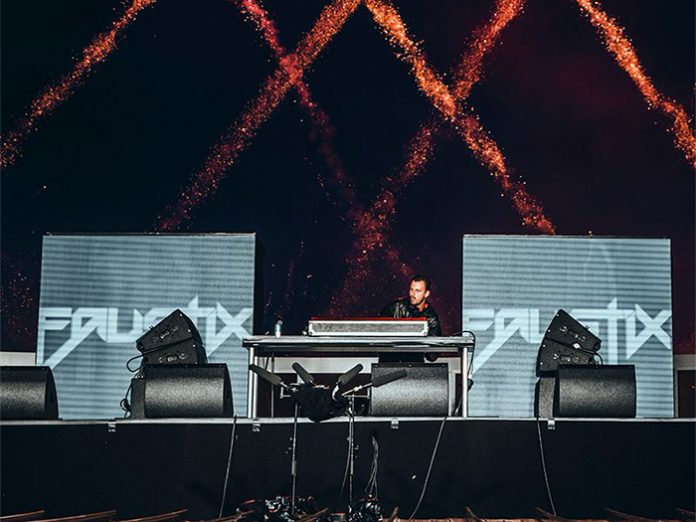 DPA Soundco, a customer of official CODA Audio distributor for Denmark KDMC, took CODA to new heights for a 24-hour live stream concert dubbed Covidhagen, which took place on the flat roof of the city's iconic Opera House.
Audio Engineer Ally Kerslake assumed the role of project manager for the ambitious event. Dealing with more than fifty acts, some with multiple personnel, would be a tall order on any stage – to present them seamlessly for twenty four hours on a roof accessed via a small elevator and an even smaller stairway was something of a challenge. He commented: "This was only the second time an event had been staged on the Opera House roof. The first was a Red Bull diving event in 2018 where we supplied an audio solution, so having been chosen again, we knew the kinds of challenges we'd face. Safety was a key concern, both in terms of COVID-19 and the access issues."
The fact that the audience for the event would be at home rather than on the Opera House roof, meant that there was no requirement for a traditional main PA. Instead, the need for an extremely solid monitor solution was Kerslake's top priority. He said: "The stage was situated on the centre roof section of the Opera House. It was effectively a blank canvass in terms of planning, because there had never been a concert style production up there. We knew there wouldn't be a stage roof because of building regulations and no chance of a usual monitor mixing position."
In fact the consoles for monitoring and broadcasting were located three floors below inside the main building, with performances watched on a screen, and since the nature of the event demanded five-minute turnovers, everything took on the air of a festival rather than a TV production. Faced with these unique circumstances, Ally and his team had to have complete faith in the quality of the monitoring system on the roof. DPA Soundco deployed six biamped CODA Audio CUE TWO stage monitors across the front of the stage with a CODA Audio APS 'booth' system to cater for the many DJs who performed. This consisted of a single APS-SUB and three APS per side. The team also used a stereo system of CODA Audio SCV and HOPS8 for broadcast reference monitors, which worked perfectly on what was a very long shift. A further pair of CUE TWO were used as listen wedges for the monitor engineers downstairs.
The high pressure show, which featured all manner of configurations, ran its 24-hour course very smoothly. Every aspect of the production scrupulously complied with the regulations regarding COVID-19. A work station was placed on the roof equipped with a full disinfection set-up, with dedicated windscreens for each artist and all IEMs and transmitters thoroughly cleaned between uses.
Kerslake reflected on the CODA systems: "The power of both the CUE TWO and APS systems was perfect to fire through the windy conditions on the roof, and for such fast change-overs the light weight of the CUE TWOs definitely helped. It's the lightest 15" 3-way wedge I've come across and the crew onstage were certainly glad of that after 24 hours. We didn't have a single issue of tonality throughout the whole production and actually had multiple artists asking if we could provide the same solution for their future tours!"
Kerslake first experienced a CODA Audio system when it was brought in as a replacement on a Russian theatre production he was working on, where neither he nor the show director was happy with the existing system. An experienced international engineer with twenty years experience, he was immediately struck by the tone and output, which when allied with its compact size and low weight made it, in his words, "a no brainer."
"I've worked with most of the main PA systems out on the road, and in my opinion CODA brings all the required principal elements together in one package. They're by far the easiest to rig and fly and as an operator, the high fidelity and power you get from a CODA box is pretty astounding. The size and weight of the bigger line arrays like AiRAY and ViRAY is very favourable compared to other manufacturers. In today's world, where truck space is at a premium, the advantages add up in economic terms without compromising audio quality in any way."
He concluded: "At DPA Soundco, we manage a wide variety of productions, from large-scale arena tours and stadiums to TV and corporate shows, and CODA's range of speakers always gives me the options I need for any type of show."