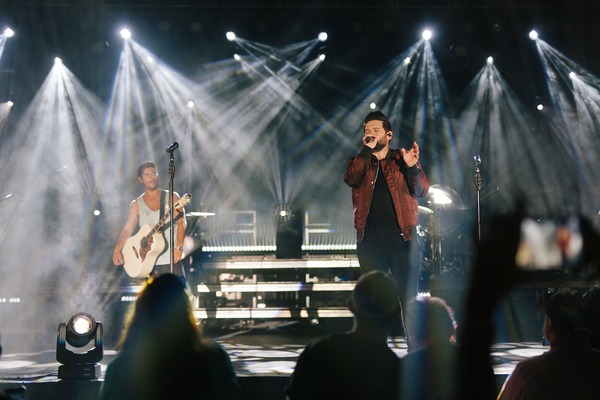 Dan+Shay are engaged in an extensive touring cycle following the success of their 2nd studio album, Obsessed, supported by Robe Lighting.
The country music duo's lighting is designed, programmed and operated by Jeff Mathews of Borealis Stage Lighting in Nashville, Tennessee, and includes a Robe Spiider, Robe Spikie and Pointe moving lights. Nine Robe Spiiders alternate at the top and bottom of the rig as the main wash fixtures. "They are also fast and intense, with great colour saturation and many 'cool gags' that can be pulled out when necessary," Mathews commented.
Four Robe Spikies are located across the mid-stage risers with another 4 across the edge of the stage, Mathews utilises multiple broken-up beams in combination with the central LED flower effect of the fixture. The LD assured that the Robe Spiiders were "ideal for disrupting the beams and keeping the looks different and fresh." The 2 types of LED video fixtures located on the rig, tiles and bars, are pixel-mapped via KlingNet using Arkaos MediaMaster PRO, which, Mathews said, does an "incredible job" of putting the show together.
Robe Spikies were used on Dan+Shay's debut tour in the same format, adding depth and dimensionality to the set with layering of beams and washes, to the mid-stage and downstage. The fixture is targeted to hold up well against the ambient lighting coming off the video panels and support the Pointes when in beam mode, with low power consumption.
During the 2017 tour, the production crew travelled in 2 buses each towing a trailer in-order for the set cart design to be deployed at 36ft wide and 20ft deep, with the assistance of Accurate Staging, Borealis Stage Lighting packed the set into a 16ft trailer. 4Wall Nashville are the main tour lighting vendor, with Borealis Stage Lighting providing all the video elements, LED video tiles and bars. A ChamSys MQ80 console runs all the lights and trigger the playback video cues.