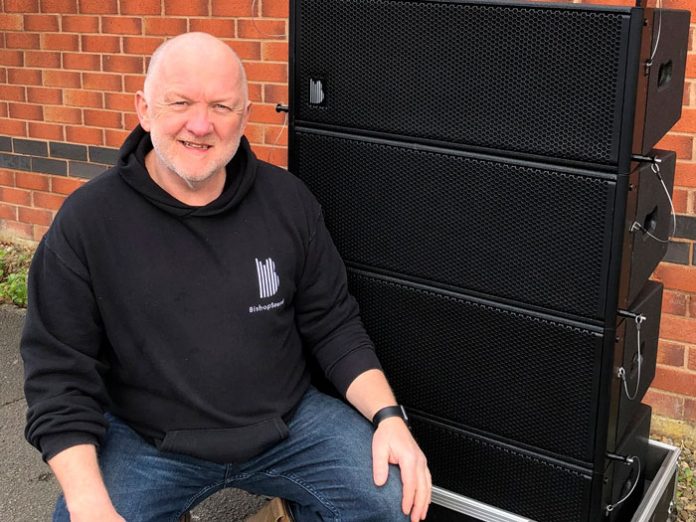 BishopSound, the Yorkshire-based PA specialist, has announced a brand-new addition to its range of highly affordable point source PA speakers – the 1,000-Watt RMS Active Delta Dual 15 with DSP Part of BishopSound's recently announced move to all-plywood construction for its DELTA range of speakers, the 1,000 Watt Delta Dual 15 active is designed for a tough life on the road, being constructed from 18mm (13 ply) birch marine plywood painted with four coats of textured jet black PU paint.
Reinforcing the new enclosure's strength, the grille has been doubled in thickness compared with previous models and is recessed to protect it from knocks and bumps on tour.
Inside, the Delta Dual Active 15 is just as rugged. Aimed primarily at DJ users and Houses of Worship who are looking for an easy to use, quick to set-up system delivering huge power and thump, the Delta Dual 15 offers an easy to use single knob, digital signal processor and a Class D power amp which delivers 1000 Watts into a BishopSound BRC175 100w RMS Compression Driver and a pair the company's highly regarded cast aluminium BDP15 speakers (rated at 600w RMS each). BishopSound said this combination gives the user 1300 Watts capacity allowing for plenty of headroom!
Reinforcing the Delta Dual 15's easy to use credentials, the speaker comes with Bluetooth which means one V5.0 Bluetooth device will drive two of these speakers in stereo.
Alternatively, of course, users can simply connect their music source with an XLR cable or quarter jack, plug into the mains and be ready to start performing.
BishopSound's Delta Dual 15 active speaker has a launch price of £999 for a pair including VAT and delivered FREE on the UK mainland.