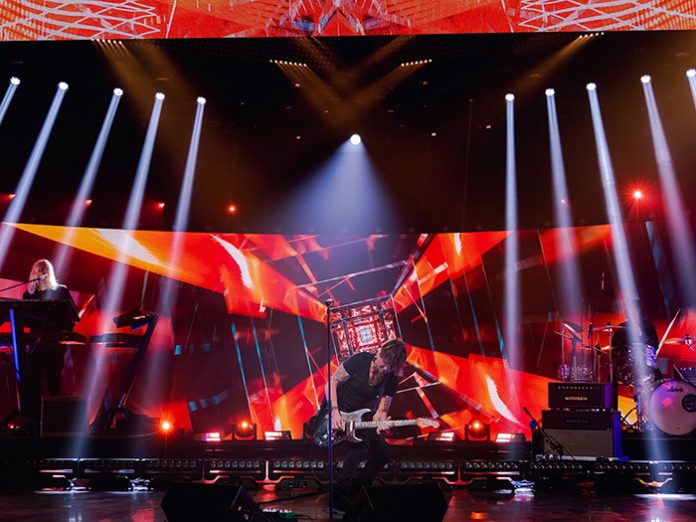 During the Covid-19 era, production companies have sought many ingenious ways to keep clients satisfied and the work coming in. In June, Australia's Big Picture launched its' premium live event studio offering the most technologically advanced and connected virtual event space in the country. This high-tech studio supports clients in delivering a broadcast-quality online event, corporate theatre, and live performance experiences.
As such, Big Picture's flexibility, imagination, technical prowess and high regard within the industry recently led to a mammoth two-day shoot with country superstar Keith Urban. Keith's production house Human Person approached Big Picture to facilitate and coordinate the ambitious project.
Keith recently launched a new album The Speed of Now Part 1 and he was keen to produce a bunch of different performance videos, shot at the same time, for various television shows. These shows included Good Morning America, Seth Meyers, The Tonight Show and iHeartRadio Music Festival 2020.
With key creative personnel located all over the world, this was always going to be a very interesting remote collaboration. Human Person, headed by Ben Dalgleish, provided both lighting and production design, called the shots from New Zealand. The lighting was programmed by Nick van Nostrand in Toronto, Canada, and content creation was coming from Hamilton, Canada, Hong Kong and the Human Person studio in Los Angeles.
"It was great to collaborate with Dalgleish and the wider Keith Urban Team," commented Josh Moffat, Special Projects & Business Development at Big Picture. "Our studio's leading technology resources allowed significant flexibility to service the creative requirements of Ben's design whilst keeping variety between different looks."
Although each performance was unique there were a few consistencies such as LED screens and a strong floor lighting package. The background LED package was high-resolution ROE Black Onyx 2.8mm LED screen and there was an LED ceiling element comprising of ROE CB5 both running Brompton processing, reconfigured for a variety of setups for different tracks. Vision was all running off disguise gx2c media servers.
One of the most creative outcomes was for the song Superman where sixteen competition winners, who each won the chance to play the guitar on the track, had to be incorporated into the production design. The easiest solution would have been to just add them to the background LED screen like a massive zoom meeting.
"We decided to use augmented reality and we bought in a Stype camera kit," added Dalgleish. "Essentially, we had Stype RedSpy optical tracking on a camera jib and we added in a virtual carousel of the contest winners above Keith. It was an excellent way of incorporating what was iPhone footage in a unique way."
For the song Forever, there was a brand new LED design incorporating an overhead ceiling and adjoining columns creating a proscenium arch of LED as well as the background screen. This enabled Keith to occasionally be entirely lit by the LED content resulting in some unique looks.
One song, Say Something, was shot at Sydney's State Theatre on very short notice. It allowed Dalgleish to celebrate a unique heritage venue with a bit of a nod to the fact that these venues are empty at the moment.
In the studio, the 4K UHD broadcast camera system, based around a Ross Carbonite Ultra and Ultrix backbone, supported capture from Panasonic AK-UC4000 camera chains with Fujinon ultra high definition camera lensing. Riedel Artist and Bolero Intercom systems were implemented.
The Big Picture Studio, a purpose-built broadcast studio in a secure location, offers full global broadcast-grade fibre connectivity to allow remote guests to connect from their COVID-Safe remote studios globally in real-time or from their location securely via existing devices. This setup allowed Dalgleish to give direction to the shoot in real-time, speaking with Keith and the camera operators and DOP to ensure his creative vision was executed.
"Obviously, doing this remotely was a big challenge but thanks to Big Picture, and in particular Josh, we had an amazing system," said Dalgleish. "I had a multiview monitor of all the cameras and was linked into the Studio and also the State Theatre in realtime on ClearCom Agent-IC. I could talk to any member of the crew from my iPhone or I could even talk directly into Keith's in-ear monitors for real-time feedback and direction."
Human Person designed the lighting for Keith's Las Vegas residency at Caesar's Palace and elements of that show transferred to the set up in the Big Picture studio. With a very similar floor package, the Vegas programming for certain songs could be used which was a great head start. Big Picture collaborated with SWS to provide the full lighting solution with lighting direction on set handled by Josh Moffat on an MA Lighting grandMA2 full-size.
"No matter who I work for, I always design an oversized floor package!" laughed Dalgleish. "Lighting wise, it can set apart each performance. Another way to recognise a Human Person job is by the tight lighting programming which is an essential part of what we do as is trying to do interesting things rather than your standard programming."
The strong floor package allowed for the successful interplay between the lighting and the video content. This package included GLP X4 Bars, GLP JDC-1, Ayrton Magic Blade and Ayrton Mistral S. Also in the rig were Martin MAC Aura XB, ProLights ECL Panel, GLP GT-1, Ayrton Bora, Martin Atomic Dot, Chauvet Nexus AW7x7 Panel, Claypaky Sharpy and B-Eye K20.
"Working with Nick and Ben on the lighting was fantastic," added Josh. "We were bouncing show files back and forth as major changes were needed in the tight schedule; we could be recording/updating one track in the studio while Nick was updating cues or programming the next track with required changes. Thanks to Ben for trusting me to be his eyes on the ground for this shoot, it was a real team effort."
Big Picture is proud to be an integral part of such an innovative project that shows what can be achieved remotely on a global scale during these unchartered times.
"The Big Picture guys worked hard to deliver such a variety of looks in such a short time," concluded Dalgleish. "To have the output that we did is a true credit to the entire team in Sydney for making it happen."