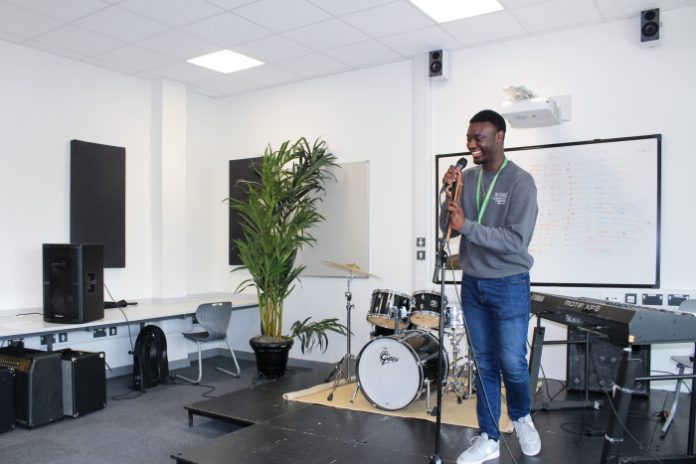 Big Creative Education is an innovative college of excellence based in Walthamstow, East London, which caters for post 16 education. With a mission to develop talent, transform lives and create careers, the college specialises in the creative field, offering courses across a wide range of subjects from media, game design and music, to sports studies, dance, drama and fashion. 
The college recently opened the BCE Creative Academy, a £21m development housing industry-standard facilities in a complex that includes a 200-seat theatre, gym, community cafe, outdoor performance areas, as well as technical studios for music, dance, drama, fashion, make-up and TV.
The Big Creative's music department is a thriving hub of activity where students develop writing, composing, arranging and performance skills under the guidance of experienced industry professionals. The use of industry-standard equipment is an essential aspect of the student experience, and the Big Creative recently added a pair of Pioneer Pro Audio XPRS-12 powered loudspeakers to its inventory, supplied by Clarity in Sound, Light and Vision.
AV Technician, James Doran explained: "The XPRS speakers are a real asset to the students. We use them primarily as a PA for rehearsing live performance in one of our music rooms but their rotatable horns mean we can use them as floor wedges in our theatre if required. The power output is really impressive, so we've also been able to deploy them for performances in our outdoor areas, theatre foyer and cafe space."
With four EQ preset modes – Flat, Speech, Bass +, and Wedge – the XPRS loudspeaker can adapt to different applications at the turn of a conveniently-placed rotary switch at the back of the unit. Its flexible connectivity, comprising two balanced XLR/TRS combo sockets and an unbalanced RCA connection means a microphone can be connected simultaneously with other devices, such as line level mixers or portable audio players. Add to these benefits advanced features to protect the drivers and amplifiers, and Big Creative's investment in its XPRS system is easy to understand.
Doran added: "It's important that the equipment that the students use is of a high standard in order that their work can be represented in the best possible way. Future industry professionals need the proper tools for the job, and our XPRS speakers definitely fit the bill. The plug and play element is important in saving valuable time without any compromise on audio quality, while the input options allow different source sounds to be combined quickly and easily. It's also worth remembering that our gear is used day in day out for long periods of time, so it has to be rugged and reliable. The units are incredibly robust, which gives us full confidence in their ability to withstand what is a pretty relentless workload!"
Federico Sidero, Marketing Executive at Pioneer Pro Audio, commented: "We're really pleased to see the XPRS loudspeakers playing such a positive role in a creative education setting like this. It really emphasises the extent of their versatility and robustness of build. At Big Creative, as in many similar education settings, technical equipment needs to be able to withstand heavy usage while at the same time maintain reliability and audio quality. The students at Big Creative need to be able to focus their energies on producing outstanding material, confident that it will be reinforced by top quality professional audio. We are proud that Pioneer Pro Audio is playing a part in that process."