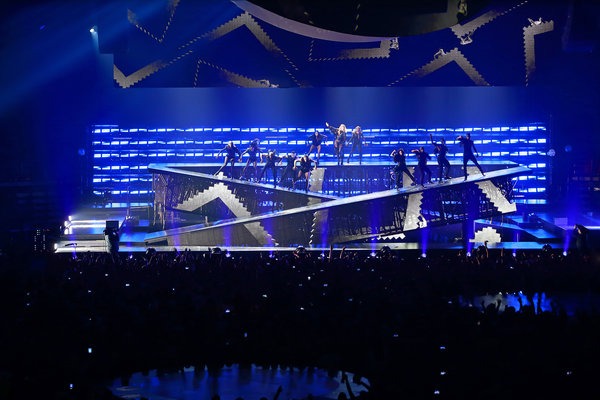 The Joanne World Tour, Lady Gaga's 5th headlining tour, opened in Vancouver in 2017, with the audience wowed by the set and visual concept masterminded by Production and Lighting Designer, Seven Design Works' LeRoy Bennett.
The inventory comprises over 500 GLP fixtures, including 294 JDC1 hybrid strobes, 147 of the award-winning X4 Bar 20 and 38 GT1 hybrids.
The design is based around a massive back wall, measuring 21 metres by 3.5 metres and weighing 12 tonnes, which houses all the JDC1's and X4 Bar 20 battens, while the GT-1's are partly flown in the air above the stage and in a row on the floor at front of the stage.
"The main lighting for the show is that wall of strobes and X4 Bars," Bennett confirmed. The low-resolution video imagery with the added strobes that tilt alongside the X4 Bars gives the wall enormous personality. Due to its size and power, it takes three dedicated 400 amp supplies to run the wall at 60%, as the production did not want to tour generators.
Designed into the set are 3 B stages spread out around the arena floor, and Lady Gaga performs on each, travelling via bridges which drop from 'cocoon' like structures, with surfaces which are used for some inspired pixel mapping. All structures were fabricated by Tait Towers.
Bennett has been presenting Gaga's stage performances since her Monster Ball tour and confirmed much planning went into the latest design following the initial discussions back in November 2016, quickly visualising a major role for all the GLP fixtures; sourced from Solotech, who purchased them specifically for the tour from GLP's Canadian distributor, AVL Media.
"The JDC1 strobes were chosen because they had tilt functionality and because of the flexibility in what could be done with pixel mapping. They also formed an LED array that played within the strobe like an old school tube type strobe. It has a lot of personalities — including being very bright — and it needed to have as many effects as possible over the course of the show. What I like about the X4 Bars is that they can produce a sheet of light — sometimes it will look like low res video screen, sometimes just a wall of light," Bennett explained.
Harry Forster, Lead Lighting Programmer and Director on tour along with Jason Baeri, said: "The updated layout pixel mapping software on the lighting desk and functionality of the JDC1s in extended mode worked even better than we had imagined. After weeks of pre vis, we were all still curious about what it would look like once we finally had the 300 strobes in front of us. It was a joyous moment, when it looked even better than it had in the 3D software! Running them in full mode gives us more flexibility and when Roy asks for a specific area of light behind a musician, we can easily pick out a single pixel of any unit," Forster admitted.
The production crew, which included Solotech Lighting Crew Chief, Eric Belanger, and Account Manager, Dean Roney, reflected positively on a groundbreaking and dynamic piece of stage scenography.
Summing up his first outing with the JDC1, LeRoy Bennett concluded: "These fixtures are great, the flexibility that the product has is wonderful and it gave me all the things I was expecting. Lady Gaga is the first show I have used them on and they have been absolutely fabulous."